JORGE CABIESES EXHIBITS "CONSTRUCTIONS AND CANCELLATIONS" AT DOT FIFTYONE MIAMI
Jorge Cabieses' paintings are distinctly geometric and his approach is successful in outsmarting geometric abstraction. His high clean and regular forms are contrasted by the use of hard and rustic materials. Curator Laura Marsh states, "Jorge Cabieses' collages, paintings, and sculptures have resonance and depth beyond their points of departure within the canon of painting. "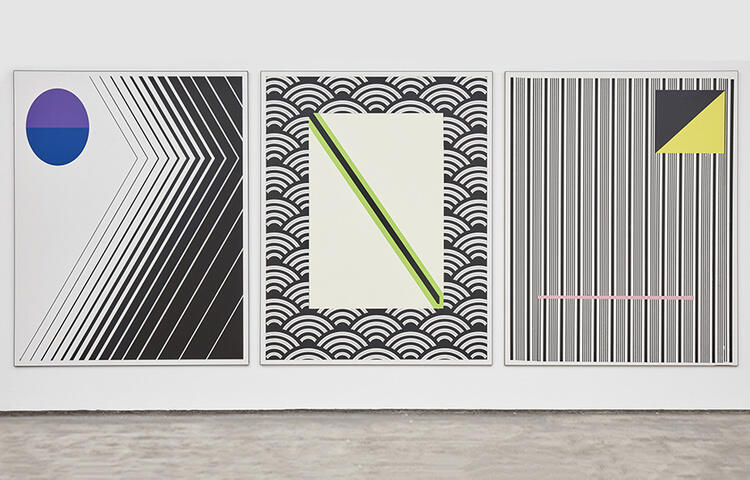 A few figurative scenes recede into the background, simultaneously revealing their supports. Applied with oil sticks, areas of solid and plain colors recall geometric abstraction. Contrary to the artistic missions embraced by these mid-twentieth century artists –the quest for an autonomous language– Cabieses' practice is grounded in the slippage between the optic and haptic dimensions. This is the foundation upon which his work stands apart and the basis for his renown in Latin America.
Cabieses folds art magazine images of old master paintings to obstruct, conceal, and reveal spatial relationships and sculptural gestures. The magazine fold becomes symbolic and transforms into a vehicle for constructing elemental compositions for spatial interactions. Building from the emptiness of raw canvas and finding composition through explorations in line and form are the basis for his visual identities.
Intervening with the exhibition is a set of burglar bars suspended just inches away from a digital print of a flock of birds rising and falling poetically like the tide. Referencing protective structures that deny entry and access into our homes combined with the force of nature elicits a feeling of sculptural and bodily mass. The artist revealed to the curator that he was interested in collecting the window and door bars from Miami, and the curator's partner obtained and offered them to the artist to alter and respond to.
Similarly, Cabieses cuts into shipping crates and layers acrylic on the surface. The mechanisms of support in everyday objects are subjects for structural compositions, folds translate into collaged and painted lines, and shapes parade around the canvas.
Jorge Cabieses: Constructions and Cancellations (English version) a video by Fredi Ferrara produced by Dot Fiftyone Gallery from DOTFIFTYONE.GALLERY on Vimeo.
Jorges Cabieses (b. 1971, Lima, Perú) has participated in numerous group exhibitions in Cuba, Peru, Chile, Czech Republic, Germany, Costa Rica, Spain. And since 2003, he has held nine individual exhibitions. In 2011 he was selected for the Cisneros Foundation Fellowship. His work is part of the CIFO Collection and can also be found at Abstraction in Action, a project by curator Cecilia Fajardo Hill for the Collection Sayago & Pardon, in California.
Until June, 10th
Dot Fiftyone Gallery
7275 NE 4th Ave, Miami
Subscribe
to receive the latest news and articles written by experts
May interest you