IVÁN CANDEO EXHIBITS "BEFORE, WHILE, LATER" IN CARMEN ARAUJO ARTE
The works presented make use of and reference to the image as a channel, as a concept, as a medium. Migrating from one ontological level to another, Candeo highlights the way in which the contemporary world is built from immediate registers, multiple narratives, and memory models.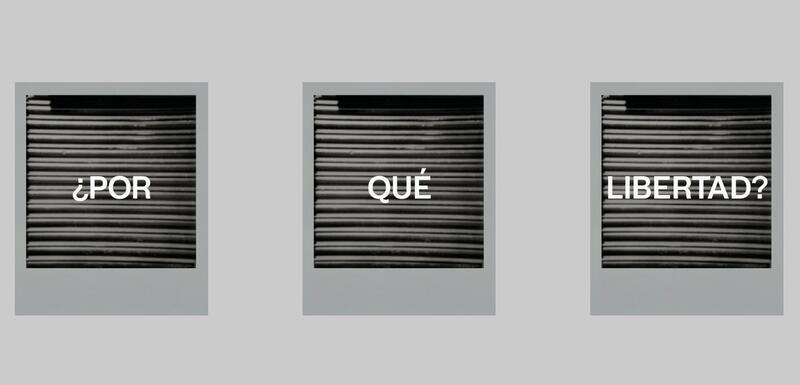 "The construction of a world dominated by multimedia expansion has become increasingly evident, in which art, education, politics, history and feelings are being filtered and configured through the audiovisual experience, that cinematographically fragmented and simultaneous experience that we have through our technological devices" explains the artist.
Using photography and text (almost like scripts), the works reflect on the political sphere of Venezuela. Not to argue about it, but to highlight new spaces and materialities that promote speech, expression and the voices of anonymous agents and subversive gestures.
Regarding Candeo's use of the image, Sandra Pinardi describes in the exhibition text:
"The cinematic image —the moving image— is his scope of exploration, thanks to which he seems to form a supplementary reality, some kind of »reality order«. One of the elements that distinguishes, and can also define, the moving image is »montage«, that procedure that converts spatiality into temporality, and that operates by determining or promoting fantasy to construct, from static fragments, a dynamic becoming where interconnections and relationships constitute narratives and stories, realities that are transformed, memories and recognitions."
On memory as a motif, the artist exhibits two pieces: "Pastor" and "Mierda de historiador" (Historian's Shit). "The first is a work that investigates populism and show culture in its purely commercial construction of reality, of social and political ties, but also of behaviors and evaluations, thereby abandoning reflection." Pinardi comments, "'21st century socialism' has operated from this show culture in which reality is constructed as a simulacrum and discourses are intended to substitute for facts. This work is a video accompanied by an object in which the controversial figure of Pastor Maldonado and his failures are re-evaluated. In the chronicle of the Bolivarian revolution, Maldonado appears as an emblem —as a symptom, too— of that conception of the world thanks to which money is supposed to be able, by itself, to realize any dream and transform any reality. This work shows his impotence, his failure, his destiny: to destroy and fracture, deteriorate and turn possibilities into waste" she adds.
In "Historian's Shit", the artist alludes to Piero Manzoni and his "Merda d'artista" to denounce the 'dehumanization' of social and political living in pursuit of virtuality. With this, Candeo suggests the detriment of revolutionary and progressive actions and values​​that now fade into noise-ridden abandonment; omissions; two-dimensionalities.
carmen araujo arte
Calle Rafael Rangel Sur. Urb. Sorokaima
Hacienda la Trinidad. Secadero N°2. La Trinidad.
Caracas, Venezuela. 1080.
Related Topics
Subscribe
to receive the latest news and articles written by experts
May interest you