OdA ART GALLERY PRESENTS ITS OdE TO BLACK
"To suppress detail and enhance harmony. Let matter arise, the very essence that is born from dispossession. To print of solemnity on the simple. Discover pure sensitivity in form. It is the absence of light. It is background and also figure. This exhibition proposes an ode to works in black color, freeing them from all drama. The representation of each piece is evident through the simplicity in the composition with the predominance of the flat, forceful color. The works are not explained or thought, they are only expressed. From the most subtle to the effective and concrete. Abstractions and geometric shapes, silhouettes, human faces and organisms. Conditionings and prejudices are not relevant. It is a formal and aesthetic choice for each artist, challenging to see beyond this present and uncertain time." expresses Laura San Martín, founder and curator of the Buenos Aires-based gallery.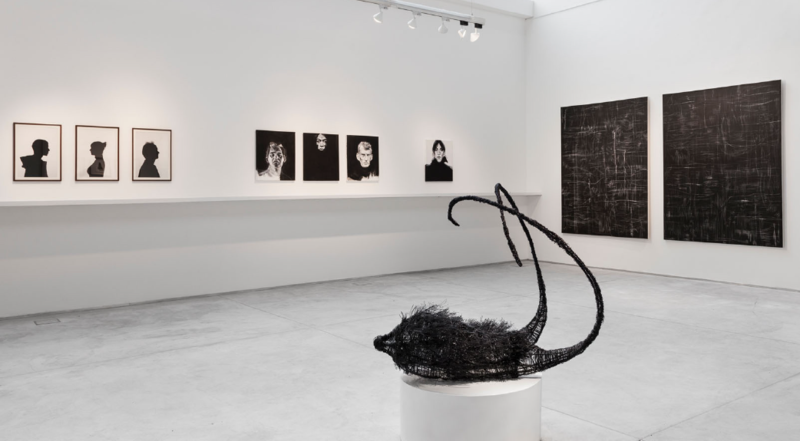 With this exhibition, the gallery faces a challenging 2021, evoking an ode to all artistic compositions that amalgamate with a single color the existence of a reinvention and a unique awakening. Because it is in that absolute absence of color where a new paradigm appears, an interpretive approach crossed by a hitherto unknown reality.
Perhaps it is the perfect time to dismiss the inherited cultural constructions and reflect via these works on the way we conceive the world. Each artist reflects a creative autonomy stripped of all historical connotations towards color, managing to immerse themselves deeply in the intimate spaces of those who observe.
Osvaldo Decastelli experiments with corrugated cardboard, the only material he uses to create his works, achieving a close bond and an immeasurable commitment. In this series he proposes to locate, settle, and place a material of industrial chemical origin such as black enamel paint in opposition to the support, an industrial product of organic origin. He also presents Slits of Light, a series of x-ray plates made of cardboard where inanimate matter begins to have a vivid presence. We see how it is shaped inside and the subtle movement of the cardboard registered by those X-rays suggests continuous breathing.
Rosana Schoijett re-signifies the way portraits were made in the 18th century before the appearance of photography, and she vehemently manages to penetrate the intimacy of each plant and individual. We are observers of the infinite flow of mystery through a silhouette that completes, without shadow, the unknown depth of the other.
Maria Torcello, in a constant search for absolute purity, works with wood until she discovers its essence. In her Shadow series, the process is reversed, granting her carvings eternal protection. Through Shou Sugi Ban, a Japanese wood burning technique, a protective layer is generated with shine, texture and an intense black color, which ensures that they are preserved in a natural way over time.
Rocio Copolla evokes the emotion of finding a seed, a fruit, a nest. Weaves of crisscrossing branches, seaweed swaying underwater, horse manes, spider webs. Observing, appreciating, finding and collecting have been her source of inspiration, achieving through industrial materials the sinuous and sensual organic form.
Adriana Kogoi works layer by layer, scraping, repainting and scraping again; Painting it black so that there is no trace of what is hidden underneath. Like a game of cover and uncover. Sometimes softly and sometimes impulsively, what remains is the record of that vital moment that leaves prints and which hides what the memory may not want to remember. For her, fragments of silence.
Félix San Martin makes portraits of artists painted on an intense black background that seem to effectively and dramatically challenge those who look at them. A silent dialogue that is configured by the intimacy of the characters, the artist's line and the intervention of the one who contemplates them.
In the Basic series, by Diego Ortiz Mugica, the predominance of black is overwhelming. Just a line of light draws the profile of the object, enhancing and suspending the figure. Photographs that transport us with memorable and nostalgic objects to childhood memories, glass containers that contain treasures and fruits that glisten tantalizingly in the dark to revive smells, people and places.
OdA art gallery
Parana 759, Piso 1
C1017AAO CABA
Buenos Aires, Argentina
Related Topics
Subscribe
to receive the latest news and articles written by experts
May interest you