"ANTONIO HERNIQUE AMARAL: INSIDE OUT" IN CASA TRIÂNGULO
Casa Triângulo exhibits Antonio Henrique Amaral: Pelo Avesso, Antonio Henrique Amaral's first exhibition at the gallery, curated by Pollyana Quintella and Raphael Fonseca. Multiple and polyphonic, Antonio Henrique Amaral (1935 - 2015) endeavored to create a body of work that would resist univocal meanings. His more than six decades of production have drawn a multifaceted path that has been the subject of recent revisions through essays and monographic exhibitions that place the artist beyond his iconic and emblematic Bananas, made between 1968 and 1975.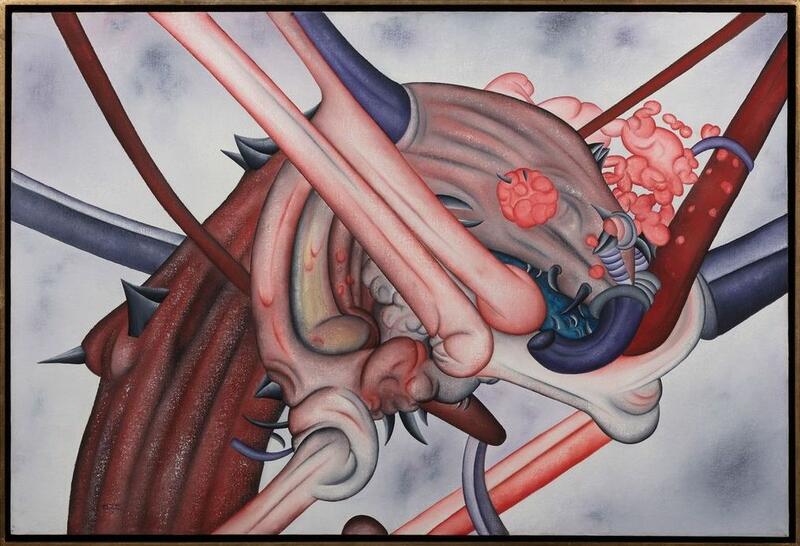 The exhibition Antonio Henrique Amaral: Pelo Avesso adds to this effort by establishing a less usual cut of the artist's production, interested in recontextualizing works whose centrality is the body and its most varied negotiations. We will see, still in the 1950s and 1960s, works in drawing and engraving – fundamental techniques for the background of Amaral - that already point to deformed and transfigured anthropomorphic figures, putting the parameters of representation in crisis in the search for a more expressive, fantastic and delusional gesture. Then, the paintings of the 1970s manifest the fusion of machines and bodies, metals and viscera, in order to question the limits between nature and culture and provoke us to recognize the body permeated by the technological dimension. Later on, the 1990s saw the series Torsos, with elongated silhouettes, devoid of any identity and suspended in time and space; while the 2000s present drawings in compositions that border the limits of abstraction and suggest shattered fragments like microorganisms in profusion, typical of the zoom in and zoom out exercises so well explored by the artist.
Despite the singularities of each period, it is possible to circumscribe the body as a fruitful axis that runs through Amaral's production, either as a pretext for the most varied plastic experimentations, or as the core of the investigation of the subject's limits, his identity and his political clashes. In this movement, Amaral knew how to combine personal and political; intimate and collective, in a work permeated by the influences of mass culture, popular culture and the dilemmas of its own time.
Antonio Henrique Amaral (São Paulo, 1935-2015) started his artistic education in the mid 1950's, studying drawing with Roberto Sambonet at Escola do Museu de Arte de São Paulo (MASP) and then, engraving with Lívio Abramo at Museu de Arte Moderna de São Paulo (MAM-SP). He presented in 1958 at MAM-SP his first individual exhibition, comprising engravings, and also showed in the same year in Chile.
As a response to the military coup occurred in Brazil in 1964, Amaral started to develop explicitly political work with a satirical taste, including elements of popular and mass cultures, in which his set of woodcuts, entitled O meu e o seu (1967) was highlighted at mirante das artes (São Paulo), gallery in which Pietro Maria Bardi was partner. The period also marked the beginning of his painting: his emblematic sequence of canvas problematize the motif of bananas as a national symbol. One of the highlights of his artistic career is the painted mural he did as a contest result, entitled São Paulo – Brasil: criação, expansão e desenvolvimento (1989) and installed in the main hall of Palácio dos Bandeirantes - the state of São Paulo's government headquarters.
Over the course of more than six decades of career, Amaral has presented his work in several individual and group exhibitions both in Brazil and in countries of Latin America, North America, Europe and Asia. His works are also part of several important public collections in Brazil and abroad, such as: The Metropolitan Museum of Art (The MET), New York, NY, USA; Blanton Museum of Art, Austin, Texas, USA; Art Museum of the Americas (AMA), Washington, D.C., EUA; Casa de Las Américas, Havana, Cuba; Instituto de Arte Latinoamericano (IAL), Santiago, Chile; Latin American Art Collection, Essex University, Essex, England; Museo de Arte Americano de Maldonado (MAM), Maldonado, Uruguay; Museo de Arte Moderno de Mexico (MAMM), Mexico City, Mexico; Colleccion FEMSA, Monterrey, Mexico; Museo de Arte Moderno de Bogota (MAMBO), Bogota, Colombia; Museo Nacional de Arte (MNA), La Paz, Bolivia; Museu de Arte Contemporânea da Universidade de São Paulo (MAC-USP), São Paulo; Museu de Arte Moderna de São Paulo (MAM-SP), São Paulo; Museu de Arte de São Paulo (MASP), São Paulo; Museu de Arte Moderna do Rio de Janeiro (MAM-RJ), Rio de Janeiro and Pinacoteca do Estado de São Paulo, São Paulo.
Antonio Henrique Amaral: Pelo Avesso
Until November, 13th
Casa Triângulo
Rua Estados Unidos, 1324, Jardins, São Paulo
Related Topics
Subscribe
to receive the latest news and articles written by experts
May interest you