ALL ABOUT BUGS. DORA GARCIA'S NEW EXHIBITION AT MICHEL REIN GALLERY
From 05/17/2023 to 07/22/2023
Michel Rein
Paris, France
L'insecte is Dora García's sixth solo exhibition at Michel Rein gallery at Paris.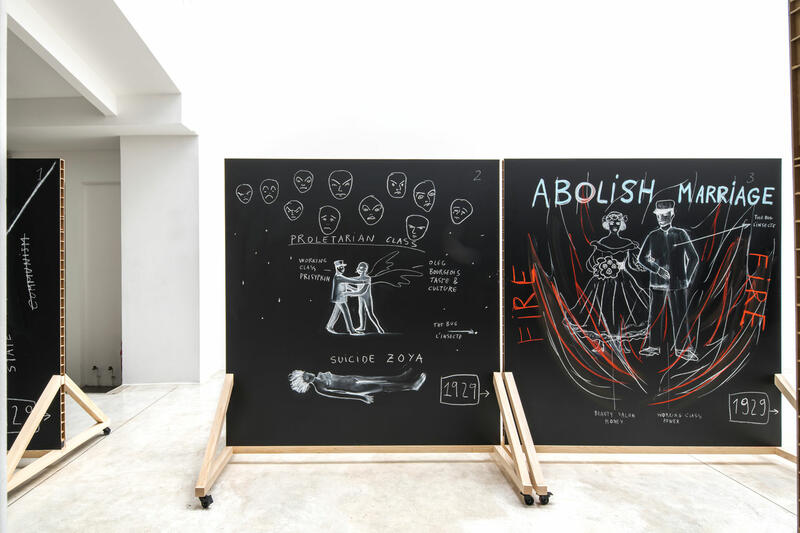 «As Gregor Samsa awoke one morning from uneasy dreams he found himself transformed in his bed into a gigantic insect.» The first sentence of Kafka's The Metamorphosis, 1915 is possibly the best first sentence ever in a novel. The word «insect» is, in the German original, «Ungeziefer», which is a more specific word than insect, meaning «undesirable or troublesome pests such as fleas, rats, or mice».
However, all the book covers of «Die Verwandlung» depict insects: bugs, spiders, moths, beetles, fleas, mantis. The Bedbug is a theater play by V. Mayakovsky written and performed in 1929. A bedbug is a far more specific insect, which in the play clearly represents the lumpen origins of the arrivist protagonist, Ivan Prisypkin. However hard Prisypkin tries to shake off the misery he comes from, the insect sticks to him through 50 years of time travel bringing both to 1979 Socialist Utopia - a bugged Socialist Utopia (bugged meaning here annoying, irritating).
The bitter disappointment of Mayakovsky, who killed himself months after the premiere, suggest there is a bug in history, because history is cyclic, repeats endlessly, and in each repetition, there is a recurrent mistake, an error, a parasite, an insect, a bug that cannot help but throw thousands of victims in each repetition or cycle. In the cyclic novel Finnegans Wake, the letters of «insect» dance around to become «incest».
All these thoughts and a few more dance around in the 30-some drawings of L'insecte, a new iteration of the series Mad Marginal Charts which began in 2014 to draw connecting paths among the manifold subjects in the work of Dora García, linking Finnegans Wake to Mayakovsky to Kafka to Lacan to Alejandra Pizarnik, through images of insects, moebius strips, ears, family portraits, holes, mouths, eyes, and stones of madness.
The Bug is a large drawing installation composed of nine wooden panels, one for each of Mayakovsky's The Bedbug's scenes. On the recto side of the nine wooden panels The Bedbug story is told as in an agit-prop cartoon, while on the verso sides a continuous timeline is depicted, starting with Sigmund Freud's 1905 «Three Essays on the Theory of Sexuality», passing through the extinction of mankind, into absolute nothingness. This timeline has been constructed collectively through the different presentations of this work to date, the public being encouraged to add to the timeline those dates they consider necessary to understand the world's past, present, and future.
Finally, the exhibition is completed with the 2020 film Love with Obstacles, 2020, first part of García's Amor Rojo trilogy. This film contains a science fiction story written by Mayakovsky's comrade in revolution Alexandra Kollontai, proposing a similar time warp, this time contextualized within the private correspondence of this feminist icon.
Dora García (b. 1965 in Valladolid, Spain, lives and works in Oslo) uses the exhibition space as a platform to investigate the relationship between the visitor and the artwork.
Dora García's practice relates to community and individuality in contemporary society, exploring the political potential of marginal positions, and paying homage to eccentric characters and antiheros.
She represented Spain at the Venice Biennale in 2011. She has participated in the 56th Venice Biennale in 2015, Documenta 13 in 2012, and other international events such as Skulptur Projekte Münster in 2007, Sydney Biennial 2008, and São Paulo Bienal 2010.
L'insecte. Solo exhibition by Dora García.
Until July 22nd, 2023.
Michel Rein Gallery. 42 rue de Turenne, 75003 Paris, France.
Subscribe
to receive the latest news and articles written by experts
May interest you