SUEÑOS ILUSTRADOS BY ÁLVARO BARRIOS: A COMBINATION OF ARTISTIC LANGUAGES
Fundación Canaria para el Desarrollo de la Pintura (FCDP) presents for the first time, an exhibition by the Colombian artist Álvaro Barros in the Canary Islands. Barros' work is a fusion of different expressions and traditional modern art techniques placed at the service of conceptual art.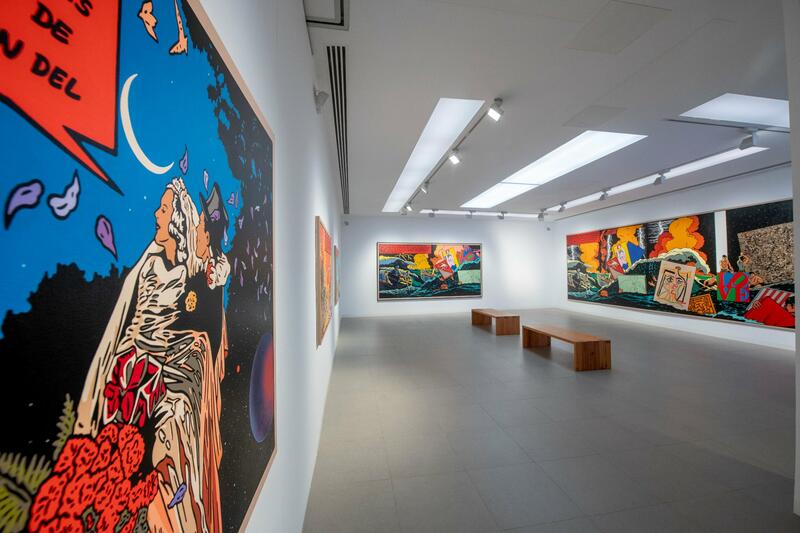 SUEÑOS ILUSTRADOS is a compilation of the artist's great works, starting with his emblematic series "Sueños con Marcel Duchamp" –in English Dreams with Marcel Duchamp–, where the artist takes some of the 20th century avant-garde to make them dialogue with a humor of great conceptual presence.
Barrios' work generates a game of crossings between chronologies of art history and sacred passages. Each "Dream" in the exhibition is composed of arbitrary dreamlike paths, replete with exceptional and intriguing beauty. It is a sacred connection that links Art History with a poetic vision of life and dreaming.
In addition, his critique of the ecosystem of the art world –one of the artist's recurring interests– is present in the exhibition. Barrios portrays the earthly dynamics that traverse the art market. But he also includes works in NFT format to question the new languages of the visual arts.
"The continuous surprises of Álvaro Barrios' work are expressed in this exhibition through large format paintings formally derived from comics, as inspiration coming from his childhood and adolescence. This group of works corresponds to conceptualist strategies expressed through traditional two-dimensional painting," explains Elías Doria, the curator in charge of the exhibition.
Related Topics
Subscribe
to receive the latest news and articles written by experts
May interest you