STITCHING THE GAP: ALEX TRIMINO'S EXHIBITION AT LOWE ART MUSEUM
The Miami-based artist Alex Trimino presents Stitching The Gap, the inaugural exhibition for the Project Room at the Lowe Art Museum curated by Lance M. Fung.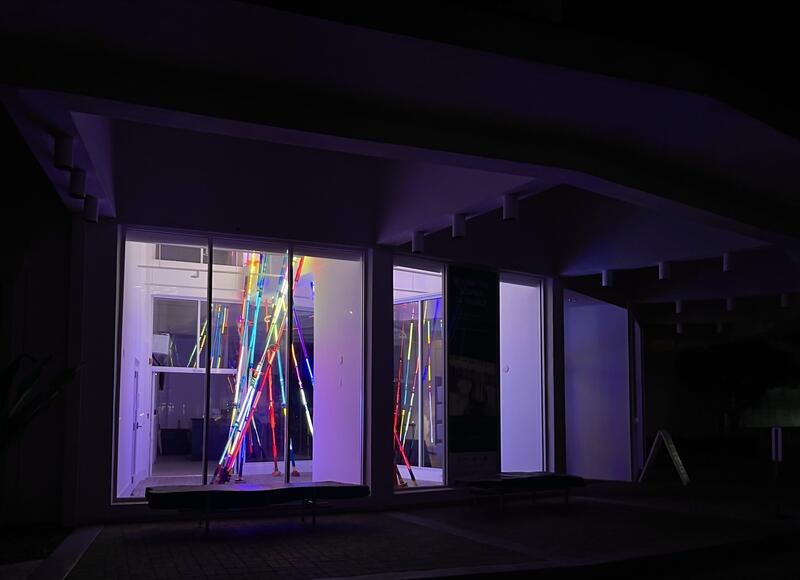 Illuminated from within and eveloped in crocheted and knitted elements, this installation is emblematic of Alex Trimino's multi-media space. While initially disinclined to knit, crochet, and weave—seeing these processes as tied to domestic labor in her native Colombia—Trimino explored them anew with a geometrical interest. Incorporating both craft materials like yarn and fiber with high tech ones like micro-controlled neon, she examines the intersectionality of technology, gender, and societal norms. A delicate balance between continuity and change, this installation encourages viewers to reflect on how the past informs the present.
"My installations re-contextualize the traditional use of colloquial, lo-tech crafts; crochet, knittings and wavings exploring social views on civilization, technology and gender", explains the artist Alex Trimino. Stiching the Gap is the artist's first solo exhibition at the Lowe Art Museum.
Alex Trimino was born in Colombia and lives in Miami. She creates illuminated fiber-based sculptures and installations. In her work old things, old ways and new technologies come together, exploring how we connect to reality today. She uses embroidery and technology, creating a connection between past and present.
Subscribe
to receive the latest news and articles written by experts
May interest you