"OLGA DE AMARAL: TO WEAVE A ROCK" AT THE HOUSTON MUSEUM
Olga de Amaral has pioneered her own visual language within the fiber arts movement. Her radical experimentation with color, form, material, composition, and space transforms weaving from a flat design element into an architectural component that defies the confines of any genre or medium.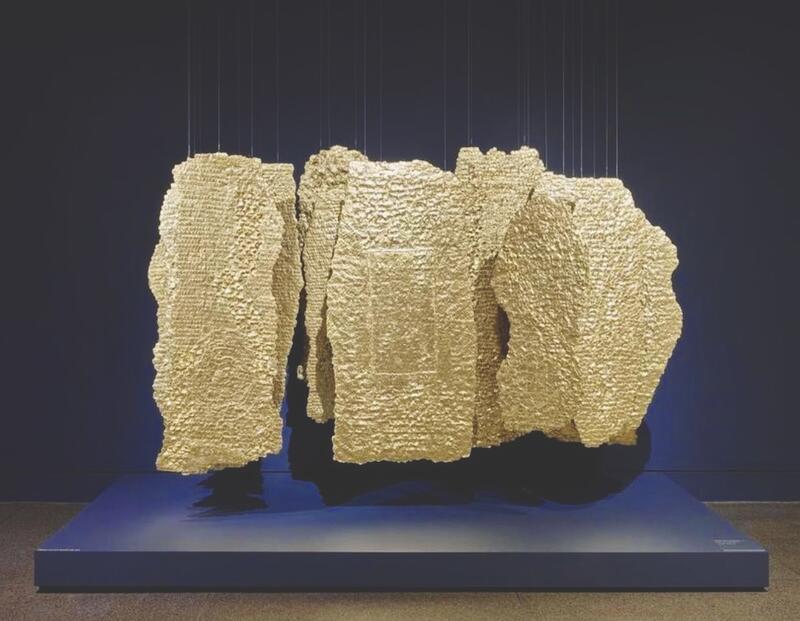 The MFAH (Museum of Fine Arts, Houston) is the debut venue for Olga de Amaral: To Weave a Rock. This major touring retrospective spotlights the Colombian artist (born 1932) and her prolific, six-decade career through some 50 works that trace Amaral's architectural investigations of the woven form.
"This retrospective allows audiences to see the six decades of my work side by side for the first time," Olga de Amaral said. "To have it open at the Museum of Fine Arts, Houston, is a great honor, as they hold leading collections in both decorative arts and Latin American art in the United States. The exhibition was also co-created with Cranbrook Art Museum, the museum of my alma mater, Cranbrook Academy of Art, which is such an important part of my creative history and where I met my husband, the artist Jim Amaral. This retrospective and publication have been years in the making, and I feel they are a wonderful showcase of my life's work."
After earning an architectural drafting degree in her native Bogotá, Colombia, Olga de Amaral attended the fabric and design weaving program at Michigan's Cranbrook Academy of Art in the mid-1950s. There, she studied under the renowned Marianne Strengell, who emphasized textile design's relationship with interior space and its use as an architectural material. When she returned home, Amaral applied Strengell's philosophies to woven works that also were informed by her environment.
Four thematic sections tell the story of Amaral's creative spirit: "Radical Materialism," "The Rebel Warp," "Alchemy," and "The Line." Also included are two galleries devoted to her immersive Brumas (Mists) and Estelas (Steles) series.
"Radical Materialism" explores Amaral's unconventional use of horsehair, wool, gold leaf, plastics, and other materials that reflect the landscape and culture of Colombia while also utilizing texture, color, and light to create dimensionality and structure. A notable example, the Luz (Light) series from the mid-to-late 1960s, features tapestries of cascading, layered polyurethane that depict water flowing across the Colombian terrain.
The "Rebel Warp" section illustrates how Amaral has investigated scale and challenged traditional weaving traditions with innovative plaiting, wrapping, coiling, and warp manipulation. The parallel rods of her groundbreaking series Muros tejidos (Woven Walls) support vertical, lattice-like loops to form distinct structures and shapes; principles she also applied to free-standing sculptures such as Columna en pasteles (Column in Pastels) (1972).
Embracing the spiritual significance of gold in Colombian culture, Amaral has made gold leaf a signature material. The "Alchemy" section presents selections from Alquimia (Alchemy), her acclaimed 1980s series of wall-hung tapestries composed of individually woven linen squares lacquered with gesso and gold leaf. Also especially notable are works from Amaral's immersive series Estelas (Stele), whose suspended structures evoke upright stones.
The works of "The Line" section incorporate painted, free-hanging threads. Highlights include pieces from the Nudo (Knot) series, whose long, loose linen fibers anchored with knots resemble monumental, draped tassels of magenta, turquoise, and gold. Another work, Agujero Negro (Black Hole) (2016) initially suggests a black void painted on gray fringe, but as viewers pass by, threads waft to reveal a sliver of gold paint that glimmers like sunlight. The immersive Brumas (Mists) (2013), a series of three-dimensional, suspended forms, engulfs viewers in vibrant colors and geometric shapes.
Olga de Amaral: To Weave a Rock
Through September 19, 2021
The Museum of Fine Arts, Houston
Related Topics
Subscribe
to receive the latest news and articles written by experts
May interest you