MARCELO BRODSKY EXHIBITS "STAND FOR DEMOCRACY: MYANMAR"
Organized by Human Rights Art Initiative and art+château, this photographic exhibition in Zurich features artist and human rights activist Marcelo Brodsky (b. 1954, Buenos Aires, Argentina) along with video works and a performance by Ko Latt, Yadanar Win, Lily and Zoncy, who represent the new generation of Burmese artists and whose work reveal elements of Myanmar's social, political, and cultural narrative. Curated by Giulia Busetti and Dr. Valentina Locatelli.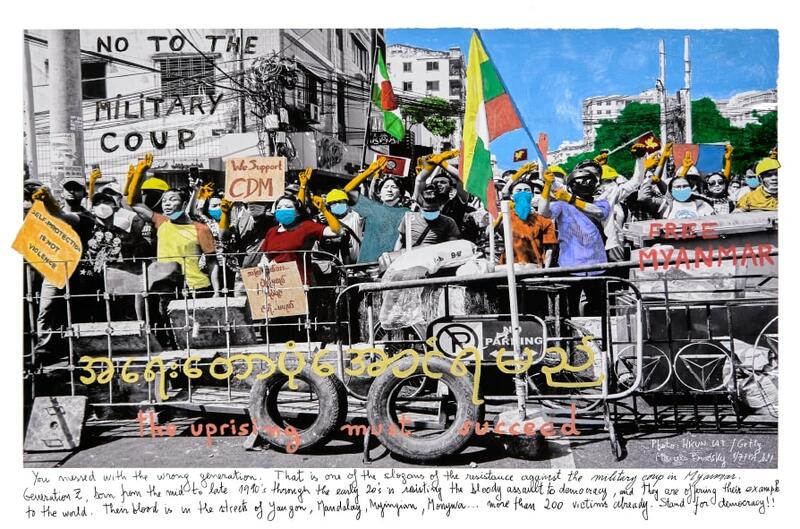 Marcelo Brodsky's series Stand For Democracy: Myanmar comprises thirteen new artworks relying on licensed photographs taken in Myanmar by activists and photojournalists since the February 1st 2021 coup d'état carried out against the democratically elected local government. The photographs are printed on Hahnemühle cotton paper and intervened by the artist with crayon, watercolour and texts.
"Marcelo Brodsky's biography and career are situated at the crossroads between visual arts, poetry and human rights activism―he is one of the co-founders of the Parque de la Memoria in Buenos Aires. His practice is rooted in his personal history and direct dramatic experience of State-sponsored terror in Argentina: during the Military Dictatorship (1976–83), his best friend Martín Bercovich and his younger brother Fernando were abducted, disappeared, and never found again. In response to these events and fearing for his own life, Brodsky went into exile in Brazil, followed by Spain where he became a photographer, and he published his first book of poetry. He did not return to Argentina until after the end of the dictatorship. Over the past five decades Brodsky has developed a unique poetics based on the interaction of photographs and written annotations to activate personal and collective memory and to communicate a message of resistance. Selecting photographs collected in documentary archives around the world, the artist manipulates them: by adding handwritten comments and highlighting meaningful details with the help of bright and vivid colours, he stimulates a dialogue between the preexisting narratives conveyed by the original sources and his own interpretation of those texts and images." (Locatelli, 2021) Beyond questions of ethnicity and culture and despite the geographical distance between Argentina and Myanmar, the struggle of the Civil Disobedience Movement resonates with Brodsky, with his direct experience of military violence and persecution and with the message of resistance upon which he has defined his practice over the years.
Stand for Democracy: Myanmar is developed to leverage visual art to vigorously increase international public awareness of and to express solidarity with the cause of the brave civil movement in Myanmar who struggle for freedom, democracy and human rights. The Initiative is mobilising visual artists globally in support of the Civil Disobedience Movement and the democratically mandated National Unity Government.
art+château is a not-for-profit association created in 2018 and based in Bern, Switzerland. Their primary purpose is to work with local and international artists in order to present contemporary art within alternative historic settings outside of the "white cube." At the same time, the association believes that art is a powerful social tool and can activate a strong reflection and commitment in the public and promote a positive change. This is the reason why they enabled the creation of and partnered up with the Human Rights Art Initiative.
Photobastei
Sihlquai 125
8005 Zurich (3. Floor, Rooms 6 – 8)
Related Topics
Subscribe
to receive the latest news and articles written by experts
May interest you