MALBA ANNOUNCES THE APPOINTMENT OF MARÍA AMALIA GARCÍA AS CURATOR IN CHIEF OF THE MUSEUM
The future Chief Curator of MALBA highlights: "After two decades of prestigious work, Malba consolidates a central trajectory for the local scene and of reference at a regional and international level." María Amalia García explains, and adds: "Maintaining a Latin American perspective around artistic processes entails the commitment to recognize and value the specificities of each region and abandon the pigeonholes in foreign categories. (…) I understand that the reinvention that museums face today has to integrate and promote plural and diverse knowledge and perceptively enable dissident modes".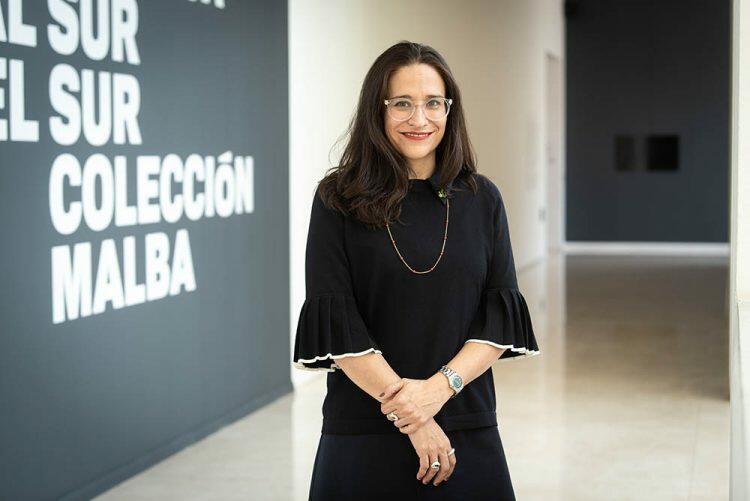 Doctor and Graduate in Art History (UBA), María Amalia (Buenos Aires, 1975) is a teacher and researcher at CONICET. A specialist in modern Latin American art, her lines of research propose comparative approaches, cultural networks and regional interactions. As of June 1, she will be responsible for conducting the temporary exhibitions program and joining efforts to conserve, research and disseminate the Collection. She will also be in charge of developing the academic content of the publications edited by Malba and collaborating in the conception of online projects, based on new research that improves the virtual experience of visitors and their link with the museum's heritage.
"It is an honor to join as Chief Curator and to continue the work carried out by admired colleagues. I am very grateful to join the Malba team and contribute with my knowledge to deepen and diversify the readings about the works, the artists and their contexts. The Argentine academic and curatorial circuit is recognized for its great professionalism; I am proud to be a part of this community. On a personal level, in addition, my incorporation to Malba has a special meaning: an important recognition of my career by the institution in which I worked during 2002 and 2003 as an assistant curator", shares García.
Teresa Bulgheroni, President of the Malba Foundation, comments on the appointment: "In a context of global transformation in which museums are facing the challenge of reinventing themselves, Malba turns twenty years old and adds to its team an Argentine professional, with a long history and academic recognition. We are very excited about the incorporation of Marita, to lead the museum's curatorial team in this new stage."
After the departure of Victoria Giraudo as Chief Curator in November 2020, María Amalia joins the Malba staff as Chief Curator and in the future she will work as a team with a new Director. This search will begin in the coming months, to replace the position of Gabriela Rangel, who served as Artistic Director between 2019 and 2021.
María Amalia García has served as associate curator of the Museum of Modern Art of Buenos Aires since 2014. In 2019 she was consultant curator of the exhibition Sur Moderno: Journeys of Abstraction — The Patricia Phelps de Cisneros Gift, organized by Inés Katzenstein at The Museum of Modern Art, New York. In 2021 she co-curated with Marcelo E. Pacheco and Javier Villa Alberto Greco: ¡Qué grande sos! at the Museum of Modern Art in Buenos Aires. She is the author, among other books, of Abstract Art. Cultural exchanges between Argentina and Brazil (Siglo XXI, 2011), which was also translated to English (University of California Press, 2019). Between 2010 and 2016 she was co-editor of Blanco sobre Blanco magazine. Looks and readings on visual art. She has received scholarships and grants from Malba, the Scientific and Technological Promotion Agency, the Ministry of Culture, the Institute for Studies on Latin American Art (ISLAA) and the Getty Foundation, among other institutions; She has given courses and conferences in numerous national and international artistic and academic spaces.
Related Topics
Subscribe
to receive the latest news and articles written by experts
May interest you