7TH ATHENS BIENNALE "ECLIPSE" AND THE UNSPOKEN PRESENT
Designed to reflect the various aspects of the current transitional experience, the 7th Athens Biennale ECLIPSE aspires to address the viewers' imagination of potential parallel worlds and futures. ECLIPSE activates a cross-cultural conversation among artistic voices that have historically been pushed to the periphery and orchestrates an experiential shift in art viewing.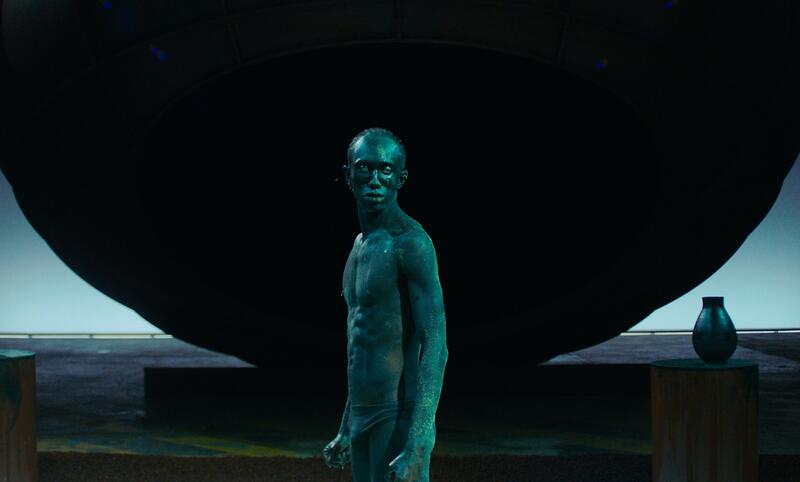 In ECLIPSE, narratives from contemporary Black, queer, speculative, and radical artistic voices converse with practices of rituals, worldmaking, and interdependence. ECLIPSE presents a translocal chapter of contemporary thought that champions a revisiting of identities and a queering of history. By counter-offering radical care, virtual, and fluid alternative states through sonic and immersive strategies, ECLIPSE aims to summon transformative powers to usher us beyond the current era into a space of thought and reflection.
Curated by the Berlin-based collective Omsk Social Club and the Ghanaian-American curator Larry Ossei-Mensah, under the artistic direction of the Athens-based artist and curator Poka-Yio, AB7: ECLIPSE presents works by more than 80 artists from North and South America, the Caribbean, Africa and Europe.
"In order to create an exhibition that revolves around the reclamation of life and how to collectively fathom a new potential of experience, not only in our artistic practices but one that begins in our emotive bodies, ECLIPSE proposes the destruction of outdated idealism." shared Omsk Social Club, co-curators. "We hope this can address the lives we live 'differently'".
The artists participating in ECLIPSE inhabit a cluster of three neighbouring landmark venues in the historic centre of Athens: the former Department Store Fokas, the former Santaroza Courthouse, and Sina Hall. These closely knit emblematic ghost buildings portray various aspects and different eras of the Athenian urban landscape and its historic and cultural narratives. The former department store Fokas, the main venue of ECLIPSE, acts as a symbol of the bankruptcy of contemporary Greece and a possible post-capitalist era; its eight, formerly buzzing floors and still full of evidence of their commercial use, have been abandoned since 2013. The former Santaroza Courthouse in Justice Square opposite of Fokas is a classical building raised soon after the birth of the modern Greek Republic. It has served as the first state print house and then as a courthouse that tried, amongst others, the famous communist and Resistance partisan Nikos Beloyannis. Its stripped-bare shell has been sealed and muted for thirty years. Opposite to it rises the ghostly Sina Hall, an eclectic neo-baroque building, one of the oldest and largest buildings of Athens that was converted into offices and gradually got abandoned during the last 15 years.
AB7: ECLIPSE
Until November 28th, 2021
Athens, Greece
Related Topics
Subscribe
to receive the latest news and articles written by experts
May interest you