BETWEEN MEXICO AND SPAIN IN THE MIDST OF THE PANDEMIC | INTERVIEW WITH SILVIA ORTIZ
By Matías Helbig, corresponsal en Europa
On entering the space at Calle de San Mateo 16, one has the impression of stepping into a sanctuary. A sanctuary dedicated to the mourning of language: dedicated to those signs that the Mexican artist Jorge Méndez Blake presents to the visitor as great fainting heroes. Language as a deity that we have taken upon ourselves. "It is almost a cry in desperation, a catastrophic vision of what is to come", says Silvia Ortiz, one of the directors of Travesía Cuatro. She adds: "The name itself says it". Toda letra es la última letra (Any letter might be the last letter) is the solo exhibition that Méndez Blake presented until 13 March at the gallery in Madrid. Arranged in two rooms next door to each other, the artworks that are presented compose a requiem, an elegy of language, but also outline a gesture of resignation and liberation, of vindication: the second room exhibits four neon pieces in which language adopts a poetic function. As if, even before crashing into chaos, we could recite a verse. The exhibition, in short, is a great poem; because "the operation of poetic thought is the imagination and this consists, essentially, in the faculty of bringing contrary or dissimilar realities together", wrote Octavio Paz. "In the most extreme circles [poems], it unites opposites."
But the reason for my visit is not Méndez Blake or poetry, but it´s Silvia Ortiz, who, before letting me go in, is walking to and fro from the gallery to the warehouse and from the warehouse to the gallery, asking me to wait for a moment, as she shows a series of artwork to a collector. As Co-founder and Director of one of the most internationally renowned galleries in Madrid, Ortiz has been running the Travesía Cuatro space with Inés López-Quesada for 18 years now. Throughout its trajectory, the gallery has positioned itself as a reference in the contemporary art circuit both in Spain and Mexico, where it has two other spaces: one in the city of Guadalajara and the other in the capital of the Latin American country.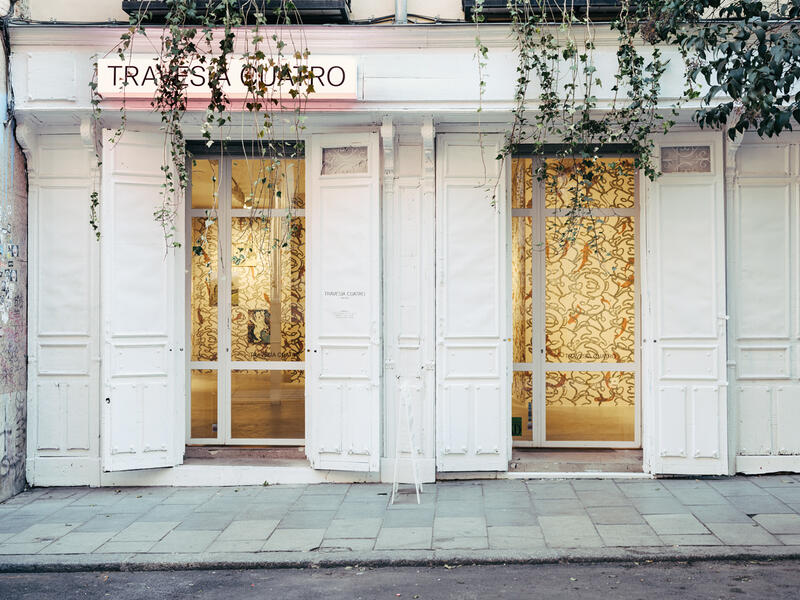 (Trans. Katie Bairsto)
In the midst of the health and economic crisis that has hit the world and the art industry, Silvia opens her gallery to us to talk about the work of Travesía Cuatro during the pandemic, the new ways of conceiving the gallery as a result of it, her vision of collecting in Spain and Latin America, and the possibilities that the historic moment that we have had to experience offers a space like this one.
. A few years ago, in a conversation with Dani Levinas, you commented that, at the beginning of your career, the concept of the gallery annoyed you a little because of its lucrative nature. With almost two decades of experience as a gallery owner, does that still ring true?
No. When you're younger you have an idyllic conception of the art world. But then you get involved and you have a gallery, you start to work with artists, developing a very strong bond with both them as people, and their work and research. That functioning ecosystem that is generated makes you conceive the gallery space as something that exceeds its commercial function.
However, its commercial part is inevitable. In my case, it has always been very difficult for me to get involved when a piece of artwork comes into this world of money and speculation. But the truth is that this world allows galleries and artists to move forward. And in that sense, I think it's great.
. The monster of a system that we're in is inescapable....
A monster, however, that the pandemic has challenged?
Absolutely. Like any business in the world.
. What solutions are you developing in the gallery to deal with the situation?
At the moment, we are working on a channel within the gallery in which we will carry out a series of interviews. The idea is to generate a space for conversation with people linked to the art world of the global South to tackle socio-economic, political and artistic issues. In short, to enunciate a critical vision from the gallery; we believe that this is a fundamental task that we have to confront.
. Apart from the time to develop initiatives like these, what other positive changes has the pandemic brought about?
The fact that we have stopped doing fairs has meant that we spend less money. Obviously, we have participated in online art fairs, but except for huge galleries, online art fairs don't work as effectively, which was demonstrated with our online art fair Travesía Cuatro. The physical experience of art fairs is very much missed: developing a proposal, establishing relationships with collectors from all over the world gave everyone a huge sense of excitement and demanded a sense of communication between everyone. However, two years before the pandemic, Ines and I were already thinking that we were already overwhelmed. Not necessarily because of the fairs but because of everything we were doing around them. We almost looked like an events company. That took up an enormous amount of time and energy. I love not having to do all that any more: I've been able to concentrate a lot more on the gallery, to be here physically, to be constantly evaluating new projects.
This new period has generated some fantastic things. In a way, it has greatly enriched the way we conceive galleries. We've been able to put the growth of the art industry, that perhaps was accelerating too fast, into perspective. Hopefully when we come out of the pandemic, we'll have a balance between what was there before and all these new ways of working that we've adopted.
Inés López Quesada and Silvia Ortiz are experts at reinventing themselves. In 2008, five years after founding Travesía Cuatro, the gallery owners moved to a new space in the Chueca neighbourhood in Madrid. "We invested a lot of money in refurbishing the premises; when we arrived the building was literally just brick.", says Silvia. "We opened in September, and with more than four hundred people attending, it was a successful inauguration. In October 2008, Lehman Brothers collapsed and no one ever came in again." What saved the gallery was our relationship with the Latin American market, especially Mexico, which had begun in 2004 when we participated in the first edition of Zona MACO in CDMX.
But that's not the end of the odyssey. In 2019, the directors of Travesía Cuatro, in association with Jaime Gorozpe - a Mexican collector - and Gerard Faggionato - an Italian gallery owner who has been in charge of spaces such as The Estate of Francis Bacon, in London - opened a new space in Mexico City. Soon after the inauguration, we all know what happened.
Even so, with the world in apparent suspension, Travesía Cuatro continues to move forward with multiple projects and openings on the agenda. In the Madrid venue, on the 23rd of March they inaugurated La lengua en los Ojos, a collective exhibition of Mexican women photographers - none of whom were represented by the gallery- curated by Andrea Celda and Claudia Llanza. "It's a spectacular exhibition; focused on society and feminism," says Silvia enthusiastically. "I'm thrilled to see it mounted right now.
. Why was it that you established such a deep bond with Mexico, even establishing part of the gallery there instead of, for example, in a city like São Paulo or Buenos Aires?
The truth is that it was something very spontaneous. The first art fair in which we participated with Travesía Cuatro was Zona Maco, seventeen years ago. It was the first year of the art fair. There, we met, amongst other people, José Dávila. Our links with him, with Jorge Méndez Blake and with Gonzalo Lebrija made us keep our eye on Guadalajara, the city where the three of them live and work.
Then we were in Buenos Aires for arteBA, in Bogotá for ARTBO; we began to travel the Latin American circuit. But Mexico really absorbed us. In 2013, we already had the gallery set up in Guadalajara. Both Guadalajara and Mexico City are cities with an energy that trapped us and gave us a huge boost. There, we've met very good collectors who constantly support us, and the relationship we have with the Mexican artists in our gallery is practically a bond of friendship.
As well as positioning us within Latin America, Mexico has allowed us to differentiate ourselves and develop an identity.
. What differences do you find between collecting in Mexico and in Spain?
The difference is between Latin America and Spain. Latin American collecting has a different vision from Spanish collecting. Here in Spain, they think about things much more. There they have much more freshness and connection with contemporary art. The Spanish market is less risky. Perhaps it's a legacy of our recent history, of the dictatorship. I think that has had a very big effect on our way of perceiving contemporary art. And I don't want to say that in Latin America that hasn't happened, but, from my experience, I see a much more natural relationship between society and contemporary art.
. Less elitist?
No. I mean that people who can buy art, buy. In Spain, there are people with a lot of purchasing power who would rather buy a car than a painting. There is no strong tradition of collecting.
. And in terms of artistic production, could you establish a difference between Latin America and Spain, or Europe in general?
I don't like to categorise. It's true that we live in a territory with borders, languages and diversity. It is also true that, in the end, all of that gives us an identity. But I don't like to think that what happens there has certain conceptual connotations and what happens here has others? No. Yes, if you think, for example, about Mexican art in the 90s: it has a singular tone, of course, a union that makes it recognisable. But nowadays it's all much more confused. I don't know if it's better or worse, but the borders are blurred. With the technologies that exist, artists don't only have conversations with artists from their own country or city. An artist from Guadalajara, for example, can be aware of what is being produced all over the world; before, the relationships and influences that artists had were gained by how little they travelled and by what happened within the community of artists that surrounded them. Those boundaries no longer exist.
With respect to borders, Silvia Ortiz also recognises that there has been a change at an institutional level. When Travesía Cuatro began its journey in 2003, the gallery aimed to put the focus on the Global South. "The contemporary art scene is managed by Germany, the United States and Great Britain. The northern fringe of the world." This, according to the director, placed the rest of the world at a disadvantage. "A gallery based in Spain and Mexico is exoticism," she laughs. The whole contemporary art circuit was happening in the north and the participation quotas for galleries like Travesía Cuatro were limited - "it was a bit of a frustrating context". However, Ortiz notes that a few years ago, this has been changing. Although on a commercial level it is much more complicated, the discourse of the Global South has gained a lot of visibility, "But the economic question still remains... sometimes you ask yourself the question, who makes art history? Money still rules."
. Finally, and in the sense of continuing to promote the production of the Global South: in the context of an unprecedented emergence of virtual fairs and platforms, and a market that increasingly moves towards the digital sphere, does it make sense to have three physical spaces?
Yes, maybe the world is moving in that direction, but we don't want to give up the physical experience. It's not the same to inaugurate with the artists, to generate a climate of exchange between collectors, gallery owners and artists... It's part of this work. Maybe in ten years, I'll tell you something else. But for the moment, Travesía Cuatro has no intention of renouncing the physical space.
Subscribe
to receive the latest news and articles written by experts
May interest you