ZÉ TEPEDINO: TUDO É A FORMA QUE FALA
From 02/04/2023 to 03/18/2023
Casa Triângulo
São Paulo, Brasil
Tudo é a forma que fala (Everything is the form that speaks) is the first solo exhibition in Casa Triângulo, and opens with one of the artist's public interventions in Rio de Janeiro.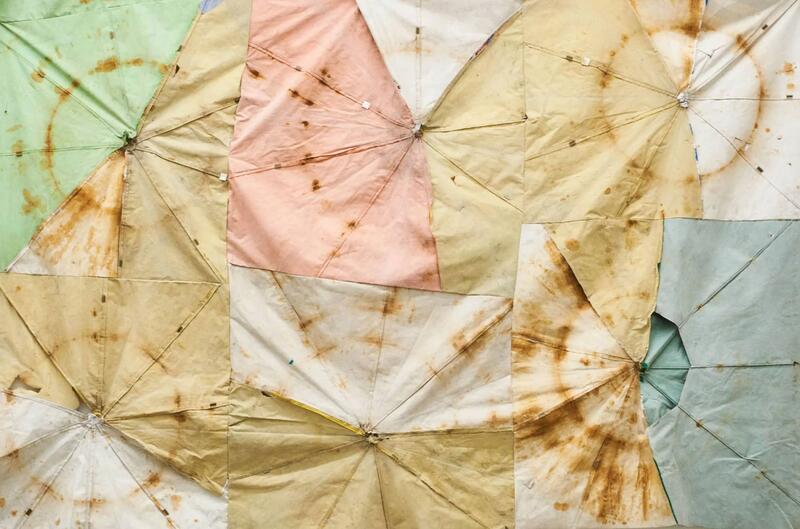 Between late 2019 and 2021, Zé Tepedino carried out countless ephemeral interventions in various public spaces in the city of Rio de Janeiro, always with the help of friends to carry materials, set up structures, and document the work.
The artist seems to be primarily interested in the aesthetic potential of these interventions in the cityscape. In Encantado – Linha Amarela [Enchanted – Yellow Line], the artist painted a hopscotch game on the central lane of Rio de Janeiro's busy Yellow Line expressway, in a risky action that depends on moments of pause in the heavy traffic. Another intervention, this time on the beach in São Conrado, consisted of a temporary sculpture constructed with pieces of found Brasilite roof tile, of various lengths, stood on end in a line along the seashore to form a sort of topographical drawing.
The exhibition has one of the artist's installations in the gallery's outdoor space: an immovable swing with ropes tied to two symmetrically positioned structures, in such a way that the seat is in a permanent state of suspension. Inside the building, we find a diverse group of sculptures, wall works, films, and works in other media, produced in the last five years.
According to the artist himself, his method of work is analogous, to "a certain way of saying things, an improvisation with words." In this sense, each object or material used in his constructions is equivalent to a semantic unit, a term, a word, whose meaning transforms depending on the context and the way it is used: depending on the other terms of this sentence, whether it is shouted, whispered, spoken with affection, anger, or humor, with the ability to express infinite meanings depending on how it is presented to the world.
Zé Tepedino was born in 1990, Brazil. By creating a minimalist vocabulary of abstract forms whose meaning, even when displaced and reduced, evokes a familiar figuration, the artist creates a dialogue between references from the past without failing to capture the fleetingness of the now. Expressing himself between the biography and grammar of materials and a poetic rearrangement of the world around us, his work deploys in actions, assemblages, installations and expanded paintings.
Tudo é a forma que fala. Solo exhibition by Zé Tepedino.
Until March 18th, 2023.
Casa Trianulo. Rua Estados Unidos 1324, São Paulo, Brazil.
Subscribe
to receive the latest news and articles written by experts
May interest you