VERÓNICA MELONI'S DOMESTIC SURVIVAL PROJECT
From 04/04/2023 to 06/09/2023
Rolf Art
Buenos Aires, Argentina
Rolf Art inaugurated artist Verónica Meloni's first solo exhibition at the gallery, entitled El museo de la nada (The museum of nothingness), accompanied by an introductory text by noted curatorial critic and art historian Cuauhtémoc Medina.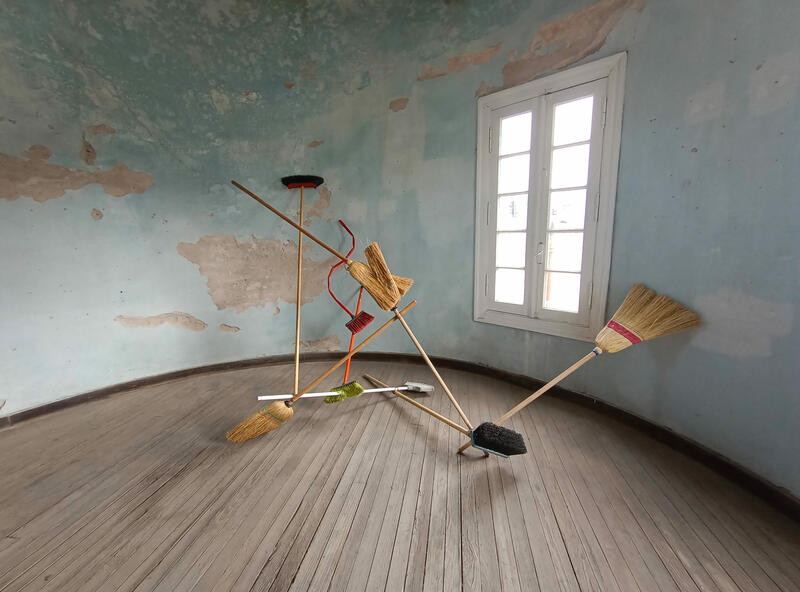 The exhibition project is an unpublished installation that takes over the gallery hall, revealing a constellation of sculptural possibilities that are the result of the multiple experimentations that Meloni has developed in her workshop, where she insists on the gesture and the elements that constitute and accompany her performative practice that revolves around the action of sweeping. The exhibition expands, showing the wide trajectory of this series of performances ­–performed on multiple occasions and in different parts of the world– where, by means of sweeping, she proposes stagings of the intimate process of writing and drawing in real time.
Cuauhtémoc Medina, "Contrapunteo austral de la boleadora y la embocadura", 2023.
In mid-2020, in the midst of the COVID-19 pandemic, Verónica Meloni transformed the confinement into a laboratory. In an old dome in the building where she rents her home in Córdoba, Argentina –an abandoned room where the janitor kept her cleaning tools– Meloni turned her energy as a performance and social intervention artist into a sorcery and psychology of things. In her "cave of impermanence" (as the artist designated it) Meloni staged comedies with caliche, dust and brooms, evocations of The Creation of the Sistine with percuded gloves, homages to Kasimir Malevich with estuaries and ephemeral galaxies derived from actions for Instagram.
Meloni's transitional sculptures project an unlikely offshoot of the assisted readymade that produces risky, anti-gravitational artifacts from the despised utensils of cleaning and domesticity: a kind of broom-room constructivism. Meloni's attraction to these instruments is directly linked to her tendency to engage with the silenced and invisible voice and presence of the subaltern: the way in which throughout her performance work and object research she has interacted with humble women workers, sexual servants, and with the figure of the street sweeper as the one in charge of sustaining the appearance of urban order. Her constructions with brooms echo the actions that, starting in February 2019 in Mexico, Meloni has already made with street sweepers or with her own hands based on understanding sweeping as a possible "unstable writing". The "witch avant-garde" that Meloni has derived from her use of brooms in actions and sculptures makes evident the link she finds between "the acts of sweeping, writing and caring." Not surprisingly, Meloni's constructions are, also, a momentary and repeatable record of the way in which the instrumental is, also, an object of memory that acquires, as in myths, a certain life of its own.
The practice of Verónica Meloni (Córdoba, Argentina) oscillates between performance, public art, drawing, writing and sculptural events. Her work has been selected to participate in the current ABC Art Festival in Baja California, Mexico, after her solo show Choiols, la huella del ñandú en el cielo at the Instituto Cultural de León (Mexico), with an itinerancy scheduled for 2023 at Fundación Marso, Mexico City (Mexico). In turn, her work is currently exhibited at the Andreani Foundation as part of the 8th edition of the Andreani Award. She has participated in numerous exhibitions, cycles and fairs both in Argentina and other countries, among which stand out: Acción de los días curated by Carla Barbero, Museo Moderno de Buenos Aires, 2020; Ciclo Hable con ella, curated by Gabriela Rangel at MALBA, 2020; Arteba, Main Section, El Gran Vidrio, 2019 and 2020; La Marca Original. Argentine art, curated by Gabriela Urtiaga, Centro Cultural Kirchner, 2019; Pausa, Biennial of Performance (Córdoba venue, El Gran Vidrio Foundation, 2019.)
The museum of nothingness. Solo exhibition by Verónica Meloni.
Through June 9, 2023.
Rolf Art. 1353 Esmeralda St., City of Buenos Aires, Argentina.
Subscribe
to receive the latest news and articles written by experts
May interest you