TRONCA. THE END OF A PARTY BY FEDERICO CANTINI
From 02/03/2023 to 03/16/2023
PASTO Gallery
Buenos Aires, Argentina
Pasto Galería presents Tronca, the exhibition of artist Federico Cantini, where through six sculptures, wood is mixed with materials such as chains, paints, acrylics or marker.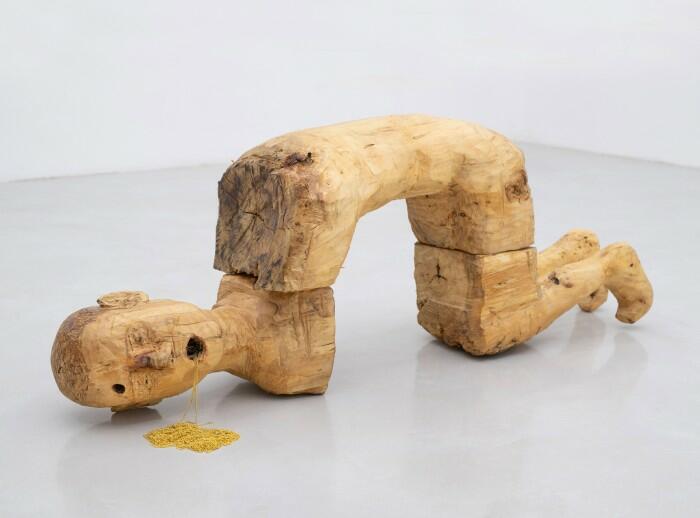 Federico Cantini's sculptures appear broken, with an apparently agonizing posture, but at the same time they shine. His work crosses the boundaries between sculpture and installation, as the setting of the six sculptures situates the viewer at a party –or an after party.
The various characters are made of ficus, banana and poplar wood. They are bizarre, intimate scenes that, like almost everything related to the world of the night, once light is shed on them, they lose their glamour and take on a different meaning. One person vomiting, another one urinating with shame: these everyday night scenes are seen without any value judgment.
Federico Cantini (Rosario, 1991) builds sculptures as objects and structures. His work investigates the relationship between the hardest physics and the most sensitive human processes. They can be thought of as traces of a sensibility or a state of mind; presences that, in their spatial dimension, come into contact with the viewer through the expansion of an experience: being reincarnated in a building or having been a bridge in another life.
His works refer us to a primal world that fails. Giving sense to what has no sense could be a key to understand the starting points he faces when creating and when approaching the plausibility of his physical manifestations and action in confrontation with reality.
He was educated at the National University of Rosario in the career of Fine Arts and completed his training in art clinics with Rafael Cippolini, Ernesto Ballesteros, Andrés Labake and Diego Bianchi. In 2015 she joined the Artists Program of the Universidad Torcuato di Tella. He held solo exhibitions in various galleries and cultural centers in Rosario and Buenos Aires, among which stand out Pasto, Isla Flotante, Centro Cultural Recoleta, Centro cultural Haroldo Conti and Fundación Andreani.
Tronca. Exhibition by Federico Cantini.
Until March 16, 2023.
Pasto Gallery. Chacabuco 866, Autonomous City of Buenos Aires, Argentina.
Subscribe
to receive the latest news and articles written by experts
May interest you