THE BEACH AS A FESTIVE AND DEMOCRATIC PLACE IN BITTENCOURT'S PHOTOGRAPHS
From 03/09/2023 to 04/21/2023
Zielinksy
Barcelona, Spain
Zielinsky presents the exhibition Ramos by Brazilian artist Julio Bittencourt. It is the first exhibition of the artist in Spain, with photographs developed during four summers in a neighborhood on the outskirts of Rio de Janeiro between 2009 and 2012.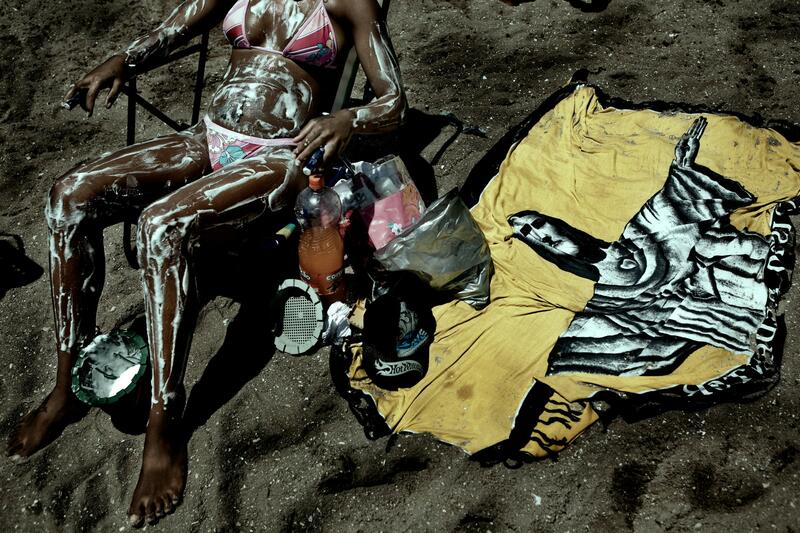 The photographs are the result of the artist's research on the multiple realities present in Piscinão de Ramos, an artificial beach used as a place of leisure and sociability in a peripheral region of Rio de Janeiro.
The beach, that democratic and festive place, finds in Ramos its maximum exponent: bodies, food, games, sunscreen, heat, sweat, love stories and a pulsating life that is on stage under the gaze of the photographer who meticulously records every detail and event.
About the place, the artist says: "I decided to photograph Piscinão de Ramos because it is an unusual space that, in addition to serving as a recreational area not only for the people who live around it, is also a place that coexists with problems such as violence and pollution".
The exhibition presents a photographic narrative of nine images where the intensity of the sun on the bodies makes each of the scenes a surreal record or, as Martin Parr writes about Julio's photographs: "You can almost smell the beach when you look at these pictures". The Ramos series was nominated this year for the Prix Pictet, an award that aims to harness the power of photography to bring global attention to sustainability issues, especially those related to the environment.
Julio Bittencourt was born in São Paulo, Brazil, in 1980 and currently lives and works between São Paulo and Paris. He has had numerous exhibitions in different contexts and countries, including the Museum of Photographic Arts in San Diego, USA; Pinacoteca de São Paulo, Brazil; Ernst Leitz Museum, Wetzlar, Germany; Museu de Arte de Rio, Rio de Janeiro, Brazil; Tokyo Photographic Art Museum, Tokyo, Japan, among others.
Ramos. Solo exhibition by Julio Bittencourt.
Until April 21, 2023.
Zielinsky Gallery. Passatge Mercader 20 08008, Barcelona, Spain.
Subscribe
to receive the latest news and articles written by experts
May interest you