POETIC ACTIVISM IN PINK AND RED – SCAFATI'S EXHIBITION IN NEW YORK
Storefront for Art and Architecture exhibits Something Broke: 2011-Windows-2021, an exhibition by Buenos Aires-based artist Mariela Scafati that presents an installation of hand-painted posters lettered by the artist with her writings and reflections on art, activism, and community. The exhibition, hosted at Storefront's gallery space in New York, is open until September 15th, 2021.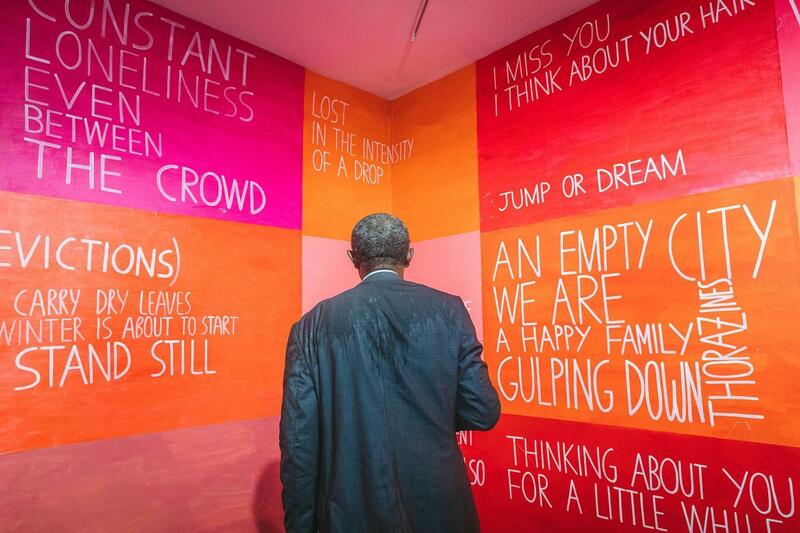 "The body, fluid barricade," states one of 60 monochrome posters hand-painted by artist Mariela Scafati in shades that range from militant red to wild pink. For this installation, Scafati reaches back to 2011, when she presented an exhibition entitled Windows in Buenos Aires. Ten years later, she revisits and expands upon this body of work, recontextualizing it in light of the intermediate decade of transfeminist activism that has intensely impacted the artist and those around her. "I don't know if I can define these ten years with words, but possibly with colors."
"A self portrait in reds and pinks," offers Scafati by way of description. Something Broke is a diary of the personal and the collective, in the form of paintings that are both poems and protest signs. It's a window into the artist's body as a painter, a teacher, an activist, a queer silkscreener, and – as of recently – a mother. It's a spectrum of visceral crimsons.
These reds and pinks emerge from the artist's bonds of affection through activism, and from an entanglement of art, politics, and life. They are windows that frame the subjectivities of a body that seeks to inhabit other ways of being.
Mariela Scafati (1973) is a painter, queer silkscreener, and teacher. She has lived and worked in Buenos Aires since 1997. In 2000, her first solo show took place at Belleza y felicidad gallery in Buenos Aires. One of her most recent group exhibitions, Transformation, was presented at the National Museum of Engraving in Argentina and at the 11th Berlin Biennial. Scafati has participated in collective and collaborative projects related to screenprinting, education, radio, and theater. Since 2007, she has been a member of Queer Silkscreeners, a non-group that calls meetings to create slogans that are printed on T-shirts for use at pride marches, feminist demonstrations, schools, hospitals, museums, and assemblies. Since 2013, she has been a part of Cromoactivismo, a group that uses color to intervene poetically and transversally in political and social events. In 2020, she joined a collective that is constructing the Transfeminist Agroecological Garden in Buenos Aires.
Something Broke: 2011-Windows-2021
Storefront for Art and Architecture
97 Kenmare Street
New York, NY 10012
Related Topics
Subscribe
to receive the latest news and articles written by experts
May interest you