MANUEL MÉRIDA'S RETROSPECTIVE IN PARIS
For nearly fifty years, Manuel Mérida has developed a unique technique on the many possibilities matter may offer. Espace Meyer Zafra presents a retrospective exhibition under the title "Rétroviseur". On this occasion, the artist's very first catalogue Raisonné will be published by the gallery with texts written by Matthieu Poirier, Art Historian and curator specializing in Kinetic Art, and Valentina Locatelli, Art Historian and South American Art specialist.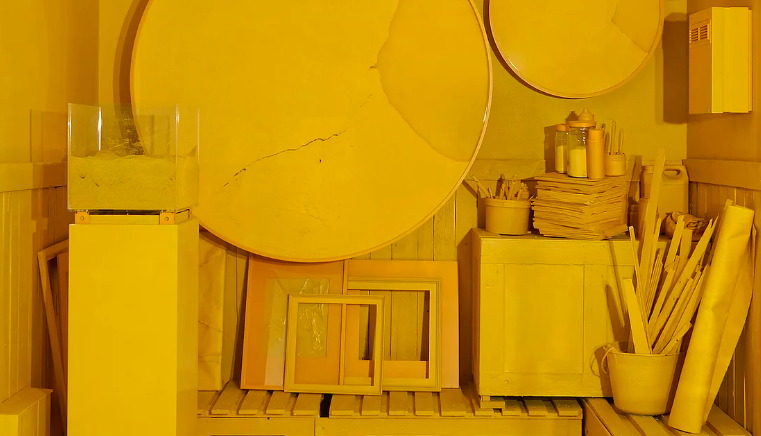 Manuel Mérida, Venezuelan artist born in 1939, moved to Paris in 1968. Trained at the School of Fine Arts in Valencia, Venezuela, he became one of the best representatives of the informalist trend and the gestural art of his country. Through his work, he seeks to avoid offering a still and unique vision, playing with the variations of colored matter such as pigments, sand, coal powder, wood particles, painted wood or painted metal which sublimate his monochromes. The works are constantly mobile and realized in various shapes, sizes and colors.
The pieces showcased in Rétroviseur are animated by the viewer's hand just like the work of Peinture Cinétique. As for the ones activated by a motor, they move slowly such as Orange Circle Signalisation. Thus, the viewer's experience is at the center of this exhibition. Whether it be by manual activation or by the action of a motor, the viewer is invited to fully participate in Merida's hypnotizing work.
Each movement generates a new unexpected monochrome; Organic matter is inverted creating forms renewed to infinity. In other words, Manuel Mérida uses the potentitalities of chance to create a work in perpetual transformation. The images formed by the rotating material provide a soothing effect on the viewer watching them.
Painter, decorator, advertising designer and scenographer, Manuel Mérida was trained at the Arturo Michelena School of Plastic Arts in his hometown under the aegis of painting professor Braulio Salazar, a key figure in the career of Mérida. Considered as an informal painter in his early days in the 1960s, his work was recognized in his country of origin but his desire to further experiment pushed him to leave Caracas for Paris in 1968. His entire work was born from his journey there. Upon his arrival in Paris, he joined Carlos Cruz-Diez's studio. While working for the Venezuelan master, Mérida is in total experimentation, not knowing what he is looking for. Multiple discussions with Cruz-Diez and his take on kinetic art allow him to understand the founding principles of kinetics and in particular to perceive the importance such movement could take in his work.
"All along the 1980s and 1990s, Mérida pursued his matterist experiments by enclosing all sort of materials in his revolving cases: not only pigments and wood dust but also glue, glass, metallic powders, painted wood, fragments of tiles, wire, et. al" explains Valentina Locatelli. "Unlike Soto or Cruz-Diez, Mérida is not interested in the process of dematerialization nor in optical illusions based on the interaction of light and vibrations; he'd rather work with concrete and tangible elements to above all stress their materiality. In this context, his works in advertising as well as set designer ended up becoming an important investment in his career as they provided the artist with a complete new set of technical and practical skills, in-depth knowledge of materials, mechanics and, above all, a deep-rooted sense of space and architecture, which would become the key to Mérida's large-scale installations to this day", she adds.
Since its opening in 2000 the gallery Espace Meyer Zafra has specialized in showcasing Latin American and European artists in optical art, kinetics and geometric abstraction. Under the guidance of Venezuelan Master Jesus Rafael Soto, Liliane Zafrani, the gallery's Director, decided to embark on this artistic journey with a quintessential landmarked space located in the heart of the historical district Le Marais, in Paris. The gallery subsequently started representing the first generation of kinetic art Masters and then came along the second generation of creators: composed mainly of Latin Americans, some of the names include Francisco Salazar, René Ugarte, Manuel Merida, Cesar Andrade and Dario Perez Flores.
Subscribe
to receive the latest news and articles written by experts
May interest you