FERNANDA GALVÃO'S SCIENCE FICTION AT CASA TRIÂNGULO
From 06/17/2023 to 07/19/2023
Casa Triângulo
São Paulo, Brasil
Casa Triângulo presented Fernanda Galvão's first solo exhibition at the brazilian gallery: As colinas murmuravam e sonhavam em cair no mar (The Hills Muttered and Dreamed of Falling in the Sea). Curated by Luana Fortes.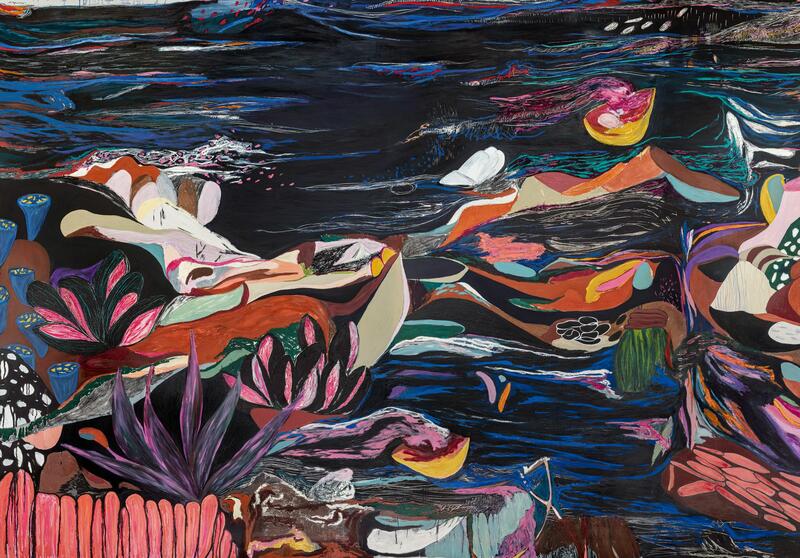 The exhibition condenses the relationships between the artist's production and science fiction literature. The novel The Lathe of Heaven, published in 1971 by Ursula K. Le Guin, is the starting point for this exhibition, beginning with its title, a phrase borrowed from the book. The North American writer played a key role in dismissing the idea that science fiction and fantasy were literary styles of lesser value.
The exhibition features large scale paintings in which Galvão continues with her pictorial research, using expansive color palettes to construct places with different climates and atmospheres. For the first time, the artist is also showing a painting on a folding screen, in which she explores the notions of duality and opposition, and deepens her interest and studies concerning the tradition of paintings on folding screens in Japan and South Korea, after recently holding a solo show at the South Korean gallery Foundry Seoul.
The solo show also presents smaller scale paintings, in which Fernanda Galvão takes the surface of the canvas itself as a pictorial element and explores relationships between drawing and painting. These paintings are articulated on the largest wall in Casa Triângulo's exhibition space, as a set that can be separated and/or re articulated in various ways, bearing in mind that the only constant in the world represented by the artist are the ideas of transformation, change and instability.
The exhibition's setup was also conceived to relate conceptually with Galvão's production. The gallery's walls will be lined with the same material used in the artist's canvases, producing a circular logic, since the artist will also use this same material as canvases in later works.
In As colinas murmuravam e sonhavam em cair no mar, Fernanda Galvão presents the paths her work has taken in recent years, as she has been focusing her attention and effort more on her pictorial production, revealing procedures in which she experiments with other formats, sizes and ways of occupying the canvas. In the exhibition, the artist's work is brought together with science fiction, assuming the same logic used for creating the worlds of fantastic literature. A world both very close to and extremely far away from the one in which we are now living.
Fernanda Galvão was born in 1994, São Paulo, Brazil. She lives and works in São Paulo, Brazil. Has a bachelor degree in Visual Art from Fundação Armando Alvares Penteado, São Paulo, Brazil. Selected solo exhibitions: As colinas murmuravam e sonhavam em cair no mar, curated by Luana Fontes, at Casa Triângulo, São Paulo, Brazil [2023]; Oyster Dream, at Foundry Seoul, Seoul, South Korea [2023], Papila Sobremesa Tutti-Frutti, part of the simultaneous exhibition program of the Museu de Arte de Ribeirão Preto, Ribeirão Preto, Brazil [2021]; Selected group exhibitions: Ópera Citoplasmática, Museu Oscar Niemeyer, Curitiba, Brazil [2022]; The Open Palm of Desire: Gary Komarin and Fernanda Galvão, Trisivrikos, London, England [2022]; Por muito tempo acreditei ter sonhado que era livre, curated by Pryscila Gomes, part of Arte Atual program, Instituto Tomie Ohtake, São Paulo, Brazil [2022]; Form der unruhe, curated by Luisa Telles, La Dons Gallery, Hamburg, Germany [2022]; Metamorphoses, curated by Dimitrios Tsivrikos, Neon Gallery, London, England [2021]; Re-rooting: Daisy Murphy Youth Dance, curated by Olivia Bright, Folkestone, England [2021]; Mythologies, curated by Dimitrios Tsivrikos, Neon Gallery, London, England [2021]; E nesse ano a noite preta prega a porta, Oficina Cultural Oswald de Andrade, São Paulo, Brazil [2018].
As colinas murmuravam e sonhavam em cair no mar. Solo exhibition by Fernanda Galvão.
Curated by Luana Fortes.
Until July 29th, 2023.
Casa Triângulo. Rua Estados Unidos, 1324. São Paulo, Brasil.
Subscribe
to receive the latest news and articles written by experts
May interest you