CASA TRIÂNGULO ANNOUNCES O BASTARDO'S PRETOS DE GRIFFE
From 11/20/2021 to 01/29/2022
Casa Triângulo
São Paulo
O Bastardo's first solo exhibition at the gallery points to the urgent need for a historical revisionism that will enable black people to increasingly believe they are what they have always wanted to be: free to enjoy life in all its fullness.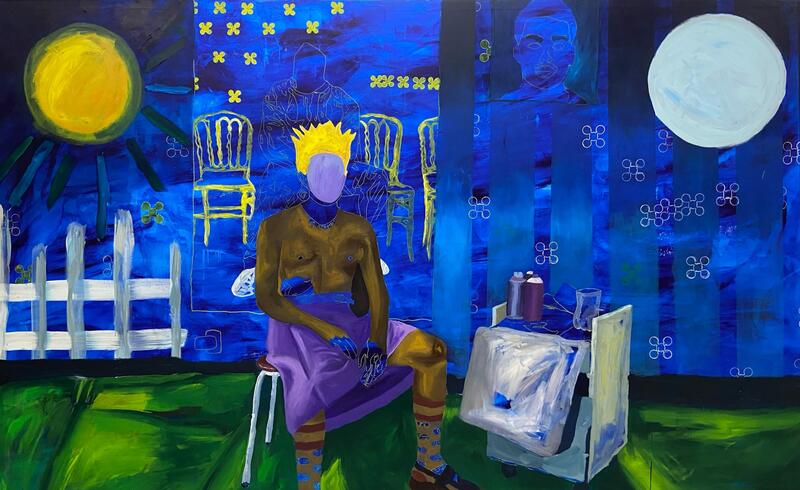 The Portuguese word empoderamento [empowerment] has been emptied and shifted from its original concept, but it is still fundamental for the discussion concerning ethnic-racial and gender issues, as it touches on changes in the relationships of power of the so-called minorities. Based on the English word empowerment, empoderamento bears the idea of minimizing the effects of oppression, by gathering a special meaning in the context of philosophy and education, not being a movement that takes place from the outside in, like the term in English, but rather through an inner process, through the social achievements and advances of whoever is empowered.
This is the discussion at the center of the series Pretos de Griffe, which is also the title of the first solo show by O Bastardo at Casa Triângulo. His paintings portray a series of black figures that have gained an outstanding position – in terms of fame, but also of power – in their areas of activity, like Kanye West and Mano Brown. He establishes a stand that symbolizes the general idea around this exhibition, with the aim of expanding the notion of griffe [designer label] beyond its literal sense to now denote ostentation – especially when this concept is linked to "the minorities."
Here, the artist portrays these characters freely, while also including indicators of lifestyle, such as colored or bleached hair and fashionable clothes that are eye catching for their neon colors. Thus, points to the need to take a fresh look at role of the black person in society, laying claim to a place of existence for these bodies no longer linked to historical traumas and violences, but now under a perspective of freedom.
These paintings – prepared especially for this exhibition and shown at Casa Triângulo for the first time – therefore seek to normalize the success of black people through their achievements. Nevertheless, the portraits created by the artist evince codes that put this identity group into places that have always been absent from the narratives.
O Bastardo reflects the uneasiness of a new generation of racialized artists, who are now coming into their own and are urgently laying claim to processes of justice and the righting of historical wrongs. This inverted meaning in his painting can furthermore be aimed at rethinking the art object's making in a way that is less academic and Eurocentric, and more "marginal" – just as graffiti and other manifestations of black culture have always been assigned a low status in relation to a notion of dominant high culture.
O Bastardo: PRETOS DE GRIFFE
Until January, 29th 2022
Casa Triângulo
Rua Estados Unidos, 1324, Jardins, São Paulo
Subscribe
to receive the latest news and articles written by experts
May interest you