CAMILA ELIS' NEW WORK AT MAMUTE GALLERY
From 11/10/2022 to 01/30/2023
Mamute
Porto Alegre, Brasil
Mamute art gallery inaugurates the exhibition Fulgor na Noite (Glare at night) with works on canvas by Camila Elis.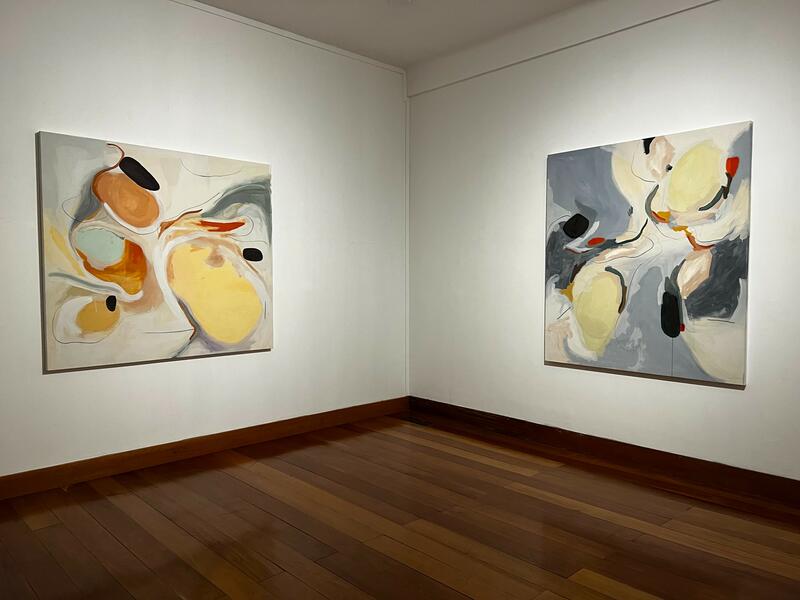 The artist goes beyond the antagonistic duos of abstraction-figuration, lightness-density, permanence-impermanence, and persistently creates in pictorial language a corpus of free work, permeated by elements of processual elaboration and unplanned relationships, but also resulting from continuous and experimental work in this medium. The most graphic part of the exhibition is in the new series, Desenhos Moles (Citrus Drawings), in which she articulates sensations, emotions and senses.
"In the walls, floors, voids, framing, extrafields, curvatures, surfaces, traces, textures and propositions of Fulgor na noite, the second solo exhibition of Camila Elis at Mamute Art Gallery, several poetic axes converge in a provocative and restless work. In an investigation that never ceases, she does not dodge the shocks of daily work in the studio and, at the same time, transits through phantasmagorias and temporalities, approaches the fields of cosmology and phenomenology, forging a well amalgamated encounter of concept and matter to explore the expanded and contemporary field of painting", explains Mario Gioia, the exhibition's curator.
Camila Elis is a visual artist who lives and works between Porto Alegre and São Paulo, Brazil. Her artistic practice is linked to the idea of questioning how we are able to fictionalize the things that happen and that each one of us perceives. She also explores the capacity of human beings to project on these things new particular meanings directly related to what they are, or to what they are living and being in concrete moments (times). She also explores thinking the spaces, the places between what each human lived, the body, and the echoes and distortions through the elaboration of images on surfaces using drawing and painting as main media.
In 2019 she carried out the research Las cosas suspendidas with her first solo exhibition at Mamute Gallery curated by Bruna Fetter. That same year she participated in the artistic residency Linha, in Porto Alegre, where she exhibited the research Filhas do Atrito (Daughters of friction) in her second solo exhibition. In 2021 she dedicated herself to her academic life, a project she is currently developing.
Fulgor da noite. Solo exhibition by Camila Elis.
Until December 30, 2022.
Mamute Gallery. Rua Caldas Júnior, 375. Centro Histórico. Porto Alegre, Brazil.
Subscribe
to receive the latest news and articles written by experts
May interest you