GONZALO MAGGI: FROM CINEMA TO PHOTOGRAPHY AND ART MANAGEMENT
By Matías Helbig | November 23, 2018
Filled with artworks and prototypes for his next individual exhibition in La Boca neighborhood, Gonzalo Maggi's studio-house in Villa General Miter remains hidden like a small museum. Behind two monitors, in front of the library, the young Argentinean artist takes a review over the works he has been doing throughout his career. Graduated from the Universidad del Cine almost a decade ago, Maggi changed cinema for the photography, but his production processes have more cinematographic filming than anything else.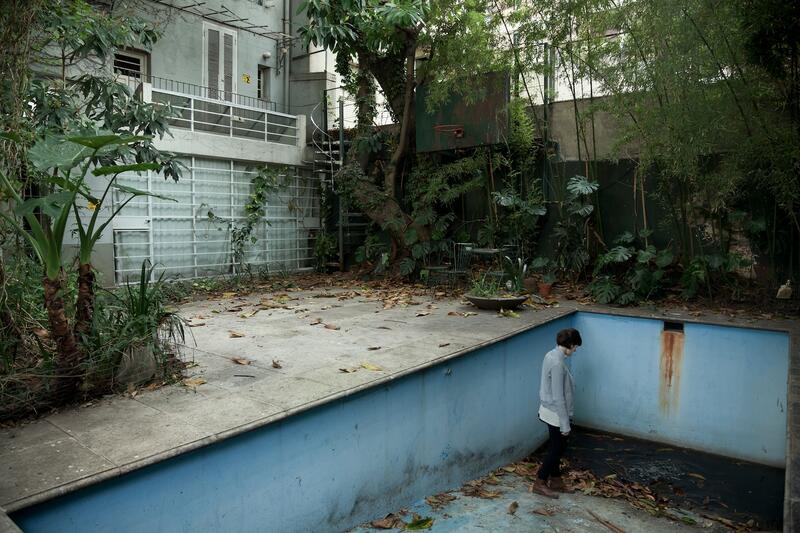 As also happens with Jeff Walls series - an inevitable allusion -, Maggi's artworks simulate spontaneous, quasi-documentary situations. However, the final shot not only carries with it endless visits to the location - alone first and with characters afterwards - but in many cases they are constituted in post-production, from several photographs. In this way, Maggi takes over semi-urban landscapes under a distant gaze: are the characters that inhabit the locations that create the piece.
"In general, it takes a long time for me to take a picture," Gonzalo explains. "I usually go back to the same place again and again. It's a long process from finding locations to having the final image", he adds as he opens a folder with the Looming label.
Under the curatorship of Alberto Goldenstein, with whom he performed a clinic, Silencioso pero insiste (Quiet but insists) was Maggi's first solo exhibition. After having presented some works in conjunction with Lihuel González, the exhibition exhibited at Rojas opened the way to his career. "At that time I worked a lot with teenagers or postadolescentes, figures that by their own transitions overflow paternal and institutional the spaces", he says referring to a photograph where a young man almost naked is prostrate in the middle of a completely disordered room and with a FLEMA (Argentine 90's punk band) graffiti behind the bed. Although the photos are not completely built or only registered, it is that thin line between the fictional and the documentary world what Maggi's series intend to represent. "I am attracted to borders or boundaries, as spaces take shape from the characters that inhabit them."
Several works like Looming, Caminar en Círculos (Walking in Circles) or Fuga (Fugue) where followed almost with the same performative methodology, constituting a thematic thread throughout his works. Perhaps, one of the most interesting to highlight was RRHH (Human Resources), an installation that the artist made as part of the Torcuato Ditella Artists Program in which he participated during 2013. Alluding to 'Casting Couch' pornographic genre, Maggi replied this film sets with durlockwalls. "The idea of ​​the work was to play with an abyss, with the indiscernible between fiction and non-fiction intermediate situations that not only porn world possesses," he explains. Thus, the Argentine artist brought a film genre in order to take it as a representation of situations that occur in job interviews of all kinds.
Finally, in relation to his current work, Maggi is producing a series based on an exhibition that will take place at Munar space in March, to which he was invited by Carlos Herrera. From the record of large-scale urban landscapes, the photographs will be displayed as outdoor billboards.
With a prolific career and a dozen years ahead, the figure of Maggi must be taken into account within the contemporary Argentine scene. Talented artist, currently represented by Aldo de Soussa gallery, says that he isn't limited to artistic production: "With Constanza Chiappini we formed Intemperie, a platform to generate exhibition projects, oriented to self-management, with a federal perspective that articulates artists from various provinces." The project participated this year at the MAC fair in Córdoba and have planned several exhibitions and some fairs for the coming year. "Ultimately," he says, "the objective is to propose new options for projects that are integrated into the framework and tend to make it more flexible".
Subscribe
to receive the latest news and articles written by experts