Daniel Boccato: Centinela
By Álvaro de Benito Fernández | March 28, 2018
Tabacalera Art Promotion, Madrid. Febrery, 2018.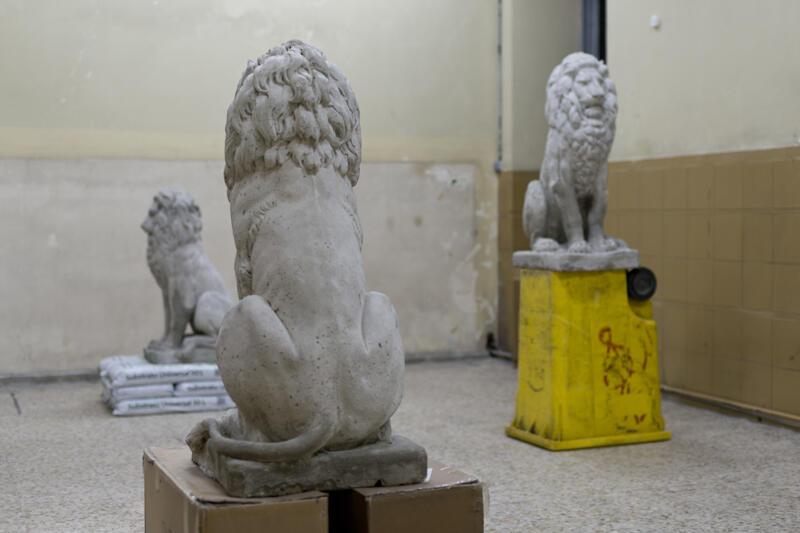 The proposals of Daniel Boccato (Campinas, Brazil, 1991) investigate the relationship between abstraction and figuration and are based on the investigation of the different discursive forms that pose language and form, suggesting other foundations that establish a new thinking with which to challenge any constriction. All this is reflected in Centinela, his last performance and specific project for the space Studies of the old tobacco factory in Madrid, where he follows another of the constants of his production: the breaking of any convention on formats and the preferential use of materials and objects of an industrial nature.
With this objective in mind, the Brazilian artist has prepared several lions of concrete for the execution of this installation, all similar to those animals guardians of the European classical tradition, in a room with a huge manufacturing load -the old dressing room and washbasins of the factory-. Each of them has been placed on a daily object, all of them linked to the secondary sector, which replaces the classic pedestal in its function of enhancing the figure, positioning it as a work of art moving it away from the ground. In this way, the concept that represented that lion is completely diluted in the passivity that confers the dislocation of his figure on a trash container or a cardboard box, in addition to its distribution in a totally out of place environment. The symbol has thus lost almost all its strength; it is no longer vigilant, it is no longer active, and its peculiarity no longer resides in itself, but in the platform that sustains it, since the roles have been exchanged: the uniformity of the sculpture has given prominence to what really It is different.
Subscribe
to receive the latest news and articles written by experts