WITH A POETIC AND INTERACTIVE EXHIBITION, BIENALSUR LANDS IN SAUDI ARABIA FOR THE SECOND TIME
The Bienal Internacional de Arte Contemporáneo del Sur (International Contemporary Art Biennial from the South, in English), better known as BIENALSUR 2021 and born in the Tres de Febrero National University, in Argentina, arrived for the second time in faraway Saudi Arabia with "Echoes. A world between the analogic and the virtual", a collective exhibition. The show will feature 20 artists from Asia, Africa, America and Europe.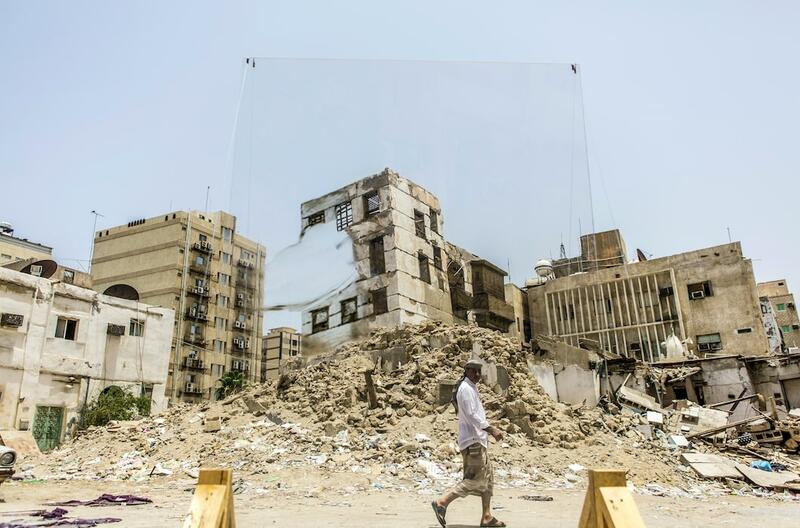 The exhibition inaugurates Saturday, October 16th, in the natty JAX District in Riyadh, a venue that promises to become one of the main artistic hubs in the Middle East, and will then, on Tuesday, November 30th, move to Qasr Khuzam, in Jeddah. Curated by the biennial's artistic director, Diana Weschler, the proposal will have the participation of Ahaad Alamoudi (Saudi Arabia), Darren Almond (Great Britain), Daniah Alsaleh (Saudi Arabia), Joël Andrianomearisoa (Madagascar), Hugo Aveta (Argentina), Cécile Bart (France), Daniel Canogar (Spain), Tanja Deman (Croatia), Sève Favre (Switzerland), Lina Gazzaz (Saudi Arabia), Gabriela Golder (Argentina), Valérie Jouve (France), Chris Larson (USA), Anaïs Lelièvre (France), Sujin Lim (South Korea), Rafael Lozano-Hemmer (Mexico), Matilde Marin (Argentina), Angelika Markul (Poland), Filwa Nazer (Saudi Arabia), Tony Oursler (USA), Muhannad Shono (Saudi Arabia) and Carola Zech (Argentina).
Under a curatorial axis called Forms of inhabiting/Fluid Constellations, the exhibition takes echoes and reverberation, both acoustic phenomena, and presents them as poetic metaphors of the ways in which we naturally move in our world, both analogically and virtually. According to the curatorial text: "We know that our experience basically flows in two dimensions: time and space. However, the way in which we used to experience these dimensions was face to face, so we talked about executing an action, we meant in real time and simultaneously with another person. Today, our experiences are both face-to-face and virtual. This flow leads to a modification of the time-space dimension, it installs new forms of what is real; we can 'share situations in real time' without sharing the same physical space, or we 'do something with another person' without sharing space or time. This presents a dilemma: how the notion of 'reality' is born of this flow, from these echoes and experiences into others. In this way, the exhibition seeks to transmit to the viewer a reflection on this way of inhabiting the present. This varied selection of artists and works aims at recreating this flow, which characterizes us contemporary individuals, from a poetic standpoint. The works integrate with the spaces, thus producing an immersive situation with the viewer, inviting him/her to explore spaces that aren't entirely recognizable and to identify images that generate surprise or meditation'.
The exhibition is characterized not only by a diverse array of cultures and nationalities, but that heterogeneity is also reflected on the expressive mediums and formats that the artists themselves picked, and which include a variety of installations, interactive objects, video installations and photographs.
The relativization of time and space is the theme that cuts across the works of Joël Andrianomearisoa, Cécile Bart, Daniel Canogar, Anaïs Lelièvre, Rafael Lozano-Hemmer, Muhannad Shono and Carola Zech, which find a perfect counterpoint in those of Darren Almond and Hugo Aveta, where time becomes relative. The memory, the history and the inclusion of past and present imageries are revealed to the public through the video installations by Tanja Deman, Gabriela Golder, Chris Larson, Matilde Marin, Angelika Markul and Sujin Lim, the photographs by Valérie Jouve and Sève Favre's interactive objects. As if in a coda, the subject's condition is portrayed in the works by Daniah Alsaleh and Tony Oursler. "A feeling of surprise and wonder will be the engine of this show's search, one which seeks to infuse uncertainty in the viewer, and from there to awaken the desire to explore and think creatively. The challenge of a curatorial narrative is related not only to the selection of artists and works, but also on the form in which they relate with space, trying to generate a dynamic proposal in which the public feels encouraged to choose between different paths, and to establish his or her own relationship with the works. The idea is to imagine that every person follows her own itinerary and, with it, her own singular narrative", Weschler adds.
At the JAX District in Riyadh, BIENALSUR's 12843rd kilometre, the show can be visited until November 15th, while at the Qasr Khuzam in Jeddah, it's 12009th kilometre, it'll be open until December 30th.
The biennial's third edition is held between July and December in over 120 venues in 50 cities from 23 countries, with the participation of over 400 artists. It works as a collaborative network between museums, cultural centres and universities throughout the world, "launching from the South's South as an exercise of indiscipline". It calls to question that which is institutionalized, seeking to contribute to the emergence of new ways of artistic and social movement, both locally and globally. BIENALSUR constructs its own cartography, one which opens to the 5 continents, giving value to what is local in the global, singularity in diversity and the defense of the right to culture.
Subscribe
to receive the latest news and articles written by experts
May interest you