TRAVESIA CUATRO ANNOUNCES JOSE DÁVILA'S PARTICIPATION IN THE 22ND BIENNALE OF SYDNEY
The artist is presenting a group of works belonging to his Joint Effort series. Jose Dávila challenges his own practice to create site-specific sculptures from found objects on Cockatoo Island, the site of an early colonial quarry, a British convict precinct of incarceration, a place where ships were built for the Second World War, and now a protected UNESCO site.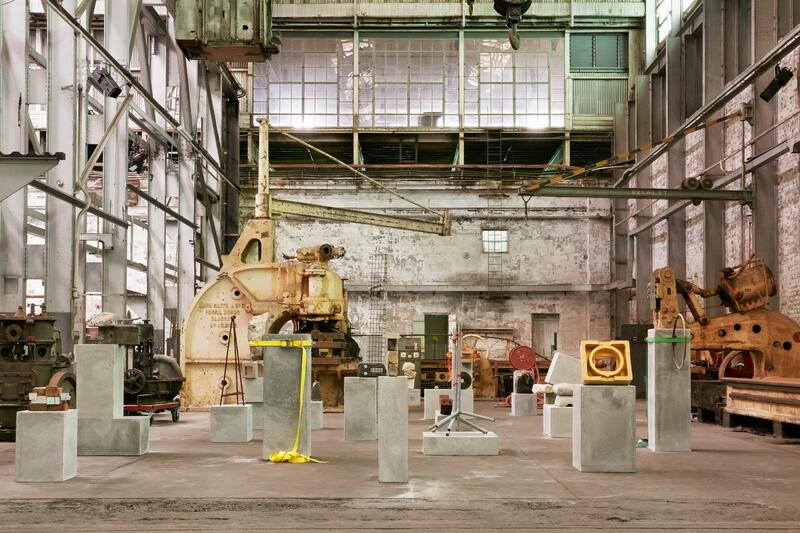 The sculptures are metaphors for the forgotten welfare of sandstone, metals and discarded objects that once had usefulness and power. When we look at these sculptures, they teeter as if to fall, yet hold themselves together through uncanny support, a careful and precise game with gravity, and a trick of the eye. It is surprising – in their new combinations, these discarded materials survive to reflect our own rejection of them, like a memory trying to get back to a place of visibility.
The 22nd Biennale of Sydney, titled NIRIN, is an expansive international exhibition reaching across Sydney with an accompanying grass-roots public program, NIRIN WIR. NIRIN (Edge) and NIRIN WIR (Edge of the sky) are Wiradjuri words. First Nations languages are used throughout the Biennale to highlight the 2019 International Year of Indigenous Languages.
NIRIN brings seeming opposites together, like the everyday experience of throw-away contradictions and changing emotions colliding to reveal hidden histories, or self-representation that may both confront and empower something unimaginable. In urgent times of shifting boundaries and conflicts between humanity, nature and spirituality, we desperately need to alter our actions to catch up with expedient change and show respect for ancient cultures. Now is a potent time to heal and feel the rush and tension of new futuristic possibilities.
NIRIN proposes that creativity is an important means of truth-telling, of directly addressing unresolved anxieties that stalk our times and ourselves. Most importantly, it is a place from which to see the world through different eyes, to embrace our many edges and imagine pride in ecologically harmonious and self-defined futures, and to explore both ancient ties and new kinships borne of sensitivity, desire and multiplicity.
Jose Dávila (1974. Guadalajara, Mexico) lives and works in Guadalajara, MX. His work originates from the symbolic languages that function within art history and Western visual culture. These pictorial, graphic and sculptural languages are reconfigured as contradictory and contrasting relations, taking the correspondence between form and content to its limit. The artist represents these oppositions through different perspectives: the association between images and words; the structural disposition of materials which entails the possibility of a harmonious balance or disarray; the use of peripheral routes in order to define architectural space and the presence of objects. Dávila's work is essentially a multidisciplinary endeavor that presents a series of material and visual aporias, these paradoxes permit the coexistence of frailty and resistance, rest and tension, geometric order and random chaos. Dávila's sculptural work is based on the specificity of the employed materials, their origin, symbolic value and their formal characteristics are elements that take great significance; industrial materials interact with organic raw materials.
His work has been exhibited at Museo del Novecento, Firenze, IT; Gropius Bau, Berlin, DE; Getty Foundation PST LA/LA Triennial, Los Angeles, USA; Blueproject Foundation, Barcelona, SP; Hamburger Kunsthalle, Hamburg, DE; Marfa Contemporary, Marfa, USA; Savannah College of Art and Design, Savannah, USA; Gemeentemuseum, Den Haag, NL; Museo Universitario de Arte Contemporáneo MUAC, Mexico City, MX; Caixa Forum, Madrid, SP; MoMA PS1, New York, USA; Kunstwerke, Berlin, DE; San Diego Museum of Art, San Diego, USA; Museo Nacional Centro de Arte Reina Sofia, Madrid, SP; MAK, Vienna, AT; Fundación/Colección JUMEX, Mexico City, MX; Bass Museum of Art, Miami, USA; Museu de Arte Moderna, São Paulo, BR; among others.
His work is part of international public and private collections such as Solomon R. Guggenheim Museum, New York, US; Centre Georges Pompidou, Paris, FR; Museo Nacional Centro de Arte Reina Sofía, Madrid, SP; Inhotim Collection, Brumadinho, BR; Hamburger Kunsthalle, Hamburgo, DE, Albright-Knox Art Gallery, Buffalo, US, among others.
Jose Dávila has been awarded with the 2017 Baltic Artists' Award in the UK and is a 2016 Honoree of the Hirshhorn Museum in Washington DC, USA. He has received scholarships and funding from the Andy Warhol Foundation and the Sistema Nacional de Creadores del Fondo Nacional para la Cultura y las Artes, MX.
*cover: Jose Dávila, The Act of Perseverance. Installation view (2020) for the 22nd Biennale of Sydney, Cockatoo Island. Courtesy of the artist and König Galerie, Berlin. Photo: Zan Wimberley.
Subscribe
to receive the latest news and articles written by experts