REPLICATOR, PHILLIPS' FIRST NFT, SELLS FOR $4.1 MILLION
Mad Dog Jones' REPLICATOR, a unique, multi-generational NFT, sets new auction record for a living Canadian artist.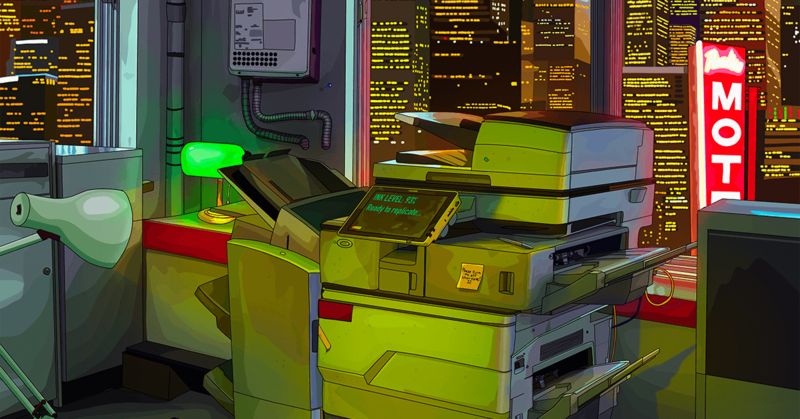 After two weeks of bidding, Mad Dog Jones' REPLICATOR, the first NFT to be offered in Phillips' history, achieved a total of $4.1 million. With an opening bid of $100, the work was created with the ability to generate new unique NFTs from itself every 28 days. Bidding soared to $2.4 million in the first twentyfour hours and in the last 5 minutes of the sale, achieved a final price of $4,144,000. Selling to an anonymous collector, the work saw participation from across the globe.
HOW IT WORKS
REPLICATOR is an NFT experience comprising seven unique generations of artworks. Generation 1, which has just been sold, begins as a singular Genesis illustration of a photocopy machine in an office space. This first generation NFT will produce six NFTs at the rate of one per month, with each generation being unique from those before and after it. Each subsequent generation will produce one less artwork in its lifetime until it reaches Generation 7, which will produce no new NFTs. The buyer of the work now possesses all subsequent replicants or jams from Generation 1, until they sell one, when ownership of that work and its own replicants and jams will transfer to that new buyer.
Much like a photocopier, REPLICATOR can also jam. When a "Jam Artwork" is produced, it is unique to its generation but will no longer replicate. The jam rate is between 50-80% for Generations 2 through 6, which also serves to curb exponential growth.
"REPLICATOR is the story of a machine through time. It is a reflection on forms of past groundbreaking innovation and serves as a metaphor for modern technology's continuum. I'm interested to see how collectors will respond as the work evolves and the NFTs in their possession continue to create new generations." — Michah Dowbak (Mad Dog Jones)
Mad Dog Jones NFT 'Replicator' _ Spring 2021 from Ocula on Vimeo.
"I am absolutely blown away by the response REPLICATOR has generated across the world," said Mad Dog Jones. "It is humbling to see my artwork resonating with people of all backgrounds, who have expressed their excitement about the concept, the technology, and the imagery. I'm so grateful to everyone for their support in this exciting endeavor. REPLICATOR is just getting started and I can't wait to see the journey it takes from here."
Rebekah Bowling, Phillips' Senior Specialist of 20th Century & Contemporary Art, said, "The enthusiasm for Mad Dog Jones' groundbreaking NFT has cemented the artist's reputation as someone who continues to push the boundaries of the expectations of digital art. We were delighted to see support from traditional collectors of physical art, as well as those active in the crypto community, with REPLICATOR helping to bridge the gap between the two."
READ MORE: NFT - THE FUTURE OF ART?
Michah Dowbak (b. 1985) aka Mad Dog Jones is a multidisciplinary artist from Thunder Bay, Ontario, where he still resides. His works deftly interweave cyberpunk, dystopian imagery exploring themes of beauty, nature and technology. As a lover of the wilderness, which was ever present where he grew up, he brings a fresh thematic to the metropolitan aesthetic, done up in citrus and neon tones of technology somehow rendered as a space naturally human. Dowbak rose to fame in the world of crypto art with the recent success of his Crash + Burn series of NFT artworks, and he is now a headliner in the first major NFT art exhibition at UCCA Center for Contemporary Art in Beijing.
Subscribe
to receive the latest news and articles written by experts