MADRID: NURIA MORA INTERVENES ON THE CASA ENCENDIDA'S FAÇADE
The Casa Encendida in Madrid dawned with its façade covered in nautical symbols. Invited by the cultural centre, the intervention is the artwork of artist Nuria Mora (Madrid, 1974) and is curated by the Performa Cooperative, formed by David Barro, Mónica Maneiro and Iñaki Martínez Antelo.
The artpiece alludes to the song Where is my mind? by the American music band Pixies, referring to the sensorial experience as a key value of the work of art.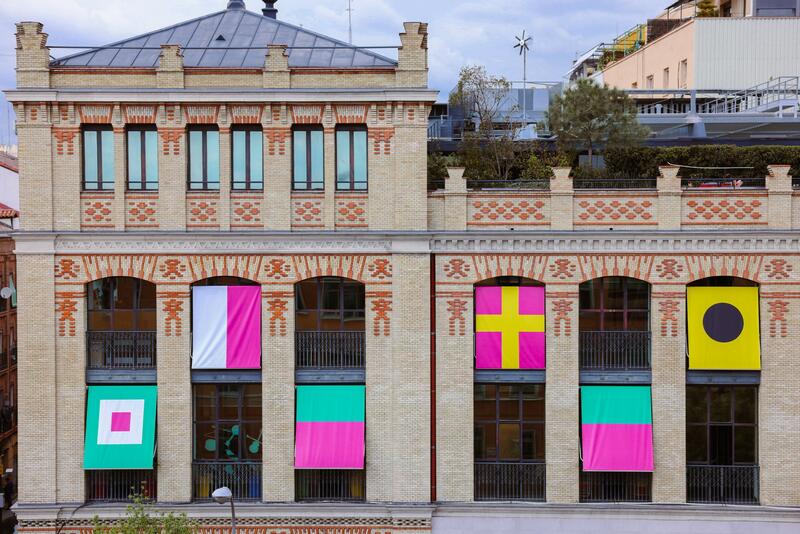 "As spectators we must move forward to surrender ourselves to the unknown," writes David Barro in the text that accompanies Mora's intervention. And he continues: "in this case diving into a pictorial message composed from the nautical alphabet." The work by the artist from Madrid uses the nautical alphabet to reproduce the title of the Pixies' song, a phrase that works in the mind like a mantra. In this way, the façade of the building is endowed with meaning and transformed into a work of art located in the public space.
The choice of the nautical language is due to the fact that the intervention is part of the inauguration of the MadBlue festival, a cycle dedicated to Innovation and Culture for Sustainable Development, which will take place in different parts of the city of Madrid until April 22. All the projects and activities that form part of the festival have as a premise to dialogue with different objectives of the 2030 agenda of technology, environment and innovation. Other participating spaces, in addition to Casa Encendida, are the Real Casa de Correos, the Centro de Cultura Contemporánea Conde Duque and the Teatros del Canal.
Likewise, Mora's artwork establishes a game with the notions of choice and chance. The choice of the title and the phrase that constitute the work are based on a choice that is anchored in three coincidences: Casa Encendida gave the artist thirteen awnings to make the intervention, there are thirteen letters that make up the phrase Where is my mind? and she was thirteen years old when the song was released on the album Surfer Rosa. "Perhaps," explains Barro, "things want to be found in order to exist and meanwhile, as for a long time could happen with the word "serendipity", they keep waiting to be rescued from the bottom of the sea." Serendipity is the accidental process by which a discovery is made: Black Francis, the Pixies' songwriter, conceived the song by following a fish underwater.
To find out more about the MadBue festival, click HERE.
Subscribe
to receive the latest news and articles written by experts
May interest you