ALEXANDER GRAY ASSOCIATES INCLUDES IMPORTANT LATIN AMERICAN ARTISTS IN "ADAA: ONLINE VIEWING ROOM"
Alexander Gray Associates and ADAA (Art Dealers Association of America) present Chance and Order in an online viewing room on view June 1 – August 31, 2020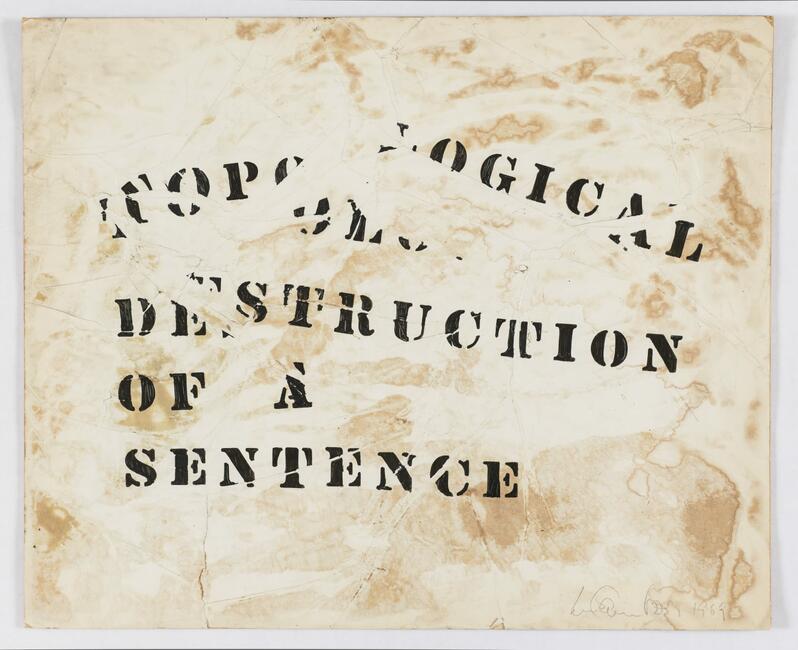 It's an exhibition of recent and historical works on paper and photographs by Gallery artists, including Ricardo Brey, Teresa Burga, Luis Camnitzer, Melvin Edwards, Coco Fusco, Harmony Hammond, Jennie C. Jones, Lorraine O'Grady, Betty Parsons, Joan Semmel, Hassan Sharif, Valeska Soares, and Hugh Steers.
Luis Camnitzer's artwork explores subjects such as social injustice, repression, and institutional critique. In 1964 after moving to New York from his native Uruguay, he co-founded The New York Graphic Workshop with fellow artists Liliana Porter and Guillermo Castillo. As a member of the group, Camnitzer interrogated the conceptual meaning of printmaking, pushing the limits of the medium. Playfully constructing tautologies by generating self-referential images, in prints like Topological destruction of a sentence (1969) he adopts language as his primary medium.
Recognized as a pioneer of conceptual art and experimental practice in the Middle East, Hassan Sharif's artworks encompass performance, installation, drawing, painting, and assemblage. His 1984 work on paper The Laws of Chance, subtitled, "Homage to Kenneth Martin," pays tribute to the Constructivist painter who died the same year the drawing was created. Alluding to Martin's early 1970s Chance and Order series, the drawing reflects the lasting impact the painter had on Sharif's practice.
Since the 1970s, Joan Semmel has centered her practice around representations of the body from a female perspective, often taking her own figure as subject. In a series of recent drawings, she elaborates on conceptual and formal concerns that echo those of her previous paintings, which have often focused on her aging body. Capturing the movement of her form, works on paper like untitled (2016) expand on themes she has explored in her earlier Shifting Images series (2009–2013).
Building on the legacy of Post-Impressionist painters like Édouard Vuillard and Pierre Bonnard, Hugh Steers' oil sketches capture intimate moments between anonymous figures, contextualizing and documenting the realities of life during the AIDS epidemic. In White Shirt and Tie II (1988), the artist portrays an open-ended, ambiguous scene. Inviting multiple readings, the composition alludes to narratives around sexuality, companionship, and desire, reflecting the artist's own wants and struggles as an HIV-positive gay man.
Melvin Edwards' work is distinguished by its formal simplicity and powerful materiality. His works on paper often feature traces of barbed wire and chains rendered using spray paint or watercolor. In an untitled drawing from c.1974, the resulting painted components resemble the gestural lines of a delicate drawing. The vivid colors of the paint belie the chains' more sinister associations: while chains can signify human connections, they are also symbols of bondage and oppression.
Seeking to engage viewers visually and aurally, Jennie C. Jones' interdisciplinary practice draws on painting, sculpture, and installation to highlight the perception of sound within the visual arts. Among her most recent works to examine what she has referred to as "the gesture of sound" is Open Score (Black Gesture) (2019). In this work, gestural boldness is juxtaposed against the linear containment of a sheet of a music. For Jones, her expressionist mark-making recalls visual representations of sound waves and tone bursts, fusing the illustration of sonic experiences with the hard edge geometry of musical notation.
Since the 1960s, Teresa Burga has made diverse works that support the display of analytical data. Reflecting the sociopolitical realities of her native Peru, her practice has explored how standardized, regulated, and bureaucratic systems function as apparatus for control and oppression. Playing with the idea of these systems, Burga's ongoing Niñas Peruanas Cusqueñas drawings present artistic labor as hourly employment; in the margins of each work from the series, the artist inscribes the dates and time spent on the image, tracking her hours as if clocking in and out of a job.
Over the past twenty-five years, Coco Fusco has investigated the ways that intercultural dynamics affect the construction of the self and ideas about cultural otherness. In 1992, she developed the performance Two Undiscovered Amerindians Visit the West with fellow performance artist Guillermo Gómez-Peña. A creative interpretation of the history of "discovery" in the Americas, the performance sought to destabilize the public's conception of the exotic "other," embodying a fictitious version of indigenous identity. In The Undiscovered Amerindians Tour (1992–1994/2019), Fusco presents a series of photographs based on original documentation of the performance. Desaturating the images, she effectively satirizes the anthropological gaze.
Lorraine O'Grady's multidisciplinary practice seeks to confront the limitations of a culture built on exclusivity and resistance to difference. Her joyous 1983 performance Art Is . . . , staged during Harlem's African-American Day Parade, challenged the assertion an acquaintance made that "avant-garde art doesn't have anything to do with black people." Featuring a fifteen-foot antique-styled gold frame mounted on a float and actors and dancers dressed in white, who framed parade-goers with picture frames in response to shouts like "Frame me, make me art!" O'Grady's work resoundingly proved her friend wrong.
Since the late 1970s, Ricardo Brey's multidisciplinary practice has focused on his research into the origins of humanity and humankind's place in the world. Part of the artist's ongoing Adrift series, Salsola kali (2017) takes its title from the botanical name for Russian thistle. Resolute—surviving despite often less than optimal conditions—the thistle is a recurring motif in Brey's practice, and is indicative of the artist's own struggles and trajectory from Cuba to Belgium.
Harmony Hammond's recent work focuses on materiality and the indexical, and derives from and remains in conversation with her feminist work of the 1970s. Impression #1 (2017) reflects Hammond's approach to printmaking, which adopts, in her words, "the printing press as a collaborator." Identifying the press as a site where she can "set up conditions or situations for accidents," she creates works with thick, almost sculptural surfaces, concluding "it's about accumulation, not blending."
Valeska Soares creates poetic works that fuse and expand upon the languages of Post-Minimalism and conceptual art. Intervals XXII (2013) belongs to a series of works featuring adhesive labels collaged on canvas. Referencing the geometry of Neo-Constructivism, its composition recalls those of the artist's Bindings series (2012) while its creation through the additive process of accumulation welcomes associative readings of construction and the passage of time.
Betty Parsons trained as a landscape painter, first turning to abstraction in the late 1940s. Her gouache drawings reflect her unique approach to abstraction, featuring bold colors and inventive shapes. Her untitled composition from 1953 contrasts blocks of greens and browns with energetic looping lines and sinuous curves to forward an impression of gestural immediacy.
Alexander Gray Associates is a contemporary art gallery in New York. Through exhibitions, research, and artist representation, the Gallery spotlights artistic movements and artists who emerged in the mid- to late-Twentieth Century. Influential in cultural, social, and political spheres, these artists are notable for creating work that crosses geographic borders, generational contexts and artistic disciplines. Alexander Gray Associates is a member of the Art Dealers Association of America.
The Art Dealers Association of America (ADAA) is a nonprofit membership organization of the nation's leading galleries in the fine arts. Founded in 1962, ADAA seeks to promote the highest standards of connoisseurship, scholarship and ethical practice within the profession.
Alexander Gray Associates
510 West 26 Street
New York, NY 10001
*cover artwork: Luis Camnitzer - Topological destruction of a sentence, 1969 - India ink on paper - 32 x 39.12 cm
Subscribe
to receive the latest news and articles written by experts