MARCOS CASTRO + GONZALO FUENMAYOR IN TREMORS IN PARADISE
From 11/18/2022 to 01/20/2023
Dot Fiftyone
Miami, Estados Unidos
Colombian artist Marcos Castro and Mexican artist Gonzalo Fuenmayor get together to show Tremors in Paradise, an exhibition in Dot Fiftyone Gallery that explores the future's different possibilities.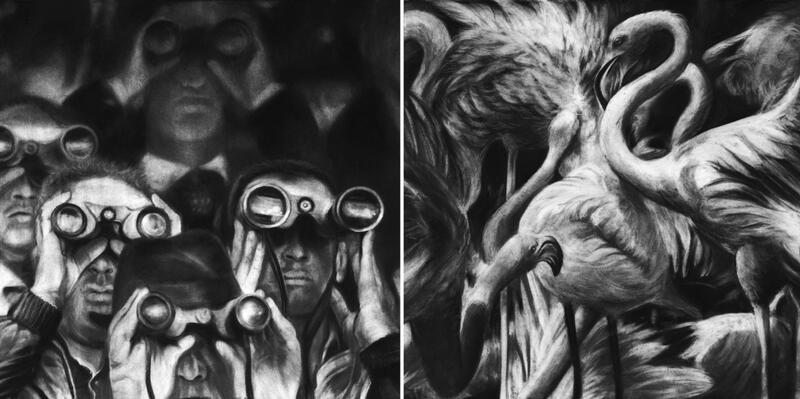 Tremors in Paradise explores the edges of "post-reality", producing symbolic alternatives with the aim to give new meanings for the human experience.
"Marcos Castro and Gonzalo Fuenmayor are artists that work in hybrid languages, mixing what to others might seem like heterogeneous regimes of signs into complex pictures that realize meaningful images of the entangled world that we exist in. The works featured in this show all feature iconic categories superimposed with their antinomian, the serious and the silly, hopelessness and optimism, fields of color and linework, precariousness, and opulence. The vantage point of this exhibition is of two artists that viscerally understand the mediums they utilize as vehicles to reorganize the collective mind and make it more proficient at seeing the fragmented and compartmentalized reality for what it is: a beautiful landscape of knowns and unknowns that is nestled in an awesome and sometimes terrifying infinity of abstraction", explains Carlos Huffmann, Artist and Director of the Art Department Torcuato Di Tella University.
Gonzalo Fuenmayor (Barranquilla, 1977) has questioned the ideas of what a Latin American artist should be. He makes drawings and installations which persistently deal with two major topics for him: cultural hybridity and transnational identity. Concerned about the effects of modernization and progress not only on natural environments but mostly on Latin American culture and its ways of being displayed internationally through stereotypes and common places. His aim seems to be not exclusively, to denounce banalization but also to understand its aesthetic mechanisms and cultural power. In the last years, he produced large-scale charcoal drawings (of subjects such as palms, storms, royal interiors and furniture), by which he explores tropical symbols in a surreal contact with opulent and elegant imagery. His work triggers political and sensitive responses, as it stands firmly in the vernacular and artistic tradition of ornament, deeply rooted in the subcontinent.
Marcos Castro (Mexico City, 1981) works across various media, connecting with the idea of art as a sacred sphere. Primarily based on his drawing skills as a key to his creative process, he also makes painted ceramics, installations, paintings, and murals. The challenge in his ouvres to capture symbolic elements in myths, local stories and in national history or natural environments in order to exploit their potential to generate new identities from old images. "Ruins" are a leitmotif across his work. The essence of this approach is to show subjects in new and revelatory ways, and in doing so to heighten their physical and emotional resonance. This is why Castro is so interested in the power of rituals and mural as they produce a space for commonality and utopia for art experience.
Tremors in Paradise. Exhibition by Marcos Castro and Gonzalo Fuenmayor.
Until January 20th 2023.
Fiftyone Gallery. 7275 NE 4th Ave, Miami.
Subscribe
to receive the latest news and articles written by experts
May interest you