EXPLORING BOUNDRIES AND TRANSFORMATIONS AT VERMELHO GALLERY
From 05/11/2023 to 06/17/2023
Vermelho
São Paulo, Brasil
Vermelho Gallery presented two new exhibitions: O espaço entre eu e você (The space between me and you) by Marcelo Cidade and Estratos (Strata) by Ximena Garrido-Lecca.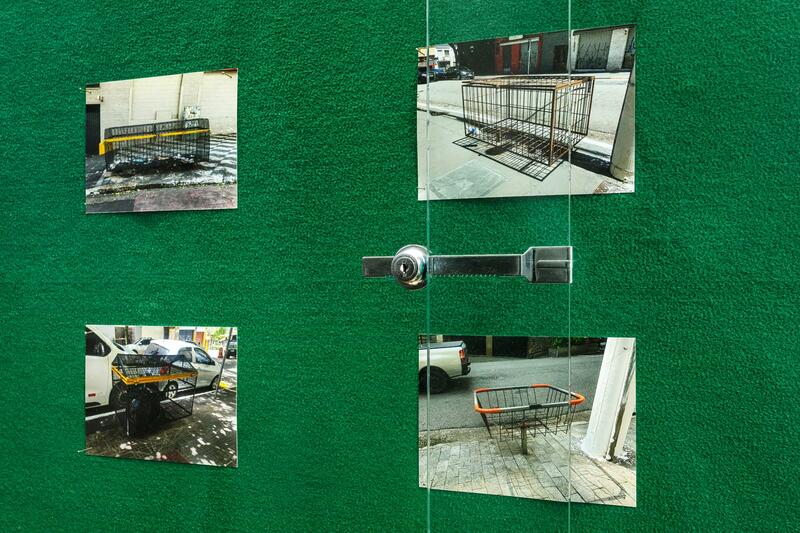 O espaço entre eu e você by Marcelo Cidade.
Cidade investigates the formation of the city, its flow of control, and the constant clash between the public and private spheres. The five new series presented by Cidade bring social conflicts and street codes to the art space organized within the logic of the grid plan. As Rosalind Krauss wrote in Grids, 1979, "the grid announces, among other things, the will to silence modern art, its hostility to literature, to narrative, to discourse". One of the keys to Cidade's work is his revisiting of the formation of modern Brazil, its developmental promises and the subsequent scenario of misery and extreme social inequality that is still installed.
Exploring the modern ideal and its ruins, proposed by Cidade, characterizes the 2000 Generation, of which he is one of the protagonists. Cidade resorts to materials often linked to construction and its waste in his works, reversing the value attached to them.
Cidade's work take place within the dichotomy of inside and outside, included and excluded, above and below, which the title the exhibition suggests: O eterno jogo dos opostos (The eternal game of opposites).
Estratos by Ximena Garrido-Lecca.
Garrido-Lecca employs a variety of materials and symbolic language to highlight tensions between ancestral knowledge and colonial structures. From her observation of historical references, the artist maps the cycles of cultural, social and economic transformation. Her work deals with the relationship between nature and culture, questioning the traditional hierarchies of knowledge.
Yacimientos (Deposits), 2013, was filmed in Peru, in Cerro de Pasco and its surroundings. The video shows the decay of a city that is consumed by the expansion of a copper mine. We see the contrast between the beauty of the natural environment, with rock formations and adobe ruins, and the physical consequences of extractive operations that slowly consume everything around them, causing irreversible damage to the environment.
Contornos (Contours), 2014, registers the variety of fences and barriers found in Cerro de Pasco. The video images examine these boundaries: some seem to be temporary and vulnerable, others impenetrable; they are visibly boundaries between mining operations and public space. The audio is a conversation with Alcibiades Cristobál, from the Huayllay National Sanctuary, a forest of stones on the outskirts of Cerro de Pasco which contrasts the images. Cristobál describes the region's geological formations while alluding to a cultural past that is disappearing as the land itself and its layers of history are being removed by mining.
O espaço entre eu e você by Marcelo Cidade.
Estratos by Ximena Garrido-Lecca.
Both until June 17th, 2023.
Galería Vermelho. Rua Minas Gerais, 350. São Paulo, Brasil.
Subscribe
to receive the latest news and articles written by experts
May interest you