EDGAR CALEL QUESTIONS THE FETICHISMS AROUND INDIGENEITY
The artista exhibits Pa tu run ché (From the treetop) in Proyectos Ultravioleta, Guatemala City.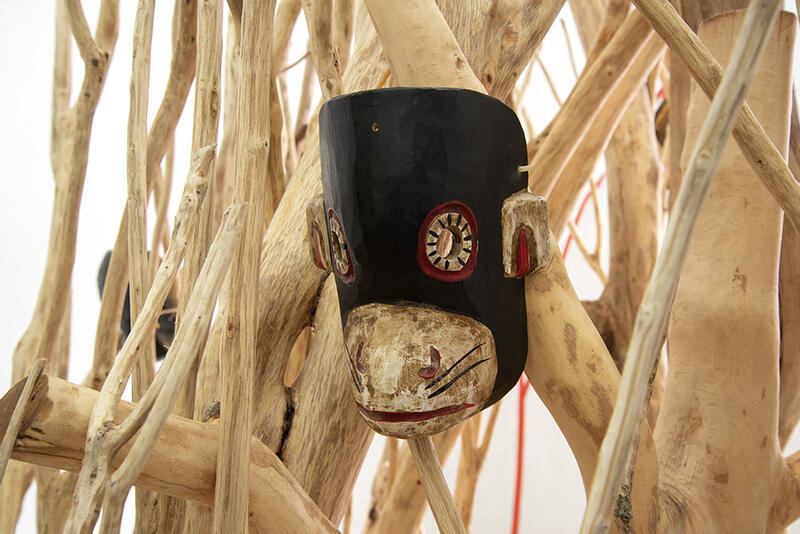 Pa tu run ché (From the treetop) is Edgar Calel's first solo show at Proyectos Ultravioleta, showcasing new and recent works across a variety of media which include painting, sculpture, textile, video and installation, all of which evoke the traditions and beliefs of the Maya Kaqchikel Cosmovision.
His works offer an opportunity to question the expectations around contemporary representations of indigeneity, evidencing the mechanisms of systemic racism and discrimination directed at the indigenous people of Guatemala, over many centuries. 


One of the main themes in the exhibition is the Kit Kit Kit: the onomatopoeic sound that his grandmother would make in Chi Xot (Comalapa) to call the birds in order to feed them maize. Representing this theme, one can identify a series of embroideries the atist made together with his mother and sisters in which the visual elements of the Kit Kit Kit serve as a starting point but are later deconstructed to make a new series of abstract compositions titled 'Anatomies of a Song'. Another creation regarding the theme is a mural painted with clay directly onto the exterior walls and windows of the gallery's space. This particular mural makes a direct reference to the mountainous views that surround the artist's hometown, offering a bird's eye view of the mountains themselves. It is also painted with clay sourced from those specific mountains.
Olivia Ardui wrote about Calel for tropical papers, "Performances, installations, paintings, drawings by Kaqchikel artist Edgar Calel evoke memories of his family and pay homage to the indigenous communities of the midwestern highlands of Guatemala. His works can be understood as visual chants, embodied poems or as Naoj, closest concept related to art in the Mayan language spoken in the artist's hometown San Juan Comalapa, encompassing the broader scope of «knowledge-wisdom-understanding»."
Edgar Calel (1987) lives and works in San Juan Comalapa, Guatemala. His recent shows include the 11th Berlin Biennale (2020), Continuous Fire | Feu continuel, National Gallery of Canada, Ottawa, Ontario (2019) and Virginia Pérez-Ratton. Centroamérica: deseo de lugar (desire for place), MUAC Museo Universitario de Arte Contemporáneo, Mexico City (2019). His works are part of the collections of Museo Reina Sofía, Madrid, Spain; Fundación TEOR/ética, San Jose, Costa Rica, and Fundación Demolición/Construcción, Córdoba, Argentina.
Related Topics
Subscribe
to receive the latest news and articles written by experts
May interest you