CÓDIGO DE REUNIÓN - REOPENING OF THE ESPACIO FTALO GALLERY IN BUENOS AIRES
On Wednesday, August 12 at 2:00 pm, Espacio Ftalo reopens its doors with the group exhibition "Código de reunión" (Reunion Code), a forceful exhibition with paintings by the gallery's artists Julio Alan Lepez, Diego Cirulli, Paz Bardi, Santiago Erausquin, Paula Cecci and Pablo Noce.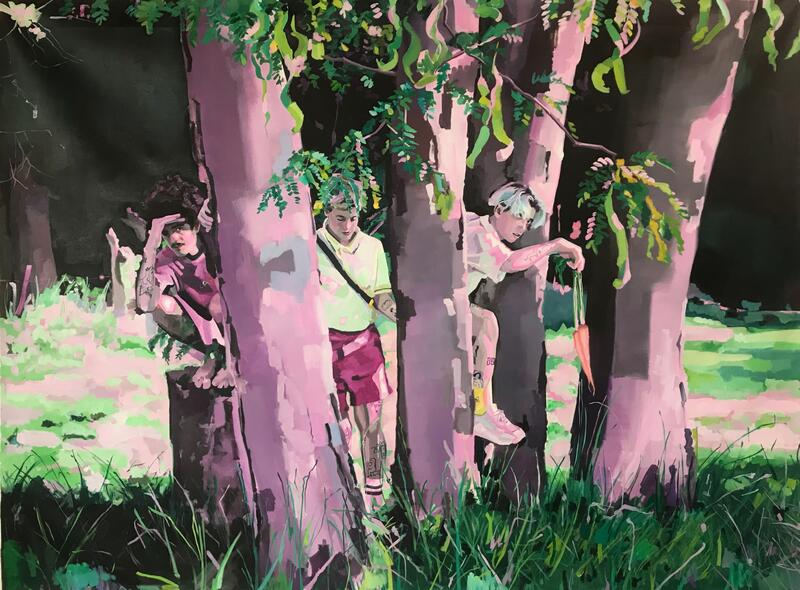 Eliana Madera, the exhibition's curator, writes about it: "When scientific and operational logic collapses, it is the poetic imagination that usually offers us an alternative. With approaches that opt ​​for the return of the imaginary, fantasy and interior worlds, or via realism and the seclusion of art in everyday life, this exhibition does not escape the context of the pandemic that we are living in. Doors close, but windows remain open. All this leads us to ask ourselves what will the COVID-19 images be like? The same emptiness that we find in cities works as a metaphor for the images that are not there: not only is the virus invisible but also the sick, infected or dead bodies. It will be the artists' new challenge, to illustrate in images and words a reality that is presented and that is still difficult to delineate."
The reopening also brings a new project: Perro Fantasma (Ghost Dog). In this new section, literature participates and connects with the world of the visual arts within a gallery. Perro Fantasma offers a curated selection of art books, essays, and contemporary narrative.
Espacio FTALO is a contemporary art gallery specialized in figurative painting. Its initiatives and exhibitions seek to give visibility to the contemporary nature of painting and to bring prominence to active artists in this disciplinary territory. Located in the heart of Palermo, its program includes monthly, solo or group exhibitions, as well as meetings that encourage the exploration of links between painting, installations and performances. Its back room brings together a wide variety of artists and works that also include drawing as a discipline in continuous dialogue with painting.
Open Monday through Friday from 2:00 p.m. to 6:00 p.m., visits to the gallery require previous appointment (via Instagram or WhatsApp at 1169547011).
Espacio FTALO
Gorriti 3864, C1172ACJ
espacioftalo@hotmail.com
* cover: Paz Bardi. Rabbit Hunting II. Oil on canvas. 150x200cm
Subscribe
to receive the latest news and articles written by experts
May interest you