CLAUDIA COCA AND CLAUDIA CASARINO EXHIBIT MALA HIERBA / YERBA MALA IN GALERÍA DEL PASEO
Mala Hierba / Yerba Mala is a bi-personal of Claudia Coca (Peru) and Claudia Casarino (Paraguay), presented at the Galería del Paseo Lima. The exhibition brings together a series of works marked by decolonial thought. Both artists coincide, briefly but intensely, in the use of American botanical iconography by chroniclers of the 18th and 19th centuries.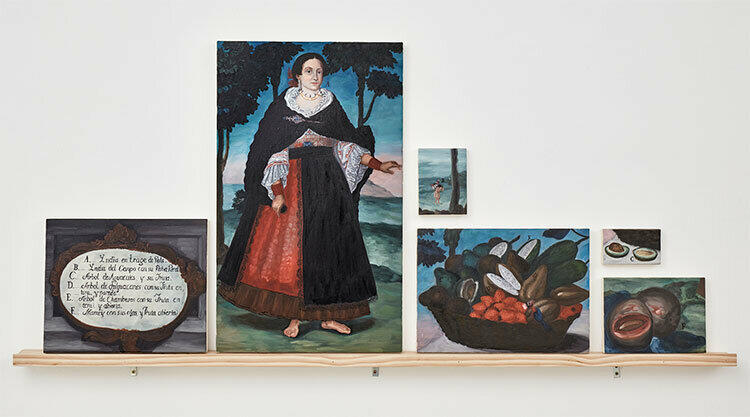 Casarino exhibits two proposals that bring to the present unfortunate events of the colonization process of Paraguay, affecting the history of the mensú, the tareferos who, in the same region, collected yerba mate leaves under extreme conditions of exploitation. The artist invokes the memory of Paraguay through cotton shirts, made with the traditional technique of the ao po'i, which carry images of other shirts silkscreened with red earth from Alto Paraná dissolved in water. Casarino suggests imagining other regimes of coexistence by presenting us in a video the shredding of images of French and English gardens, iconic models of European gardening.
Claudia Casarino. Counterfugue. Video, 1´07 '', 2017
Counterfugue from Galería del Paseo on Vimeo .
Coca also incorporates the image of the botanical gardens in two works, and reveals them insofar as they replicate the predatory and discriminatory mechanism of colonial domination. In one of the works, the artist reverses the sense of naturalistic drawing to draw specimens of South American plants in pencil in an operation that parodies the naturalistic record of scientific taxonomies. In the second work, Coca alters the beautiful and meticulous image of the botanical specimens; she fragments paintings of traveling chroniclers from the West by copying and separating them into small, veristic, pretentiously academic segments: miniatures of fruits of the exotic land.
In the video Carabela, Coca links images and texts from different fields. The artwork focuses on the haunting figure of the aguaviva, false jellyfish or caravel, a colony made up of five associates whose interaction keeps it alive. Its appearance is similar to that of the boat that gives it its name; its poisonous touch makes it fearsome in marine waters. Thus, caravel connotes a colonial, predatory organism, whose appearance and name are associated with the European conquest, as well as an unclassifiable entity, slippery of schemes, halfway between different natural kingdoms.
Claudia Coca. Caravel. Video, 6'43 '', 2020
Caravel from Promenade Gallery on Vimeo .
Claudia Casarino (Asunción, 1974)
She studied Visual Arts at the ISA of the National University of Asunción. Since 2006 she has been the director of the Migliorisi Foundation, an institution dedicated to the conservation, promotion and dissemination of art and design. Her recent solo exhibitions include Illuminating the Absence (Atlantic Center of Modern Art, Las Palmas, Spain, 2018); Sleep Disorders (Haw Contemporary, Kansas City, 2017); Contrafuga (Juan de Salazar Cultural Center of Spain, Asunción, 2017); The Border is not the Border (Centro de Artes Visuales / Museo del Barro, Asunción, 2015). She has participated in numerous group exhibitions, including Futuro Voátil (Casa Naranja, Córdoba, Argentina, 2018); Between Tomorrow and Death (Museo del Barro, Asunción, 2017); Hiatuses. Deferment and texts in textile art (Fundación Migliorisi, Asunción, 2017); Migrants (In contemporary art) Hotel de los Inmigrantes (MUNTREF, Buenos Aires, 2015); among other. She has participated in 3 exhibitions of BIENALSUR (2019) Trienal Poli / Gráfica de San Juan, Puerto Rico (2015); I Biennial of Asunción, Paraguay (2015); 54 Venice Biennale, Latin American Pavilion Iila (2011); Triennial of Chile, Museo del Barro, A multiple look, Santiago, Chile (2009); 4 versions of the MERCOSUR Biennial, Porto Alegre, Brazil (1999, 2001, 2003, 2005); VII Biennial of Havana, Cuba (2000). She has been a resident at Gasworks, London. In 2011 she received the Honorable Mention of the National Fine Arts Award of Paraguay. Her work is part of the Casa de las Américas collection, La Habana; Migliorisi Foundation, Asunción; Visual Arts Center, Museo del Barro, Asunción; Collection of Contemporary Art of the Inter-American Development Bank; Victoria & Albert Museum, Atlantic Center for Modern Art and Spencer Museum, Kansas.
Claudia Coca (Lima, 1970)
Visual artist graduated from the National School of Fine Arts of Peru and the Complementary Baccalaureate in Art at the Universidad Mayor de San Marcos. Between 2011 and 2018 she was Academic Director of the Corriente Alterna School of Visual Arts, Peru. She is currently a member of the Advisory Council of the Bicentennial of Peru 2021. Among her individual exhibitions, the highlights are All spaces are contemplated in my kingdom (Suero Project, Pamplona, 2019); Don't say I don't know how to catch the wind (MUNTREF, Centro de Arte y Naturaleza, Buenos Aires, 2018); Barbarian Tales - Other Storms (Luis Miró Quesada Garland Room, Lima, 2017) and Barbarian Tales - Nearby Territories (Paseo Gallery, Lima, 2017); Mestiza, Anthology 2000-2014 (MAC, Lima); and Revealed and Indelible (Museo de Arte de San Marcos, Lima, 2011). She has participated in group exhibitions such as Time for change: art and social disorder (El Espacio 23- Jorge Pérez Collection, 2019-2020); Frictions (South Biennial, 2019); States in crisis. Exercising citizenship from art (Museum of Contemporary Art, Lima, 2018); Trigger: Peru after the CVR (Metropolitan Museum, Lima, 2013); among other. She has participated in the BienalSur (Argentina, Peru and Bolivia, 2019); Trienal de Chile, at the Museum of Contemporary Art in Santiago (2009); and the III Biennial of MERCOSUR, Porto Alegre, Brazil (2001). She has received the Luces Award for the best retrospective exhibition, for her anthological show Mestiza (MAC-Lima, 2014); the Second Prize of the National Painting Contest of the Central Reserve Bank of Peru (2009); and a grant from the Third Colloquium on Human Rights in Sao Paulo, Brazil (2003). Her work is part of various collections: Pérez Art Museum (Miami); Museum of the Central Reserve Bank of Peru (Lima); Museum of Contemporary Art of Lima (MAC-Lima); Museum of Art of the National University of San Marcos (Lima); in addition to private collections in Peru and abroad. She has been a founding member of the Civil Society Collective. Her work has been widely cited and published in texts on art and social studies.
ACCESS GALERÍA DEL PASEO'S VIEWING ROOM
Subscribe
to receive the latest news and articles written by experts
May interest you