ALEXANDER GRAY ASSOCIATES REPRESENTATION OF RONNY QUEVEDO
The New York-based gallery will present Quevedo's first solo exhibition with the Gallery in fall 2022.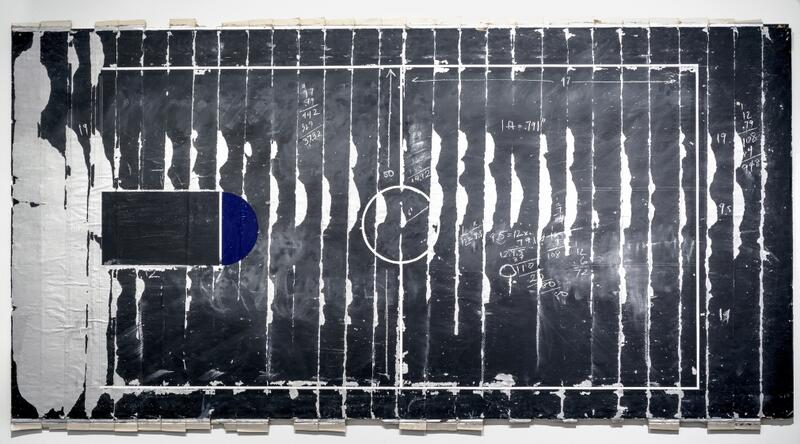 Quevedo's practice spans installation, drawings, and prints, incorporating and subverting aspects of abstraction, painting, collage, cartography, and sports imagery. Deeply engaged with notions of identity and the intersection of mainstream and historically marginalized cultures, Quevedo reenvisions pre- and post-colonial iconographies, offering nuanced examinations of personal and social histories. This recuperation of indigenous languages of abstraction, the revalorization of their associated labor, and the centering of a living connection between contemporary and centuries-old cultural markers remain key to Quevedo's ongoing practice.
"Ronny Quevedo has developed a distinct, conceptually rigorous visual vocabulary as he explores shifting frameworks of identity, history, and culture," said Alexander Gray, Co-Owner and Principal of Alexander Gray Associates. "His artworks excite the eye with detail and layer, locate the body with environment and scale, and connect cultural traditions with contemporary socio-political mapping and movement. With research and exacting craft, Ronny's practice expands questions about lineage and location—artistic, personal, and political. We are delighted to welcome him to the Gallery."
Beyond contributing to the formal, material, and conceptual elements of his practice, Quevedo's family histories serve as prompts to consider the political and social implications of how bodies, or groups of bodies, exist and operate in space. "My visual language incorporates topographies that echo the strategies of pathfinding utilized by migrants. The movement of bodies, like those of constellations, posit geography and space as liminal positions, like players in space."
Central to Quevedo's practice is the incorporation of and reverence for the cultural heritage of the Americas. "When I reference Inca or Wari culture in my work, I'm looking into a cultural space and approach whose legacy continues to be influential. This is a conscious decision to resist contemporary notions of minimalism and abstraction as apolitical and asymbolic. Indigenous South American cultures developed their own visual language of abstraction, one that points to a lineage of thought that exists outside of the figurative and the textual, in ways not traditionally acknowledged in the Western art-historical canon."
Ronny Quevedo (b.1981) has exhibited individually in New York, Philadelphia, Denver, Buffalo, Miami, Dallas, Houston, amongst others. Quevedo's work is in the collections of the Albright-Knox Art Gallery, Buffalo, NY; the Colorado Springs Fine Arts Center at Colorado College, CO; the Denver Art Museum, CO; the Museum of Old and New Art, Hobart, Tasmania, Australia; and the Whitney Museum of American Art, New York, NY.
He is the recipient of many awards and grants, including the Joan Mitchell Fellowship, the Joan Mitchell Foundation (2021); the Harpo Foundation New Work Project Grant (2021); the Jerome Hill Artists Fellowship, Jerome Foundation (2019); the A Blade of Grass Fellowship for Socially Engaged Art (2017); the Socrates Sculpture Park Artist Fellowship (2017); the Queens Museum/Jerome Foundation Fellowship for Emerging Artists (2016); the Eliza Long Prize from the Museum of Fine Arts, Houston (2013–2014); the New American Paintings MFA Annual 99 (2012); the BRIO Award, the Bronx Council on the Arts (2011); the Gloucester Landscape Painting Prize, Yale School of Art (2011); and the PRINT Magazine Regional Design Annual (2008). He currently lives and works in The Bronx, NY.
Related Topics
Subscribe
to receive the latest news and articles written by experts
May interest you