CARLOS GUINZBURG IN BUENOS AIRES: AN ODE TO SUSTAINABILITY, SCIENCE AND ART
Almost 51 years after the inauguration of an artwork that extolled communication and symbiosis between non-human living beings, science has now come to reinforce and update artistic concepts, with the reversion of an exhibition by the renowned Argentine artist Carlos Ginzburg. The conceptual and theoretical artist returned to Buenos Aires with the exhibition "MYCORHIZES: Trees communicate with each other through an ecological internet formed by the root-fungus symbiosis". The exhibition takes place within the framework of the International Biennial of Contemporary Art of the South (BIENALSUR 2021), and can be visited at the MUNTREF Sede Hotel de Inmigrantes, kilometer 0 of the international biennial that emerged at the University of Tres de Febrero in Argentina and is held in 50 cities around the world.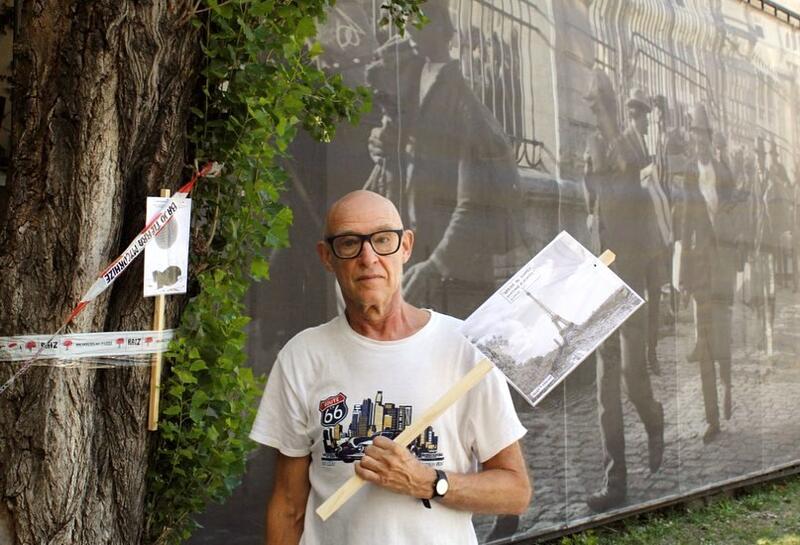 Curated by Diana Wechsler, and framed within the curatorial axis Ecological Conscience, the intervention is a tribute to the exhibition "Escultura, Follaje y Ruidos" (Sculpture, Foliage and Noises) held in 1970 at the Plaza Rubén Darío in Buenos Aires by the Centro de Arte y Communication (CAyC), a multidisciplinary artistic organization focused on the concept of "art of systems" that had Ginzburg, Jorge Glusberg, Víctor Grippo, Clorindo Testa, Jacques Bedel and Luis Fernando Benedit as some of its main figures.
On that occasion, Ginzburg presented the action "Tree Network", in which he used posters and tied several trees in the square with white ribbons to poetically signify that they could communicate through the foliage.
Almost 51 years after that inauguration, the artist retraces his steps to offer a reversion adapted to current scientific knowledge in a context of growing concern about the climate crisis and the degradation of our planet.
This reedition of Ginzburg's work arose from a recent discovery: there are certain fungi that generate symbiotic links with the roots of trees and through them, these trees can connect with each other, forming a kind of "ecological internet". These symbiotic associations between fungi and plant roots are called mycorrhizae (mycorhizes, in French).
This time, the trees in the MUNTREF gardens will be linked with plastic tape printed with the phrase "MYCORHIZES BAJO TIERRA" (mycorhizes under earth), and each tree will be marked with a sign that says "FUTURO. BAJO TIERRA" (Future. Underground). The installation is made with recyclable materials and will have a smaller work within it under the name "Black Trees-Green Oil Pipelines". This "knot", as defined by the artist, is made up of dry trees painted black and pipes painted green. According to Ginzburg's gaze, while trees are dying from oil, pipelines grow smoothly and unobstructed.
It's not the first time that the artist deals with these issues in his work. In 2016 he presented a performance in the highly-contaminated Riachuelo, where he threw several wooden boards into its toxic waters with phrases such as "Art is a tabula rasa that died in the Riachuelo", "Contemporary art is a contaminated tabula rasa" or "Dark Land Art ".
Born in 1946 in La Plata, Carlos Ginzburg has developed an intense work as an artist and theorist. Throughout his career, he has worked with art critics and historians such as Jorge Glusberg, Germano Celant, Pierre Restany, and Severo Sarduy. He has had solo exhibitions at 3e Rue Galerie and the Galerie Lina Davidov, in Paris; Susan Conde Gallery, in New York; the I.C.C, Antwerp; the J. Paul Getty Museum in Los Angeles and the Carrillo Gil Museum, in Mexico City.
Recently his work has been part of the exhibitions Memorias del subdesarrollo ("Memories from the underdeveloped world" would be the translation) at the Museum of Contemporary Art in San Diego and the Jumex Museum in Mexico City, and also Argentine Photography 1850-2010: contradiction and continuity", at the Getty Museum in Los Angeles and the Fundación PROA in Buenos Aires. He has participated in group exhibitions at renowned international institutions such as Fondation Cartier, Württembergischer Kunstverein, Slought Foundation, MoMA PS1, Moderna Museet and Camden Arts Center, among others. His work has been acquired by the J. Paul Getty Museum, the Center Pompidou, the National Fund for Contemporary Art in Paris and the Museo Nacional Reina Sofía in Madrid, among others. Ginzburg has been living and working in Paris since 1972.
"MYCORHIZES: Trees communicate with each other through an 'ecological internet' formed by the root-fungus symbiosis" can be visited for free at KM 0 of BIENALSUR until the end of December, from Tuesday to Sunday between 11:00 and 6:00 p.m., with prior reservation through the Museum View MUNTREF mobile application, or by email at visitamuntref@untref.edu.ar.
As part of the inauguration, the book "Carlos Ginzburg. Philosophy and ready made by other means ", by Hugo F. Romero was also presented. With a foreword by Horacio Zabala, the publication makes an in-depth review of all the artist's work from 1966 to the present, also narrating his extraordinary journeys.
Related Topics
Subscribe
to receive the latest news and articles written by experts
May interest you