WHAT WE INHABIT AND INHABIT US - DO HO SUH AT LEHMANN MAUPIN
By Francisco Fileccia | January 28, 2021
20 years after Do Ho Suh's first exhibition in the United States, Lehmann Maupin Gallery, which accompanied him then and to this day, presents a digital exhibition as a complement to the physical one in London.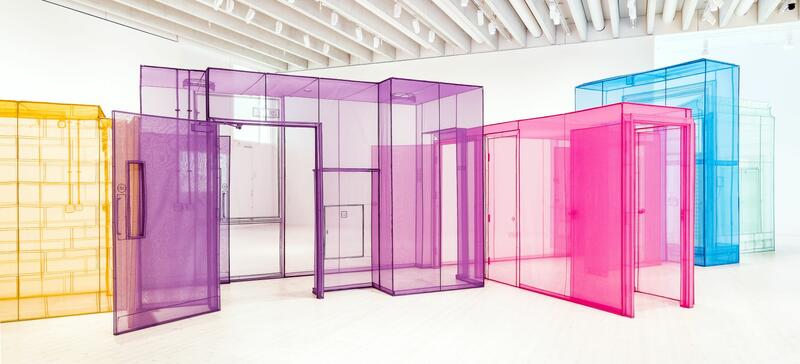 The virtual exhibition features iconic works by the acclaimed Korean artist. Born in Seoul and now based in London, Suh is recognized for his multidisciplinary practices. Throughout his career, he worked with various processes and materials, from real to small scale, going through drawing, sculpture, video and installation. His work focuses particularly on domestic spaces and the concept of home regardless of its geographical location. He investigates issues such as individuality in society, how we inhabit spaces and how they accompany us in memory.
With extreme focus on detail, the artist portrays, in real scale and on fabric, his previous homes, workshops and residences as a consequence of the artist's itinerant life.
"The space that interests me is not only physical, but intangible, metaphorical and psychological."
-Do ho suh
Part of his celebrated Hubs series, the work "Hub-1" (2018) recreates the entrance hall of Suh's childhood home in Seoul. The installation explores the intermediates. In this case, the areas we inhabit before entering or leaving another space. The recreation exposes the blurred links between the exterior and the interior and between the public and the private. Suh describes this easily transportable series of works as survival mechanisms that helps him transport ideas wherever he goes. The choice of a single color and the transparency of the fabric act as awareness of the memory. Despite the architectural precision, the feeling of someone walking through "Hub-1" is that memory is not just senses but sensations.
In his series "Rubbing / Loving" (2016), Suh, after completely wrapping his London apartment in paper, rubs a pencil to obtain an accurate drawing. In this way, a reconstruction is presented from a distance which may seem like a drawing, and as one gets closer, it takes on an imaginary three-dimensionality. "Rubbing / Loving" is a work that encourages us to see beyond the materialization of space. Thanks to the insatiable work of detail, the color turns darker on doorknobs and handles, which bear witness to a life lived. The color variabilities affirm the action of objects as containers of memories.
Where does individuality end and when does it begin? This is what Suh seems to question in his most recent mixed media watercolors from his series Undressing (2019, 2020) and Dreaming Home (2019). In the first, a solitary anthropomorphic figure with a peculiarity is observed. The being contains a much larger extension of its body that extends into the interior of a house. In this work, and as in Family Cuddle (2020), Suh again reflects on the limits of a personal architectural memory and, devoid of a nostalgic gaze, the links with society. In his haunting series Karma, this is explored in relation to the other. The one who observes and is observed. How do they see us? How do we see them? The sculpture, which vertically combines multiple faces, is a search for self-perception, perhaps from the artist himself, in contemporary society.
Do Ho Suh
21 de Enero - 20 de Febrero
Lehmann Maupin London & Online
Subscribe
to receive the latest news and articles written by experts