WHAT´S COOKING IN BOGOTÁ? - MEET FLORA´S 2018 RESIDENTS
By Valentina Gutiérrez Turbay | July 18, 2018
(PART 3)
In the heart of San Felipe, a northern Bogotá neighbourhood in process of gentrification, there is a building where more than 20 artists from all over the world work, talk and coexist. Each one has their own workshop and does part in the activities of the curricular program, which includes encounters with curators, theorists, leaders of indigenous communities, among others.
Founded by curator José Roca in 2016 The Flora School residence turned Bogotá into a meeting point for a diverse group of people interested in art. The reasons why artists choose this residence are diverse, although everyone agrees that the experience in Bogota represents an important moment in their career.
Here are some of the residents featured in this first review.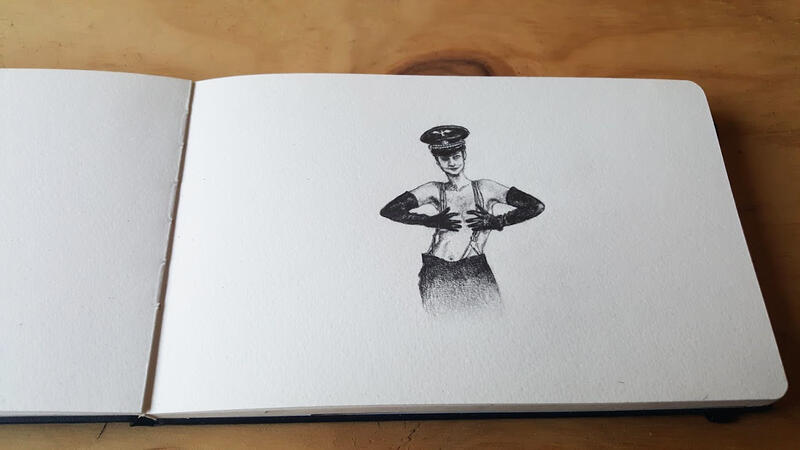 Ana Navas
The workshop of this Venezuelan artist, which is at Flora thanks to the support of the Mondriaan Fonds Scholarship, is completely devoted to writing. During her first months of residence she was focused on reviewing her past notebooks to understand what was of interest to her and after this reflection she began to produce. Her work deals with the relationship between art-design-ethnography. It is a reflection about the objects and their relationships, what would the family tree of an object look like? Where does it come from? What is it going to become?
After living in Europe for the last few years, Navas (Quito, 1984) applied to Flora to strengthen her relationship with Latin America. At first she was in Germany, where she advanced her art studies. Afterwards, she went to Netherlands with the De Ateliers program in Amsterdam and working as a professional artist. Currently, her research is about power-dressing movement occurred during the 70s and 80s: a series of tips and instructions for women to adapt to the world of work. Through the assembly and sculpture she interprets these tips in a pictorial way. As these are elements of everyday use, it reflects the environment in which it is produced; it could not be the same if it had been done in any other place. It is also taking advantage of the School to deepen the theoretical part of its work and take time, approaching its proposals from a very personal and profound point of view.
José Pérez Tello
Coming from Pasto, a Colombian peripheral region in the department of Nariño, SUR Montblanc scholarship allowed him to do his first residence at The Flora School. "The idea was to come experiment and start new ideas, take them to a point of defragmentation", said the artist about his motivation to apply.
Before the residency, his work was very focused on the mimetic possibilities of drawing. During these first months he has experimented getting out of that and take it to a more spatial plane. In this way, Pérez Tello (Pasto, 1984) explored other dimensions of drawing and now the challenge is to return to the mimetic, but without forgetting the exercise of having moved away. He works several fronts at once: sculptures, projects on his block looking for light and is currently starting one on pigeons as a symbol of Bogotá's urban degradation.
Jimena Croceri
Croceri (Cutral Có, 1981) is an Argentinian who arrived at the residence with the Erica Roberts scholarship, which ends in July. Although, because of her perseverance and dedication she will continue at Flora School during the next 6 months with the 35-55 scholarship. Croceri's work seeks to create and find spaces where it is not evident that there is one. Since she began at Flora she used methodologies from other projects and adapted them to the Bogotá context. One of these is Charco para choro where she approached the puddles that form in the streets of Bogotá and is following the expansion of the water spot on the cellulose paper, which does not absorb it but by which it can climb freely. The drawings from this project look like "soundtracks" that work as graphic scores. During arteBA 2018 she showed them together with a performance in which singers and noise music played them.
In its participation at Escuela Abierta, a program in which residents open workshops for the artistic community and the neighbourhood, Croceri made plaster casts of different holes and cracks over the Flora block inviting participants to find the place where they came from. This is an exercise that allows us to travel the neighbourhood in different ways and also an affective approach to those accidents that are so frequent in Bogotá's roads.
The Colombian artist was impacted has been able to concentrate deeply at her work. Also, the constant exchange and dialogue with other artists stimulated her overmuch. She highlights the influence she has had in his way of producing the dialogues with Bernardo Ortiz, his tutor, with whom she talked about the use of text during the process. Currently she is interested in mail art doing some first experiments to bring this 70's practice and that she longs for nostalgia for contemporaneity.
Ulrik López
López (Mexico, 1989) applied to Flora with the intention of continuing to inquire about the presence of the natural, understanding it as something far from the industrial, within his work. Although he has done most of his career from Puerto Rico, he was born in Mexico City, where he lived before arriving in Bogotá. We take the path of the residence, through the AH! Scholarship, is that "Bogotá is the other city, apart from CDMX, in Latin America in which there is a consolidated scene with institutions, galleries and independent spaces".
López has taken advantage of the residence working on projects that he has next year in different places, such as a performance at the Sharjah Biennial that includes the design of costumes and a choreography for 32 dancers who will be reinterpreting, with Afro-Caribbean rhythms, a game of chess living that was made in Cuba in 1966 in the form of a ballet. By having large projects to work on, you are not inquiring about the specific context of Colombia but you are taking advantage of all the dialogues to delve into certain topics. The activity "The word circle" has been especially important in this process, where residents have the opportunity to share with the leaders of the indigenous communities who share their worldview with them.
Subscribe
to receive the latest news and articles written by experts