Sandra Gamarra: Rojo Indio
By Álvaro de Benito Fernández | March 26, 2018
Juana de Aizpuru Gallery, Madrid. Febrery, 2018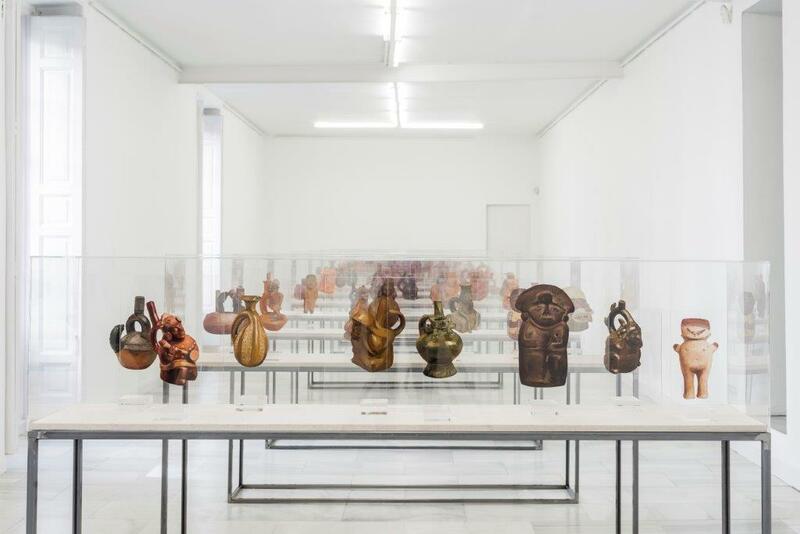 In her recent exhibition for the gallery in Madrid, Sandra Gamarra (Lima, Peru, 1972) returns to use the concept of imposition of Western thought, channeled through the appropriation of that vision in Latin America. Nonetheless, the exploration of cultural perception and assimilation are, in a certain way, habitual subjects of study in her trajectory. For the occasion, the space plays a fundamental role for the understanding of the proposal. This, although conformed by several pieces, works as a single environment where everything dialogues within the conceptual framework.
For the occasion, the Peruvian artist distributes her works in two different rooms, as if they were those of a museum, in which different objects are arranged as collections. In one of them are portraits, still lifes and landscapes, all of which reduce with their motives the idiosyncrasies of people and their surroundings to show them as mere objects. In the adjacent room, representations of pre-Columbian ceramics from Spanish collections can be found on methacrylates. Behind each image appears a word related to the concepts "red" and "Indian", words from which Gamarra starts to provoke, through a semantic criticism, a reaction in the visitor who will soon discover the connection of those elements with the lexical manipulation of reality.
The ceramics have been deprived of their functionality and the paintings tell fictitious realities, becoming narrative weapons of imposition and colonization generally accepted with the last meaning of the organization at the service of the established. The people of collectives outside the predominant Western culture are not red, much less Indians, but the socially agreed definition of these terms not only marks them, but symbolizes them as peasants, serranos, communists, uneducated. These seemingly neutral objects aim to show that truth and unique interpretation in which the interaction of cultures other than the imposed one is not welcome.
Subscribe
to receive the latest news and articles written by experts