SPACE BETWEEN: A SKETCH OF THE NEW ARGENTINE GENERATION
By Matías Helbig | October 22, 2019
Within the framework of La Bienal Arte Joven (The Young Art Biennial) ―state platform that focuses on the visibility of cultural production in the City of Buenos Aires― which was held in the last week of September, plastic and visual artists' resident in Argentina were summoned to exhibit their oeuvres in rooms 3, 4 and 5 of the Recoleta Cultural Center (CCR). The call exceeded five hundred applicants, of which twenty-five were selected. The result: Espacio Entre (Space Between), a collective exhibition curated by Tainá Azeredo (Brazil, 1984) that is presented as (small) photography of the Argentine sub-32 art scene.
The exhibition is free of charge and will remain at the CCR until December 17.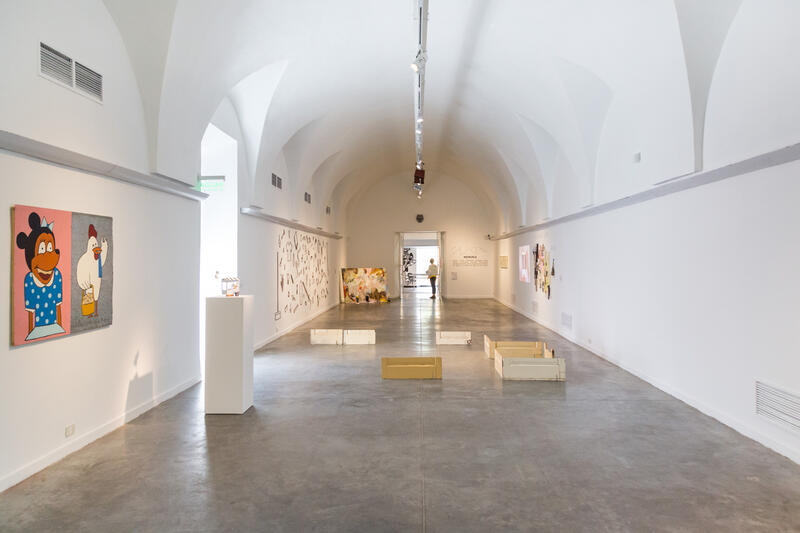 Espacio Entre is displayed in three successive rooms. A thematic axis governs in each of them: Memory, Body and Absence. These topics are the consequence of a dialogue between the curator, the jury of the call ―Joaquín Aras, Lucía Delfino, Osías Yanov and Pauline Fondevila― and the selected artists, and constitute, rather than a division, an open and coherent text. A careful anthology that bears the cry of a youth whose era led to the excessive deconstruction of language, symbols and stories that constitute Argentine and Latin American society. Quality that is explicitly illustrated in the painting El argentino (The Argentine), by Jazmín Kullock, where a young man with yellow-dyed hair and red nails wears a pink shirt with the Patricio Rey and his Redonditos de Ricota's (Argentine emblematic rock group) logo while cooking a barbecue on a roof with female clothes drying.
The three axes that delimit the exhibition were subsequent to the selection of the artworks. Consequently, they emerged from the common elements that manifest the selected oeuvres, thus drawing up a curatorial structure that encompasses the questions and thinking schemes that characterize this generation. Memory, Body and Absence appear then as concepts that are negotiated, combined and reproduced in an incessant dialogue. Taking as an example Tu amor es lo mejor que me pasó en la vida (Your love is the best thing that happened to me in life) piece ―a kind of epilogue of Espacio Entre―, by Jazmín Giudici, Azeredo argues: "Although it is located at the end of the exhibition, in the Absence room, this artwork contemplates in its simplicity the three axes. The deaths section page taken from the newspaper about a declaration of love assumes a treatise on life, body and memory. In the encounter with death and the minimal gesture of crossing out all the words with a black marker ―except those that complete the sentence Your love is the best thing that happened to me in life― the artist establishes a continuous present and gives us a narrative that exceeds the artwork beyond absence".
On another level, in addition to cultural miscegenation, aesthetic and technical crossing, and an open worldview in relation to gender, the works that occupy the CCR reveal the problems that mobilize this generation and future one: The environmental issues and the conservation and protection of the indigenous communities ―Untitled, by Gaspar Núñez, is a sculpture made of plaster and black paint that reproduces a work by Juan Carlos Iramain (Tucumán, 1900-1973). In Núñez's, the aboriginal's face is manipulated and deformed by exploitation and abuse―; the relationship between humans and technology ―the audiovisual triptych Mitos del futuro próximo (Myths from the Near Future), by Julieta Tarraubella, proposes a dystopian scenario where the body, consciousness and physical reality (in the same way as the narrative of the work) are completely fragmented and deteriorated by the use and transit within the World Wide Web—; the state of primary public education ―Deserción (Desertion), by Macarena Lujan, is a rickety and fragile school desk that, conceived in cloth and cotton, questions the current system and advocates its reinvention―; and the instability of cultural policies and public investment for the development of artists ―a question tackled with humor and ingenuity by Carolina Martínez Pedemonte in ¿Cómo se puede vivir del arte? Op 3: Preguntarle a les otres artistes II (How can someone live on art? Op 3: Ask other artists II), near forty tracing sheets that reproduce the question to colleagues and professors who live within the circuit of art, establishing an uncertain and delicate sample regarding the future of artists within the industry.
"The objective was to find a group of artists and artworks where we could glimpse a relationship and select a diverse and balanced group in terms of gender, media and trajectories," explains Azeredo, accepting the impossibility of making an exhibition that represents a whole generation. "I understand, then, that Espacio Entre brings to light only some of the many issues, desires, languages ​​and narratives that this generation of artists choose to work on," she adds. Reasons and languages ​​that displace the limits established by predecessor artists. Questions and approaches that make it easy to outline the future of the scene. The sketch of a country that is redefined as an artists' fabric.
Artists at Espacio Entre: Hernán Aguirre García (Tucumán, 1993), Felipe Álvarez Parisi (Buenos Aires, 1992), Carrie Bencardino (Buenos Aires, 1993), Santiago Colombo (La Plata, 1992), Marina Daiez (Buenos Aires, 1992), Emilia de las Carreras (Buenos Aires, 1989), Rocío Englender (Mar del Plata, 1989), Maia Gattás Vargas (Buenos Aires, 1986), Jazmín Giudici (Rosario, 1994), Tamara Goldenberg (Buenos Aires, 1988), Carlos Gutiérrez (San Juan , 1994), Jazmín Kullock (Buenos Aires, 1995), Daniel Leber (Buenos Aires, 1988), Macarena Luján (Buenos Aires, 1993), Carolina Martínez Pedemonte (Buenos Aires, 1993), Nadia MArtynocvich (Buenos Aires 1987), Tirco Matute (Venezuela, 1988), Renata Molinari (Buenos Aires, 1996), Delfina Moore (Buenos Aires, 1986), Gaspar Núñez (Tucumán, 1994), Francisca Somigliana (Buenos Aires, 1992), Julieta Tarraubella (Tacna, Perú, 1991), Lukas Tula (Buenos Aires, 1990), Mariel Uncal Scotti (La Plata, 1992), Mayra Vom (Buenos Aires, 1991).
Subscribe
to receive the latest news and articles written by experts