RESONANCES OF PRESENT DAY RE-ELABORATED SELFPORTRAITS
By Silvina Amighini | June 27, 2019
Gachi Rosati tell us to see the difference. She proposes a journey through the History of Western Art to build a story and reflect through painting, the role of women in different times and present.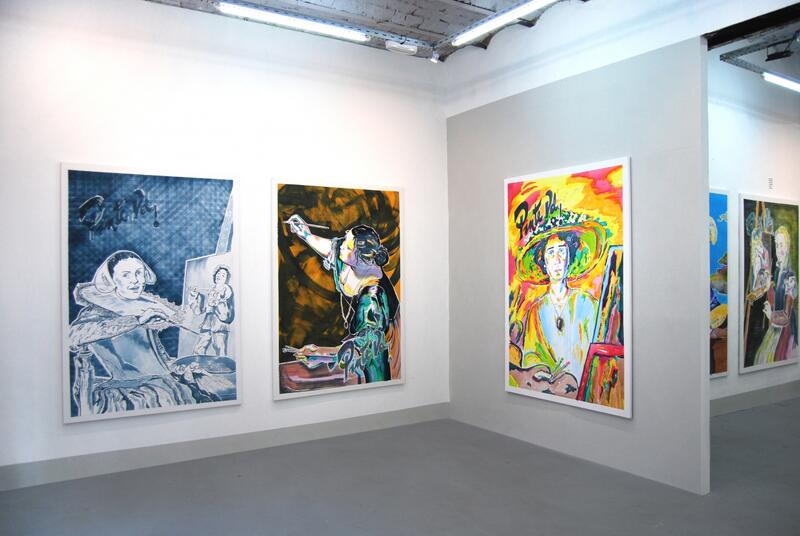 The discursive functioning in the History of Art, as a narrative system, works from a mechanism of exclusion and inclusion. Thus, it puts in a certain place - and leaves out - names within a story, a name within this story. The past is not a finished fact - something closed - but, as the object of a semiosis, it is dynamic and subject to eventual modifications and reconfigurations. It is no longer possible to conceive of history as a unique and unidirectional story. The historical discourse has diversified. Rosati works with art history documents and makes a rereading from our contemporaneity.
The artist large-format paintings are images of women painters between the fifteenth and twentieth centuries. The cut is not capricious: they are self-portraits of women painters painting. Rosati concentrates especially on ten artists of her interest in recovering stories of women whose difficulties as workers of the artistic medium were evidenced by the mere fact of being a woman. Historically women have been considered as amateur painters, very far from the professional and with obstacles in their training. However, thanks to her research, from a perspective of feminist historians, she discovers that painters emerge throughout history with great recognition and respect from her contemporaries; but for the "official" history of art they went unnoticed.
From the show Ver la diferencia, Rosati also talks about an extra-temporary feminism telling that the feminist struggle comes from long ago since the feminists of the 70s, thre feminist women's suffrage, among others.
Her contribution is not from the history of art, but from her pictorial practice. Rosati's review asks about the resonances that make these self-portraits reworked today.
Her paintings originate from Renaissance and Baroque aesthetics, but crossed by pop art and other modes of contemporary art, in a sort of juxtaposition of temporalities of pictorial styles especially to see the current reverberations of these documents reviewed and reworked in a new register. It crosses the problems of women of the twenty-first century with obstacles and concerns of the past. Bringing those questions at this time allows us to reflect on what we carry today, what women wore from other times and what we will continue to drag in the future. What does it mean to speak today of an artist who hid behind the reflections of her still lifes, or of a woman raped by her teacher and who later ended up being socially exposed, or replenish the life of a woman who was dedicated to the upbringing of her five children were forced to stop their artistic production in dry, while her husband, also a painter and considered less talented, was more recognized than she?
The next month of July, funded by the Alec Oxenford Scholarship, the artist leaves for London, following in the footsteps of Mary Richardson, a Canadian journalist and a reference in the movement for women's suffrage in the United Kingdom. It will be received by the feminist space Grand Union and the context is more than favorable: in 2018 100 years of women's suffrage in England was fulfilled.
As I said at the beginning of this review, the past is not yet a finished fact and Rosati's research remains open. In the same way, the question remains about how feminist artistic practice is negotiated with historical revisions, with the myth of the genius artist and with the representations of the woman sign in different epochs.
The exhibition Ver la diferencia is made in collaboration between Lanzallamas and Atocha Gallery and can be visited until June 28 at Carlos Calvo 637 - San Telmo - C.A.B.A.
Subscribe
to receive the latest news and articles written by experts