Pérez Celis: Testimonio americano. Museo Nacional de Bellas Artes. Buenos Aires
By Laura Casanovas | February 21, 2016
The design of this exhibition prioritizes his almost fifty-year search for the specificity of the Americas.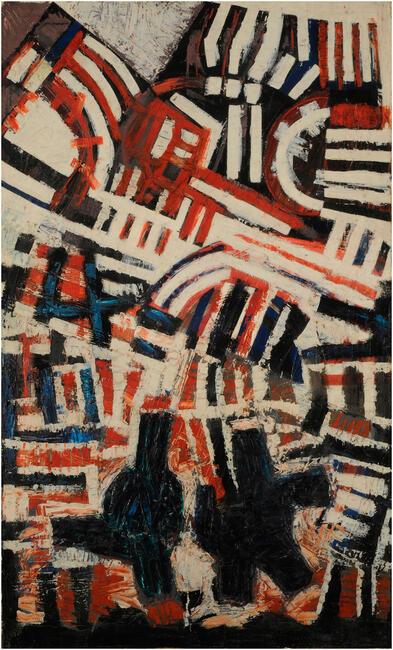 As Cristina Rossi, curator of the exhibition Pérez Celis, testimonio americano on exhibit at the Museo Nacional de Bellas Artes points out at the beginning of her text, Pérez Celis (Buenos Aires 1939-2008) was a tireless traveler. And, judging from the intersections of form, theme, and color in his works, he appears to have been equally tireless in his artistic journeys.
The design of this exhibition prioritizes his almost fifty-year search for the specificity of the Americas, a journey that took him to Montevideo, Lima, Caracas, Paris, New York, Miami, and different regions of Argentina. As Rossi points out, "[…] thanks to his sensitivity, he was able to interpret each one of these settings and from all of them he took away an emblematic sign." The gesture, material, and color he used at each stage expressed his tie to the concept of "the Americas" and his commitment to debates on this topic.
Thus, he supported the idea of the New Man—a movement started in the sixties by critic Rafael Squirru—that proposed innovation and rejected tradition in order to pursue a new man rooted in the Americas.
The exhibition is structured around six moments, each with works produced during different periods and places and on different supports, though painting predominates. While the exhibition prioritizes the artist's abstract work, the curator states, significantly, that "a simple circle could symbolize a sun god in the Inca pantheon, represent the Sun in the skies of the Pampas, or turn into a perfect sphere to settle the gaze of America's eye."
The exhibition begins with paintings from the sixties tied to Victor Vasarely and the geometric tradition, which is followed by an informalist stage of works laden with materials produced during his stay in Lima. Next come works centered on the richness of the horizon line in the Argentine Pampas, followed by works with spaces featuring rising forms produced during his stay in Caracas. The paintings he made in Paris, on the other hand, are rich in stepped forms and shades of gold and silver. Finally, while in the United States, he began working with new materials and bursts of color.
The curatorial proposal heeds as well Pérez Celis's works in illustration, product design, advertising, mural making, and works for the urban space.
The museum is planning to publish a catalogue for the exhibition with texts by specialists Cristina Rossi, José Emilio Burucúa, and Sandra M. Szir that provide gateways into the work of this passionate travelling artist. "Freedom," Pérez Celis wrote in 1988, "takes us into the unknown, where there is no place for even the best schemes and creation explodes and expands, where nothing keeps us going but the force of passion."
Subscribe
to receive the latest news and articles written by experts