Jesús Soto: Estático/Dinámico. Galería Ascaso. Caracas
By Beatriz Sogbe | March 27, 2016
It is truly remarkable that an artist without a high school education was able to produce such a deep body of work, one steeped in the concerns of art, mathematics, and musical harmony.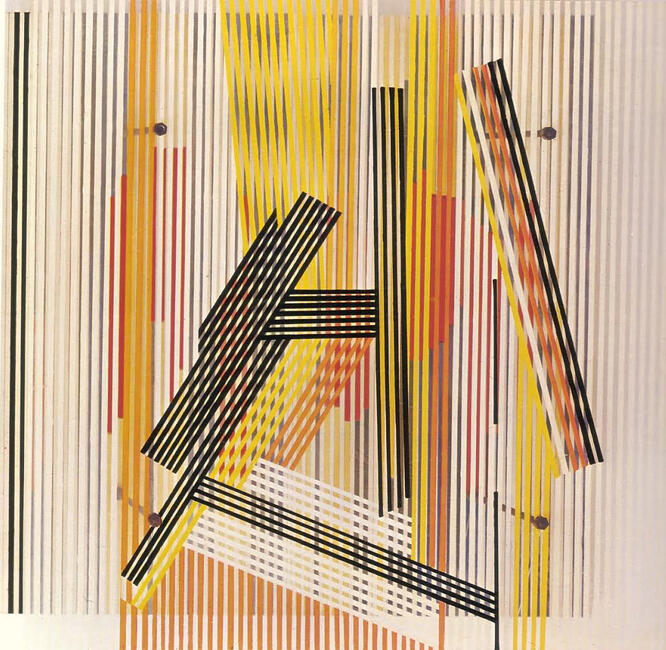 On the occasion of the tenth anniversary of the passing of master artist Jesus Soto (1923-2005), the Fundación Soto, under the curatorship of Isabelle Soto, the artist's daughter and the director of Taller Soto, and Tomás Mussett, organized the exhibition Estático-dinámico at Galería Ascaso in Caracas. It is truly remarkable that an artist without a high school education was able to produce such a deep body of work, one steeped in the concerns of art, mathematics, and musical harmony.
Soto had little time to develop his art. Though for almost a decade he struggled to get by, playing guitar in public places, he never gave up. He understood that developing a body of work required study and experimentation, which he first undertook in serial works. One must truly grasp this basic process to fully understand his work as a whole.
Soto began making connections between art and mathematics, which led him to undertake studies on arithmetic progressions closely tied to music since many composers adopt them to generate rhythm. Soto noticed that the intersection of the vertical and horizontal lines in Mondrian produced a vibration that makes the work more dynamic. He started generating two-dimensional pieces with angles. He went on to produce works with repetitive elements as if in an arithmetic progression. This is how he came to his "rotations." He worked out the mystery of movement when he realized that it was a question of arithmetic repetition and rhythm. Later, Soto began to analyze the square and the cube—a theme, because infinite, that never ended.
If we take a closer look at his work, we see that the lower planes are squares or multiples of squares. This establishes a rhythm. When small lines are placed on them, a powerful vibration is perceived by the viewer. At that time, he used only shades of black and white, though he later introduced flat, rather than diluted, color to bring out the volume. The sense of three-dimensionality was heightened with motion. Color became musicality. And when he placed several squares on the work, the music became serial.
In 1954, he discovered that placing small circles on planes produced new vibrations. This gave rise to La Cajita de Villanueva [The Little Villanueva Box], where optical ambiguities appear, causing the two-dimensional sensation of the paintings to disappear. This would mark the beginning of a long process in which he would move lines and colors.
At almost the same time, Soto wanted to leave geometric rigidity behind. To that end, he made Los Leños [The Logs]—the result of accompanying Jean Tinguely to junkyards to look for trash. He started to "draw" on one of the sides of these objects. He in no way modified the original piece and intervened on only one of its surfaces. But there is more. Thanks to conversations with Yves Klein, he came to understand and to master the void, a theme he would develop in depth, later, with his Penetrables. The musicality in each of these pieces—in terms of sound as well as rhythm—is overwhelming, as is the immaterial light, the use of the line in each element, and the transparency. This is where physics interacts with the work, dematerializing the light in ethereal elements.
In 1966, Soto produced the Penetrables, the culmination of earlier experiences. The viewer now formed part of the work, entering that place where sensations are bound not only to the space, but also to sound and touch. For the first time, the viewer is part of the work and can interact with it at will.
Perhaps the brevity of these lines does not do justice to something it took the master decades to achieve, but their task was to show how this man became a towering figure in 20th-century art.
Subscribe
to receive the latest news and articles written by experts