Hernán Bas: Fruits and flowers. Galerie Perrotin, Paris
By Claire Luna | March 27, 2016
Bas's iconography has been inspired by late 19th-century decadent and symbolist aesthetics in both literature and the visual arts.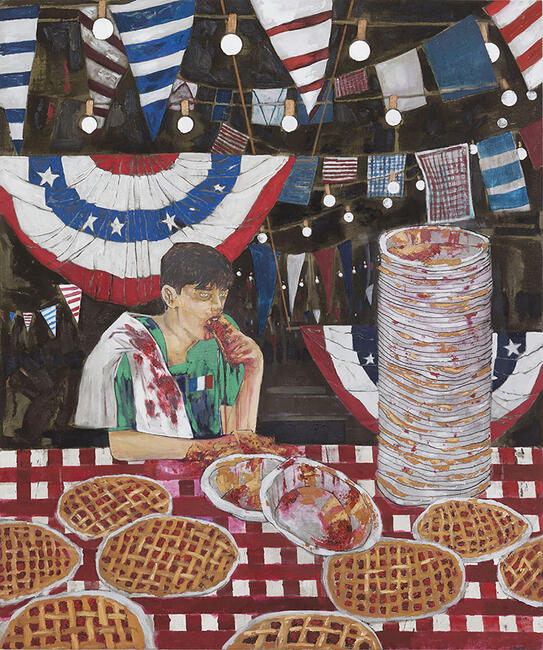 When you walk into the exhibition of work by Hernán Bas (Miami, 1978), you see a nude woman lying languidly on Ensemble Dune (Dune Assemblage), a piece of furniture by Pierre Paulin (Paris, 1927–Montpellier, 2009), one of the most famous French designers ever. It's actually a plastic dummy (!) whose image is reflected and dismantled in the mirror hanging on the adjacent wall. The gaze slides down that erotic (or, perhaps, pornographic) path toward another naked body: a young man sitting in a leather and steel F444 armchair. This flesh-and-blood man breathes slowly, concentrating on anything but the viewers walking by who do not dare to look at him with the hungry eyes of a voyeur.
That scene is a logical preamble to Hernán Bas's exhibition Fruits and flowers. I will let you wander, but not too far: the path is blocked by Draft, impenetrable installations by Gianni Motti made of barbed wire and knives.
This was the first, and unexpected, stop before entering into Bas's most recent work on linen and paper located on the gallery's second floor. The full meaning of the unforgettable welcome depends on the euphoric and overwhelming context of FIAC, the contemporary art fair underway in Paris. What we have in this exhibition is painting inspired by the story of an aesthete, one also confined. An antihero who trembles when he hears Flaubert's prose: "I seek fresh perfumes, larger flowers, pleasures hitherto unknown." A presentation in both the literal and figurative sense that befits Hernán Bas's third solo exhibition.
Bas's iconography has been inspired by late 19th-century decadent and symbolist aesthetics in both literature and the visual arts. With this project, he turns to another classic painting genre for the first time: the still-life. Most of the scenes depicted are bucolic, showing harvest seasons and the recreation they bring. Almost all the works' titles have double meaning, many in reference to homosexuality.
The Unlikely Winner shows a young boy in a pie eating contest. The work makes reference to a fair game typical of rural America. But there are no people around the alleged protagonist. The atmosphere is not as light as might be expected. Time seems suspended. The setting is an abstract composition. The boy stares out into the distance. Our minds smothered by the image of how much food the boy has gulped down, we are immersed in the table covered with pies in the foreground. The work undeniably partakes of allegory—gluttony so similar to sexual appetite. Private Bouquets is a series of flower arrangements, all of them partly hidden behind Venetian blinds. What is evoked here is the vanitas genre, a metaphor for the voyeurism operative in the exhibition's very sensual portraits.
Subscribe
to receive the latest news and articles written by experts