FONDATION CARTIER: GÉOMÉTRIES SUD, DU MEXIQUE À LA TERRE DE FEU
By Patricia Avena Navarro | November 21, 2018
The Fondation Cartier explores the diversity of Latin America modern art through Géométries Sud, du Mexique à la Terre de Feu, enhancing the richness and variety of ornaments, colors and figures in southern continent art. Gathering about 250 works from pre-Columbian period to the most contemporary productions, including popular art, abstract art, ceramics, sculpture, architecture and basketry, the exposition investigates the multiple forms of geometric abstraction in Latin America, which are inspired in pre-Columbian art, European avant-garde's or in indigenous cultures still alive.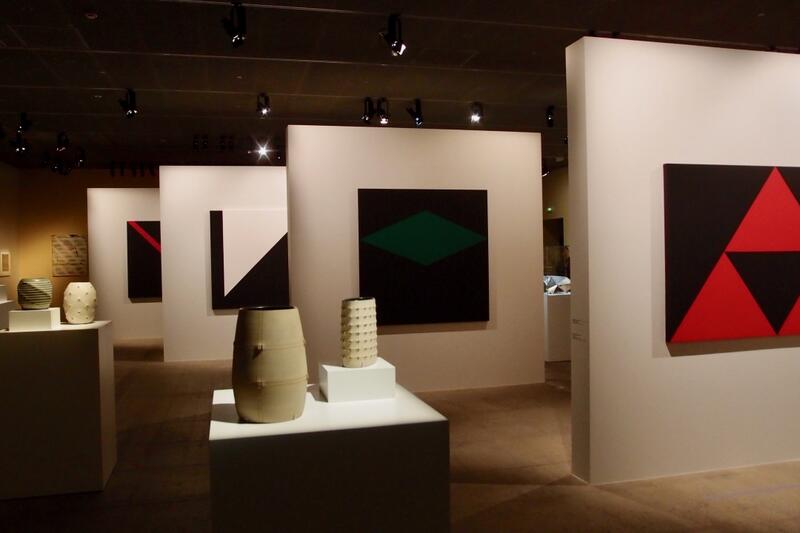 The exhibition inaugurates with a ballroom created by Freddy Mamani Bolivian architect of origin Aymara, who transposes Tiwanaku culture geometric and colorful iconography into Paris heart. As well as Andean spirit for popular festivals. At his native city El Alto, it's unusual colorful buildings described by himself as "neo-Andean" stand out with bright facades, where formal vocabulary of pre-Columbian and Amerindian cultures inspired by Aymara textiles and ceremonial costumes are reflected.
In the main space of the ground floor, Solano Benítez and Gloria Cabral Paraguayan architects, 2016 Golden Lion of the Venice Architecture Biennale winners, appropriate raw materials to design a monumental work based on repetition principle. Assembled like a house of cards made up of broken brick panels and concrete, the installation unfolds along Fondation Cartier façade creating a rhythm, light and balance game. Likewise, an exceptional sculptures set by the Venezuelan artist Gego dialogues with this architectural feat. A historical figure of Latin American art, the Venezuelan artist explores the infinite possibilities offered by the line within three-dimensional space. She weaves, bends and twists the steel or aluminum wire creating irregular shapes within which transparency becomes in a sculptural element in its own right.
Geometric motifs exploration is the common feature among the artworks on the lower floor of the Fondation Cartier. Joaquín Torres García's Madera planos de color introduces a path between ancient and contemporary art and between academic art and popular art through pre-Columbian and modernist influences. The emblematic paintings of the Uruguayan Carmelo Arden Quin's Madí movement or the sculptures of Lygia Clark Brazilian artist find an unexpected echo in Mexican Lázaro Blanco's photographs or in Argentinian Guillermo Kuitca's paintings. Also, it is worth to mention the participation of artists such as Carmen Herrera, Cuban minimalism pioneer, Cesar Paternosto and Anna Mariani whose photographs of Brazilian Northeast houses mirror Brazilian artist Alfredo Volpi's almost abstract paintings.
By creating unexpected dialogues, Géométries Sud weaves visual links between eras, territories and cultures, and invites spectator to dream at the heart of these universes. Through this journey from Mexico to Tierra del Fuego (Argentina), the exhibition takes us to dazzling graphic, spiritual and colorful discoveries that bring together all areas of creation.
Subscribe
to receive the latest news and articles written by experts