EVERYTHING IS POSSIBLE IN NEO POST: 50 YEARS OF GEOMETRIC PAINTING IN ARGENTINA, Museo de Arte Contemporáneo de Buenos Aires (MACBA)
By María Paula Zacharías | April 13, 2021
The history of art for the last fifty years has yet to be written. But the NEO POST exhibition, 50 years of geometric painting in Argentina 1970-2020, is a good approach to a fundamental chapter of Argentine art, at the Museum of Contemporary Art in Buenos Aires (MACBA). The set of more than 80 artists selected by the curator Rodrigo Alonso reveals trends, nuances, affinities and differences between diverse creators, both historical ones such as Marcelo Bonevardi, Roberto Aizenberg, Kasuya Sakai and María Martorell, and artists in full activity such as Ernesto Ballesteros, Marta Minujín and Pablo Siquier. As a sign of these times, the artist's subjectivity appears, in all its freedom, open to other materialities and forms. It is no longer necessary to react rationally to the illusion, fiction and drama of figurative art. Everything is possible.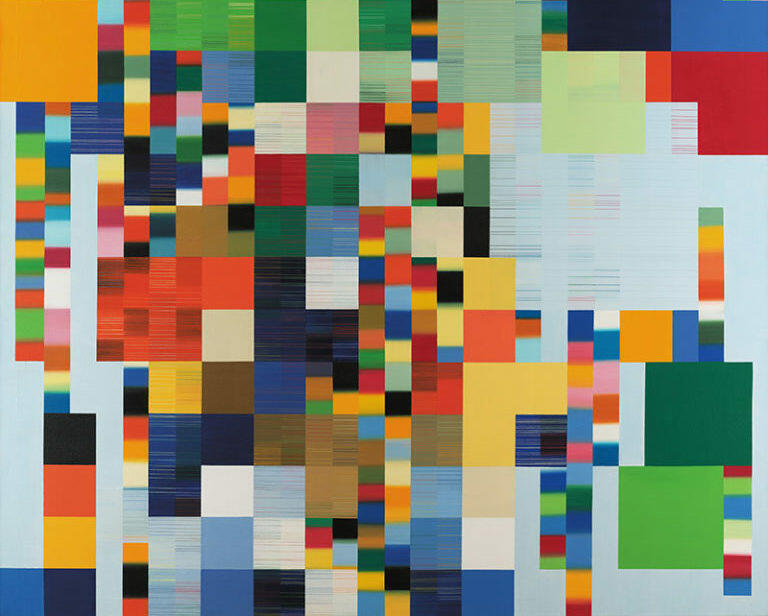 The San Telmo museum displays important pieces from its collection, works on loan and recent acquisitions such as Hilda Mans "Untitled" (1974), a work by Jorge Gumier Maier and another by Alfredo Londaibere. In the four floors of the institution specialized in this type of art, the complex is arranged in three well-defined stages: Sistemas y geometría sensible (Systems and sensible geometry) (1970-1980), Geometría y ornamento (Geometry and ornament) in the 90s, and the period of the 21st century characterized by its much wider diversity. There is also a chronological order and a configuration determined by the architecture of the building, of superimposed plans.
The title is not a new category but an irony, due to that tendency to resort to prefixes when looking for a name to designate the new. It is clear that what is produced now differs from the geometric painting of a classical period and that what follows is difficult to catalog: history is not written at the same moment in which it occurs because we are still fish swimming in the same water and we cannot see it. The route, in any case, marks a direction to start thinking about it. Geometry is a living tradition in Argentine art, in permanent change.
"Since the 1940s, geometric painting has maintained a constant presence in Argentine art, although with periods of different intensity. In its beginnings, it was an instrument to expunge figurative anecdotes, promoting the exploration of plastic resources; in this sense , became a key element for the establishment of pictorial modernism –explains the curator in his text, which will be included in the catalog that will be presented in August–. But over time it acquired its own statute, giving life to a fertile ground for formal research.After the different specific aspects of the forties and the emergence of the sixties (generative art, primary structures, op-art), geometry undertook new directions that have been called with the most varied labels: new geometry, sensible geometry, neo-geo, trans-geometry, parageometry, ornamental geometry, postgeometry. This exhibition aims to explore the rich diversity of d of the geometric manifestations developed from the 1970s on the basis of their plastic qualities, their driving ideas, their contributions to the pictorial medium and their wide plurality in current production".
The ground floor room is an introduction, with a generational mix and very powerful works, with a diversity of approaches. In this room the work of an active teacher like Tulio de Sagastizábal shines, along with younger artists such as Amadeo Azar and Carla Bertone and historical artists such as Olga Gerding.
On an entire wall is Límite Sud, a mural of 27 pieces measuring 59 x 40 cm, by Juan José Cambre. "I consider geometry a way or excuse of work for the work of art. I do not believe in the idea of ​​geometric painter, although some artists rely mainly on geometry. For example, I do not believe that Morandi is a bottle rack painter or Fray Butler, a landscape painter. With an artist, enough - says Cambre from Los Cocos, Córdoba, where he takes refuge in the pandemic - My current recurrence to geometry was based on the idea of ​​working on the presentation of colors and their superimpositions. And It is fundamental to me because of my training as an architect".
Silvia Gurfein's work bears the same title as a song, Have you fed the fish today? Have you made your wish today? of the rock band Badly Drawn Boy. "I had been thinking about the translation of matters from one language to another, a musical mind that later I painted, investigating an idea of ​​time. Painting as a temporary wedge. Geometry was then for me a possible vocabulary, with a level of An abstraction that did not force me to a story but rather allowed me to translate these questions into images. I am interested in the bone of things, their structure, and geometry allows me that approach. It is one more color in my palette ", explains the artist.
On the first floor, Alonso groups together what he considers Sistemas y Geometría Sensible (Systems and Sensible Geometry), two almost opposite versions of geometric painting that coexisted in the 1970s and 1980s. One is focused on the notion of a system, a rational composition of lines, planes and geometric figures. based on repeating patterns, mathematical formulas or predefined composition rules. There are works here by Raúl Mazzoni, Jorge Pereira, Mercedes Esteves and Florencio Méndez Casariego.
The other line adopted the name of sensitive geometry, more personal, subjective, which emphasizes plastic aspects such as textures, chromatic games, visual rhythms, unusual or playful compositions. "Geometry is the setting in which all these variables build a singular, unscheduled image", explains Alonso. There is a place for whimsy, such as the waves that look like waves of the sea by María Martorell, the columns by Roberto Aizenberg that rise up in the landscape, the games of color by Kazuya Sakai or the references to building moldings that Marcelo Bonevardi incorporates.
Another important point of this period is the look towards pre-Hispanic cultures, such as those of Alejandro Puente (he works with color systems, but makes subjective decisions) and César Paternosto, who are dedicated to the recovery of the geometric shapes found in the textiles, ceramics and ancestral architectures.
In the first basement, works from the 90s are grouped, when geometry intersects with ornament, pop, the media, design and commercial products. These are times for chromatic excesses and formal baroque, powerful compositions, of great dimensions, almost murals. "Their visual motifs arise from individual and largely arbitrary decisions on the part of the artists; they do not respond to any pre-established program or specific plastic investigations. They are pieces of great sensory impact, playful and attractive, which reaffirm the artisan work and the pleasure of painting ", explains Alonso. The exponents are Jorge Gumier Maier, Alfredo Loindabere, Osvaldo Monzo, Cristina Ghetti and Roberto Scafidi, among others.
"Geometry for me was always an area in which I entered as outside of my plans. Mine were interests that always had to do with space, time, the few units that make up everything," explains Ernesto Ballesteros about his work, which can be seen on this floor, is a cone that the artist then used to graph the passage of time and the expansion of the universe. These days he is preparing a painting exhibition that will open on April 26 at the Ruth Benzacar gallery, where the figure is the point, infinitely repeated: "I think of the action of painting, drawing, making a point or a line, and As I make this infinity of points, I think about how many lines will make up Seurat's drawing of the hare."
The second subsoil is dedicated to Geometría Siglo XXI (XXI Century Geometry), which, like everything else in this century, is characterized by its wide diversity and, in the country, by a good number of cultists.
"In his works, references to specific moments of that history coexist - such as the optical effects of op-art or the singular path opened by monochrome - with proposals that arise from the most varied inspirations: the forms and chromaticism of digital media. , the architectural abstractions, the non-traditional materials, the conceptual practices, the scales of the installation ", says Alonso.
The room is then illuminated from the background through a skylight that falls on Mariela Scafati's monumental installation, on loan from another private collection, a set of moving shots of a vibrant yellow that vibrates on the wall. There are artists who work with a digital model, such as Adriana Blin, and artists who work with paint only, as in the case of Eduardo Costa's monochrome, in which the rigid painting is its own support.
Silvana Lacarra also abandons the plane with materials such as formica, wood, 1200 pieces of aluminum and nickel silver, which take her to the field of sculpture in a piece from 2011. Among so much diversity and miscegenation, Lacarra is perhaps one of the last artists Total geometric: "My work is the geometry of everything I see, the field, the skies ... When I work I review those fields, those skies. I am interested in the materiality of formica. Geometric art for me is my language, my way of talking and understanding, the geometric situation that I look at and that I observe ".
NEO POST. 50 years of geometric painting in Argentina 1970-2020
Museum of Contemporary Art of Buenos Aires, Av. San Juan 338, C.A.B.A.
Subscribe
to receive the latest news and articles written by experts
May interest you