Doris Salcedo at the Museo Nacional Centro de Arte Reina Sofía
By Álvaro de Benito Fernández | March 12, 2018
Each new intervention made by Doris Salcedo (Bogotá, Colombia, 1958) reaffirms the commitment to narrative based on historical research, usually covered in a certain revisionism, which the artist has been practicing for years, especially focusing on everything that surrounds political violence and what it generates. This is also the case of Palimpsesto, the proposal of monumental character that has developed in the Palacio de Cristal in Madrid and with which it pays tribute to the victims of one of the most dramatic faces of immigration, those who left their lives risking it blindly in the Mediterranean Sea.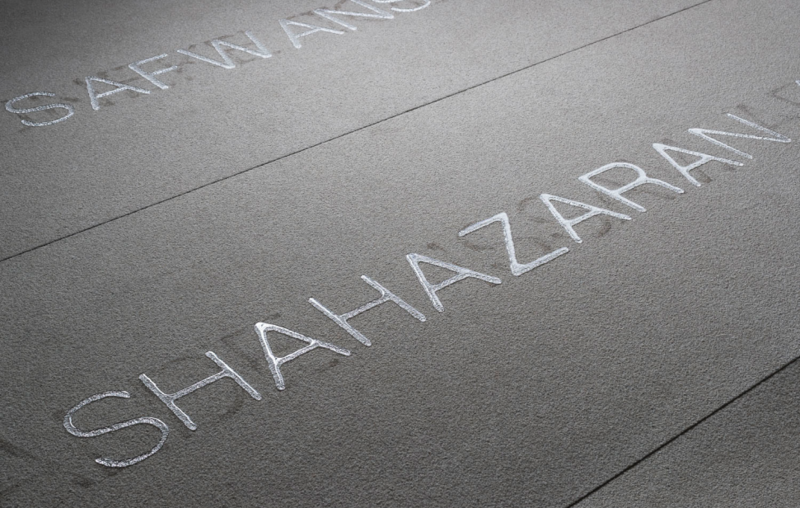 Like almost every action of Salcedo, the conception of this action begins with a laborious investigation. For the occasion, Doris Salcedo conducted a series of interviews with women whose children and family members perished on these vulnerable journeys. This serves as a starting point to collect those experiences that will serve to start the creative process with which to rebuild the memory and honor those who are out of history, those who have no names because they have been set apart by institutional and instituted aggression.
Thus, Palimpsest is conceived as a memory executed from the reinterpretation of the sculptural and the horizontality of the building. Thanks to a tremendously complex technical work, the names of those individuals, hitherto anonymous, emanate from the ground with their complete spellings formed by water, like tears of the earth, completing a succession of fragile tombstones that culminates with a subtle result, oriented to show that violence without violence of which Doris Salcedo speaks. Only then seems to recognize the anonymous death of those whose existence has gone unnoticed, granting and restoring that honor, decency and dignity that the powers through social control and hostility has denied.
Subscribe
to receive the latest news and articles written by experts