A FLAMETHROWER MANIFESTO
By Fiorella Di Biase | April 17, 2019
Curated by Joaquín Barrera, Las cosas que Crecen is the second exhibition of the young project led by the pair Jen Zapata and Andrés Matías Pinilla located in the neighborhood of San Telmo. On this occasion, and as a strong bet during the ArteBA art fair weekend, Lanzallamas attacked with a solid collective proposal.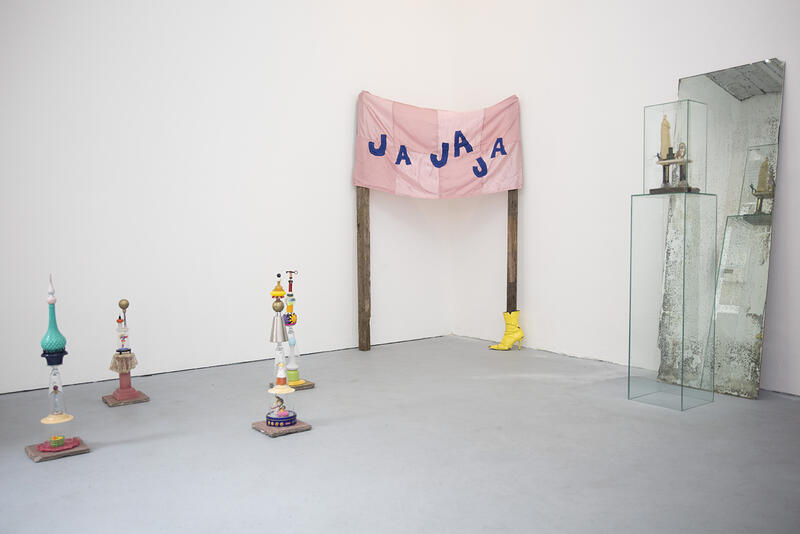 It is an agency work, a choir of voices composed by Lael Servicentro, Julien Antoine, Karina Acosta, Toti D'Stefano, Inti Pujol, Facundo Belén, Adriana Martínez and María Luisa Sanín. Artists who during the last three years have been producing from different regions and latitudes, traversed at all times by a context that transcends the singularities to enter the collective.
Servicentro proposes colorful and translucent geometries that arise from a tile and are stacked and tuned upwards in what may well be a studied construction pattern or a random combination game. Like the towers of a city of second choice, ornaments, toys, industrial pieces, articles of daily use and cheap memorabilia are erected. In a controlled, albeit fragile balance, these items that people discard on public roads are the raw material of these creations. No matter what state they are in, other people's waste is a valuable tool for this bricoleur. The result: kistch totems that oscillate between a playful and ritual character. In fact, to appreciate them it is necessary to bend down or sit down. In short, to approach the floor, which is a favorite place where children play; Although the instructions of contemplation, we can understand they remain the privilege of adults: they look and do not touch each other. It is necessary to maintain a certain distance, otherwise any false movement could demolish in a second this aesthetic jenga of mass consumption. A badly executed marriage, a wrong combination and everything collapses on itself.
How much can these sculptures grow without collapsing on themselves? How far do they carry the weight? Having almost completely lost its use value, how much can these merchandise, previously discarded and now auratized, increase its exchange value in the gallery?
At a prudent distance from the suburb of sculptures, stands on a glass pedestal Chocho, Honor al mérito (Chocho, honor of merit), another composition by the same artist. Solemn inside a showcase is the main prize: the trophy of a society aims and shoots in the direction of our reflection. A mirror -which also seems to have been rescued from its domestic obsolescence- allows us to complete the sunset at the same time that it makes us part of it. Playing the role of voyeurs we discovered ourselves as an integral part of the scene we watch. But far from the playful and naive ritual, the artist has now a scene as acid as sordid: the soldiers, the laurels, the patriarchy and the place of the family (the babies of the fatherland). It reflects a past so current that such representation becomes quickly disturbing, as the echo of a criticism that the viewer will hear again as it moves towards the rest of the works.
In a similar code, the artist from Mendoza Inti Pujol chooses sarcasm for her work Cartel (Poster) as a tool to denounce a new face of the old artifice and to establish an analogy between the contemporary mechanisms of the production of meaning and the never-out-of-date methods of masking a lie.
Through a nod or homage to Luis Buñuel film -The Discreet Charm of the Bourgeoisie– Pujol announces "The discreet charm of calling truth lies" linking the new methods of construction of deception with those gadgets that the filmmaker already at that time identified as characteristic features of the privileged class, which pretends to be something that is not and that constitutes a link within a complex network of complicities. Exhibiting the artifice, a reflection is demanded to the place we occupy within the social fabric: along with our privileges are concealed the institutionalized hypocrisies (army, religion, finances, state) and the power of the apparatuses of symbolic domination and oppression, foundations of a system which ensures the privilege and crimes of the upper classes.
Articulating a powerful triad, Pujol's proposal adds 1 y el espejo (1 and the mirror), by Facundo Belén, and La novia, by Karina Acosta: works that reinforce, although they also complicate its statement.
Just as Bethlehem denounces an obsolete justice suggesting a systemic failure within the judicial apparatus, it also offers us a mirror and extends the invitation to destroy the image that this one gives back to us. Display a chain and stones and, taking the first step, explode the beauty and charm of our masks, challenging the rest of the audience to end the cult of appearances behind which hide all kinds of artifice, misery and meanness. It invites us to question our comfort and to take up arms when confronted with our true face.
For his part, Acosta reflects on the chimera that encloses the exercise of memory revealing its residual character. Like an assemblage of fragments or an overprint of different lives, the image of a bride with the forbidden look becomes a decoupage of inseparable identities and memories, an agglomeration of washed stories that becomes a collective phantom in one of the many faces that violence patriarchal exercises on women.
This voice chorus that grow together and amplify, work from a Deleuzian perspective as multiple meetings and conversations. It is not that one term accrues the other, but that each finds the other forming a block that is between both; In a double capture operation, a potential difference between artistic proposals favors an event in a deterritorialized manner.
Like many of her colleagues in this room, the Colombian María Luisa Sanín has a fabric of cameras that, like cyclops with bionic eyes, enter our homes, monitor and record the movements that they will then store in another support. A network of loose cables does not support tension, does not contain or organize, but becomes decorative; a metaphor about the functioning of Latin American societies and the way in which aestheticization becomes a constant resource to distract and change the meaning of conversation: mirrors of colors that do nothing but expose the futility of deception. But what do we do with all this that does not work? What value does this equipment have in our society without functionality?
In Shipping and handling, as opposed to the dysfunctional state of our social structures, Adriana Martínez comforts us with a certain sarcasm about the implacable reign of consumption. The fetish of the merchandise not only continues in force, but its prosperity rules throughout the world.
As if the same question pollinated the flowers of the streets that walk, Toti D'Stefano in Santa Fe, and Julien Antoine in La Plata, reflect on this absence of paradigms.
Is it possible to propose new ways of inhabiting these abandoned spaces? What kind of practices or modes of action enhance the affects, build bridges and build strategies to rethink our role within the political and social fabric? The syncretism crosses here with the victims of the easy trigger and the sanctuaries for the kids of the neighborhood summon a new imagery that seeks to honor the dead; remind them that in spite of being another number in the statistics of (dis) communication media, the representations born from the neighborhood to strengthen the neighborhood itself are also based around them. But how to combat the persecution that is exercised to make our bodies more docile? A pink flag answers with a statement from any WhatsApp millenial chat: ja ja ja (ha ha ha). A banner led by yellow high-heeled boots works as a queer proclamation that marches proud claiming in the public space the legitimacy of all those rights that have already become law in their private sphere.
Although in a subtle way, as Spinoza proposes, many of these works reveal a certain idea of ​​affective cities and communities that are opposed to the power of institutions. If the fundamental role that apparatuses, such as the state or the church, exert on its citizens, lies in a power that affects them sadly and depresses them, diminishing their power to act, as the philosopher affirms, within these artistic productions it inhabits the germ of those powers of liberation that can be thought of as opposed to power, and that affect us with joyful affections and catalyze new practices and strategies of political and social action. The value of the alliance is rooted precisely in the power of the collective.
As a strategy, Las cosa que crecen is built following the guidelines of a manifesto. That is, putting on the scene a plural subject that stands up, like a dissenting voice, with a persuasive speech that attacks the conformity of an established taste. As Rafael Cippolini explains, rather than setting a position, he seeks to establish an opposition. It implies a transvaluation, as well as a critical vision susceptible of both appropriation and expropriation, de-hierarchization and deconstruction. In line with this way of thinking the manifesto, reflections and conceptualizations that have been arranged in these rooms, seek to accelerate the chaos to establish an order that, although not always new, at least is dissimilar to the reigning. Or as the artist Alfredo Prior affirms, rather than talking about quotations and appropriations, what belongs to us from our marginal location invites us to talk about piracy and looting.
As in a covenant or tacit agreement, the artists summoned have decided to stop looking at the things that, stagnating, no longer work. In this dialogue that takes place between them they have conquered a voice that rises against the established canon. His work lies in an incessant search for new roads, ensuring the light and moisture necessary to germinate what they want. A movement that is born from the collaborative work of reflection, invoking a sum of powers to counteract the power. A communion that, in the most atheistic sense, allows to trace routes, delineate possible universes, build new worlds. A resistance in lines of flight, a mantra or a laudatory poem: that things grow.
........................................................................................................................................................................................................................
The exhibition can be visited until May 19, from Thursday to Sunday from 3 pm to 7 pm at Lanzallamas, Carlos Calvo 637, San Telmo (Buenos Aires, Argentina).
Subscribe
to receive the latest news and articles written by experts