3RD ACT – ABDIAS NASCIMENTO AND THE MUSEUM OF BLACK ART, MESTRE DIDI AND MÔNICA VENTURA – MYSTERIES TO EMERGE
By Mario Gioia, art critic and independent curator | July 18, 2023
With the third act dedicated to the memory of Abdias Nascimento (1914-2011), an exhibition focused on the work of Mestre Didi (1917-2013) and a large installation by the emerging Mônica Ventura, Inhotim is consolidating an important change in the profile of its collection and in the commissioning of new works.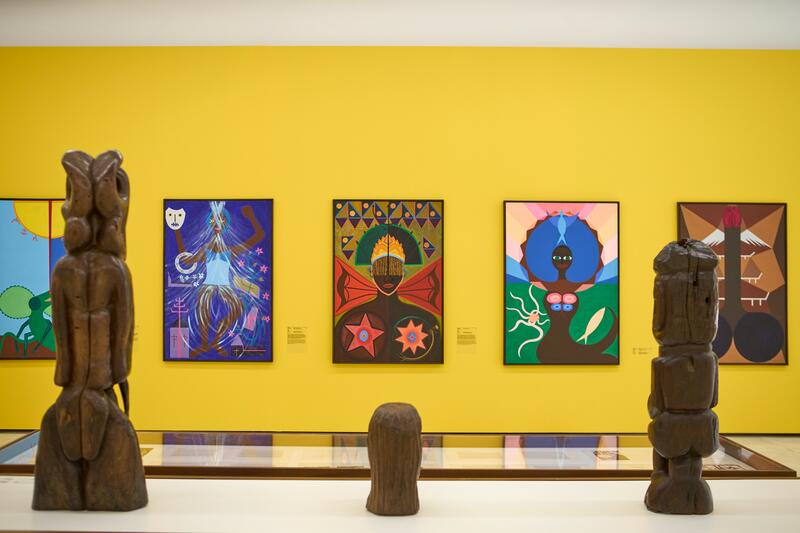 Already explained to Arte al Día by the institution's former artistic director, Julieta González, the acquisition of works motivated by racial issues, and also made by popular names, as well as the promotion of new pieces signed by emerging artists also with similar issues, have become a new north in the cultural center's policy.
"The collection has changed a lot in recent years. The presence of black artists and other identities not traditionally represented will be exhibited in integration with the contemporaries that were already in the collection," she said last year, also highlighting the ecological vocation that the space provides for the making of new works. At last May's opening, Inhotim announced the new artistic director, Júlia Rebouças (ex-Bienal de São Paulo, Videobrasil and Panorama da Arte Brasileira at MAM-SP).
It is worth mentioning that the largest visual arts exhibition in the country, the Bienal de São Paulo, in its 35th edition, announced the 120 participants of the show that runs from September 6 to December 10. Among them, the strong presence of Ayrson Heráclito, already reviewed by Arte al Día and present in Mestre Didi's cut in the cultural center of Minas Gerais, Os Iniciados no Mistério Não Morrem; Aline Motta, Eustáquio Neves and Sidney Amaral, artists of the group show Quilombo: Vida, Problemas e Aspirações do Negro; and Rommulo Vieira Conceição with a permanent installation in the gardens of Inhotim.
Abdias Nascimento (1914-2011) has become central to the institute's recent programming. It is the subject of four major exhibitions on his work, the third of which runs until August 6. Sortilégio follows the first act of the series, Abdias Nascimento, Tunga e o Museu de Arte Negra, and the second chapter, Dramas para Negros e Prólogos para Brancos. A large part of the collection, with rare and rich works, including collaborations by renowned names, and a vast documentation material, belongs to IPEAFRO (Institute for Afro-Brazilian Research and Studies), co-founded and directed by Elisa Larkin, Abdias' widow. In this necessary review of Abdias's legacy, MASP (Museu de Arte de São Paulo) hosted in 2022, under the curatorship of Amanda Carneiro, a selection of 61 paintings.
Due to their longer duration and investment in exhibitions close to the institutional level, with 'smaller' works and items that are consistent with a detailed research object, the Abdias Nascimento exhibitions give an air of innovation in how Inhotim approaches an artist exhibited in the space. So famous for its large, expensive installations and galleries, signed by renowned names on the international circuit, arranged in a botanical garden of ample dimensions, Inhotim therefore turns to a neglected history that, now placed in another perspective, emerges with intense complexity.
Sortilégio focuses on Abdias's period of exile, which took place between 1968 and 1981, when the artist escaped the repression of the Brazilian military regime by settling in the USA (and passing through Nigeria). Featuring about 180 pieces, the exhibition is fundamental to show Abdias' artistic development, which combined his work as a teacher in America and Africa, intense relations with black and exiled activists and intellectuals, in addition to sedimenting his pictorial production. It is also a rich moment in the dissemination of ideas of a Panamefricano artist, a neologism that gave title to the recent exhibition at MASP and that summarizes the fronts with which Abdias engaged in different continents.
If the previous show focused on the Teatro Experimental do Negro (Experimental Theatre of the Negro) without giving up on showing works of visual arts, this third show brings the initial trajectory of Abdias' painting –his first canvas made in Rio de Janeiro dates from 1968, the year he left Brazil– and, especially through extensive documentation, –catalogs, newspapers, photographs, records, books and works by partner artists, among other elements– a trace on Abdias' singular career. Perhaps because of his other aspects, such as politician, playwright, activist and poet, for example, he has not been given a view that could encompass all this production, an challenge that Inhotim set out to accomplish, so far, quite successfully.
In the current exhibition, Abdias's affective net can bring together huge names, such as Melvin Edwards, Hélio Oiticica (1937-1980), Anna Bella Geiger, Anna Maria Maiolino, Rubens Gerchman (1942-2008) and Emanoel Araujo (1940-2022), among others. However, it is interesting to discover little by little more intimate works by less famous names, such as the Begley family – the artist Ann Begley was the one who welcomed Abdias when he arrived in New York. The works of Babatunde Folayemi (1940-2012), LeRoy Clarke (1938-2021), Romare Bearden (1911-1988) and Francisco Pabón, for example, are also interesting discoveries for the Brazilian public.
In Os Iniciados no Mistério Não Morrem, Mestre Didi presents around 30 works in dialog with other relevant artists, such as Heráclito and Rubem Valentim (1922-1991). Guest curator Igor Simões has configured a powerful room with a set of sculptures that combine the artist's experiences beyond the visual perception, strengthening the intellectual, spiritual and sacred aspects shared by him. In this sense, Egungun (1984) is indispensable, a documentary made by the Society for the Study of Black Culture in Brazil, which brings in impressive images of Mestre Didi's work as a priest.
Finally, A Noite Suspensa ou O Que Posso Aprender com o Silêncio, by the young São Paulo artist Mônica Ventura (1985) is an ambitious installation. With 4 meters high and 9 meters wide, the three-dimensional set of straw and earth, mainly with striking brass detail, imposes itself with an enigmatic dimension. Combining Afro-indigenous elements and made with rudimentary technology, the union between the sculptural body in the center and the mud plaques arranged on the walls with various symbols manages to surprise the observer, already sensitized by so many works in this contemporary art center and botanical garden. This sculpture points to new, bolder steps by Inhotim, which may invest in artists who are not so well known and who have less years of career.
Terceiro Ato: Sortilégio - Abdias Nascimento e o Museu de Arte Negra
Until October 1st, 2023.
Inhotim - Rua B, 20, Brumadinho, MG, Brazil.
Related Topics
Subscribe
to receive the latest news and articles written by experts
May interest you