The BID opens an open call to create the Paseo de las Américas
The Banco Interamericano de Desarrollo (BID) is organizing an itinerant and international art installation called Paseo de las Américas, which will be produced at the beginning of 2018 and which will consist of an artistic installation of more than 150 works that show the immense artistic creativity of the hemisphere and the relationship between art and development.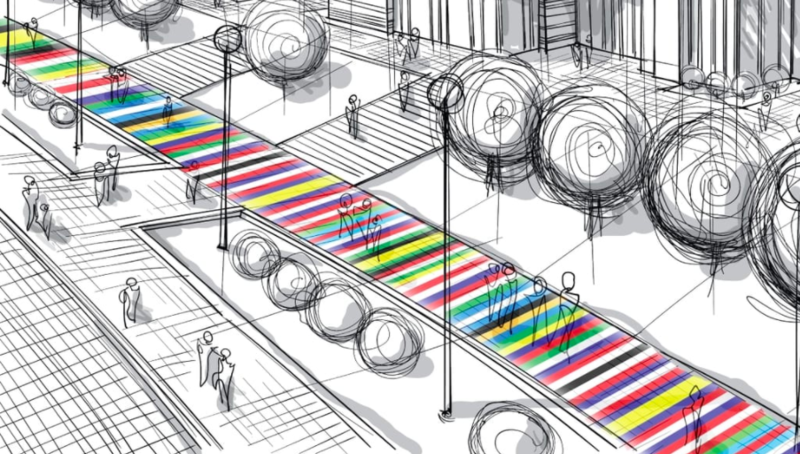 This call invites emerging and established artists from all the countries of America members of the IDB to present artistic proposals that reflect on one of the following development challenges in the region: diversity and inclusion, innovation, economic growth and globalization, equality of gender, environmental sustainability and justice.
The installation seeks to capture the essence of the social role of art in the Americas. The objective is to achieve a conversation about the most important development challenges, leaving behind beliefs or political agendas. The proposals will include digital reproductions of works of art represented in any medium, including digital illustrations. The works should be sent in horizontal format to avoid cropping the image.
This call is intended for artists who want to provoke, innovate and offer new perspectives on the development challenges of the region and demonstrate the immense artistic creativity of the Americas. Reproductions of the chosen works of art will be exhibited in temporary art installations. The artists will maintain the intellectual property rights of their works.
A winner of the first prize will be selected by a committee of judges who will choose according to the artistic merit and the representation of the development challenge chosen. The winner will be invited to participate at Demand Solutions to present and exhibit their work. All travel expenses will be covered, including tickets, hotel and per diem.
Among the incentives to participate, there is high exposure to the international community through numerous facilities throughout the region, credit in all digital and printed materials related to the installation, a certificate of participation in the exhibition, a single symbolic payment for US $200 for the use of reproductions for temporary installations.
The deadline to submit the application is January 17, 2018, and on February 2, 2018 the winners will be notified by email.
The Inter-American Development Bank (IDB) works to improve the quality of life in Latin America and the Caribbean. It helps improve health, education and infrastructure through financial and technical support to countries that work to reduce poverty and inequality. Our objective is to achieve development in a sustainable and respectful way with the climate. With a history that goes back to 1959, the Bank is the main source of financing for development in Latin America and the Caribbean. The IDB offers loans, donations and technical assistance, and conducts extensive research. Maintains a firm commitment to achieve measurable results and the highest standards of integrity, transparency and accountability.
Subscribe
to receive the latest news and articles written by experts