ORIGIN, PEPE MAR'S RESIDENCY EXHIBITION IN MIAMI DESIGN DISTRICT
David Castillo gallery announces Pepe Mar's summer residency in the Miami Design District, which is supported by Claire Breukel, Craig Robins, and Dacra. During this three-month studio residency, Pepe Mar presents Origin, an exhibition of new collage and assemblage works.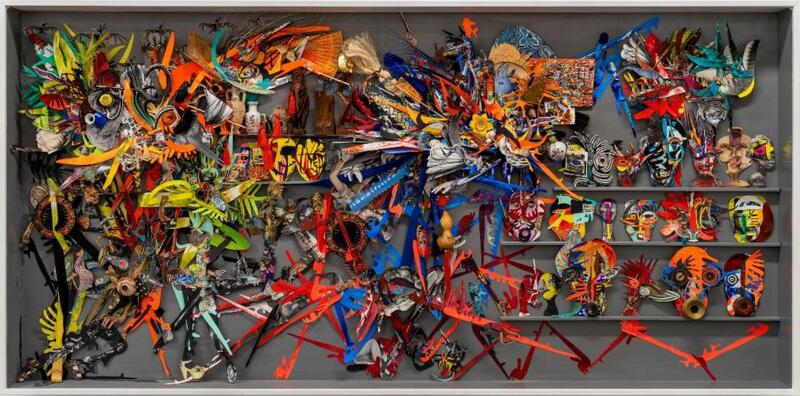 This group of work looks towards the beginning of Mar's practice through his recent works, tracing the trajectory of his career through shifting approaches, materials, and influences. Negotiating the exhibition as an expanded and reconceptualized material archive, Mar employs his new works as a means to revisit the past, fabricating new contexts from those that came before.
Collage lies at the center of this practice, where the cut-and-paste of visual references sourced from hard-bound encyclopedias, fashion magazines, and art history books — materials that surround Mar in his studio — form a complex network of visual histories that seed his work. He combines these materials into expansive collages from cut-out paper ephemera. The figures often present, called Paprikas, are visual personifications of the citational nature of Mar's practice; they are parasites made from the imagery from which the artist draws influence, devouring the personal obsessions, visual cultures, and historic references that Mar has on hand.
‌
His collage practice — once centered around the use of paper as a primary material — has in the last four years transitioned into one focused on sculptural assemblages that the artist composes from an array of cast-away objects and hand-me-downs from queer sources. Collecting these materials from second-hand stores in the South Florida queer enclaves of South Beach and Wilton Manors, Mar repurposes leather gear, 90s club kid ephemera, and suburban detritus to use as the incarnation of Paprika works that take the form of wall sculptures. Made from once personal artifacts — donated garments, leather harnesses, and assorted knick-knacks — these works are embedded with both individual and collective histories of art, fashion, and queerness.
‌
Mothership (2012-20) (cover artwork), Mar's latest work, ambitiously re-envisions a paper collage made in 2012 through the lens of the artist's current practice. Using this past work as a material, Mar readily disassembled this collage, repurposed its elements, and introduced new materials in a process that bridged his past, predominantly paper-based approach with a material vocabulary rooted in object-based assemblage. Revisited and reworked at the beginning of Mar's summer residency in the Miami Design District, Mothership spans nearly a decade of creation, from beginning to end, and evinces the disparate, yet related, material methods between his early and recent career.
Playing with the modes of exhibition display, Mar envisions his collages and assemblages as sites of spectacle, where objects and the printed images of historical artifacts and artworks — all curated by Mar himself — are displayed within his work across highly referential arrangements that bring distant fields into contact. With Mothership, as well as the work Salon Paprika (2019), Mar constructs miniature frames and shelves within the logic of these compositions, reconfiguring the structures of exhibitions within his practice as sculptural elements that embed themselves throughout his collages. This reflexive approach, which meditates on the modes and means of art history and exhibition practice, extends to his treatment of subject matter: The Sitter (2020), a recent work made during the early months of the quarantine period, nods towards art historical tropes, genres, and their various modes of representation.
‌
Mar's pieces wear their influences. His work Penca Leatherboy (2019) features a Paprika with winding tentacles made of leather sourced from chaps, caps, jackets, and vests purchased at a second-hand store in Wilton Manors. Signaling towards leather culture, the work suggests the donning of a persona, with leather serving as a secondary skin that once transformed its wearer. The Paprika dons this leather as a makeshift skin which gives form to its abstract body and limbs; suggesting the potential identities of those who wore these materials before.
On view through August 31
David Castillo
161 NE 40th Street Suite 104
*cover artwork: Pepe Mar, Mothership, 2012-20. Photo by Zachary Balber.
Subscribe
to receive the latest news and articles written by experts